Ari Aster turned heads and churned stomachs with his 2018 horror offering Hereditary, an unflinching examination of grief through a particularly unsettling lens that also boasts one of the most horrific onscreen images in recent memory. That he should seek to outdo himself with his sophomore effort, Midsommar, should come as little surprise, and he's largely successful with this more ambitious and more complex follow-up, once more using horror as a framework to plumb the depths of human emotion.
In the wake of unspeakable tragedy, Dani (Florence Pugh) clings to long-term boyfriend Christian (Jack Reynor) for support. Unbeknownst to her, Christian had recently been on the verge of pulling the plug on their relationship — spurred on by his grad student pals, all of whom regard Dani as a burden — but guilt got the better of him. Not only does he elect to stick things out, but he also invites Dani to accompany the boys on a summer excursion to Sweden, where they'll be visiting the remote village in which one member of their quartet, Pelle (Vilhelm Blomgren), was raised.
The group arrives in time for a festival that only occurs once every 90 years, where villagers are clad in flowing white robes and crowns made of colorful wildflowers. But while anthropologist Josh (William Jackson Harper, doing a less comedic riff on his character from The Good Place) is enamored with the strange customs and traditions of Pelle's homeland and Mark (Will Poulter) is focused on trying to woo a pretty young maiden into bed, neither Dani nor Christian are willing to acknowledge the growing chasm between them or the awkwardness with which they're forced to comport themselves in order to maintain the illusion of a happy couple.
Maybe it's just paranoia brought about by the natural psychedelics the locals are passing out like Halloween candy, but something about this idyllic, sunlit Swedish village doesn't feel quite right — and that's before Dani attends a ritual that ends in particularly gruesome fashion. The event shakes her to the core, but the rest of the group quickly dismisses it as a fundamental difference between cultures. Christian seems especially unfazed, far more concerned with finding the easiest way to complete his thesis than helping Dani cope with yet another traumatic event.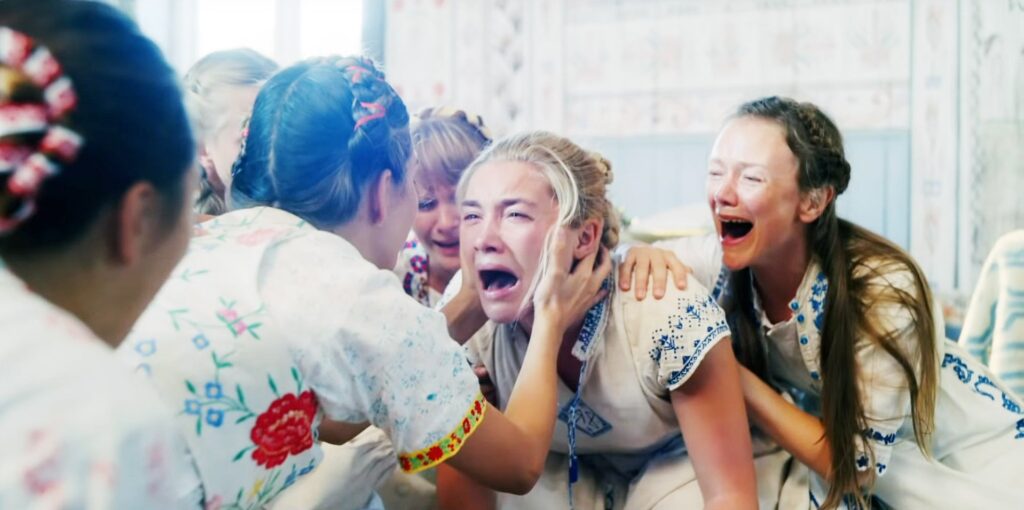 At its core, Midsommar is about a break-up — one that's clearly been a long time coming — and the exploration of a steadily deteriorating relationship emerges as its most compelling and fascinating component. After a knockout performance in this year's sports dramedy Fighting With My Family, Pugh shifts gears completely to deliver a soul-crushing portrayal of a young woman whose entire existence is on the brink of unraveling, and faced with the reality that the one person she should be able to rely on is too selfish and detached to notice, much less care. And although Aster paints Christian as the de facto "villain" of the story, he's never depicted as purposefully hurtful or malicious toward Dani — he's just a complete, unadulterated asshole, which somehow makes him even more unlikable.
Make no mistake, Midsommar is still a horror film, and even the most bloodthirsty viewers should feel more than satiated by the time the credits roll — some of the imagery here far eclipses the infamous "head" scene from Aster's previous film. The fact that nearly everything occurs in broad daylight, against a picturesque backdrop of rolling green hills and colorful wildflowers, is something we've scarcely seen before. For decades, horror films have conditioned us to believe that bad things only happen in the shadows, but that's not the case here, and the knowledge that daylight is no longer a safe space makes Midsommar even more disturbing.