After Walt Disney Pictures struck box office gold with Maleficent, a live-action adventure about the early years of the iconic villainess from animated classic Sleeping Beauty, the studio was quick to greenlight an origin story for another hand-drawn baddie: Cruella de Vil, the fur-and-fashion-obsessed heiress from 101 Dalmatians. Eight years, five screenwriters and two directors later, Cruella finally arrives this week to answer a question seemingly no one asked: what compels a wealthy woman to kidnap and murder puppies to make herself a coat?
Actually, that's not entirely correct: in much the same way as Maleficent portrayed the titular sorceress as misunderstood, Cruella plays fast and loose with any details that might conceivably connect to the animated continuity. Sure, the black-and-white spotted canines from 101 Dalmatians are featured prominently here, and their relationship with our "heroine" is largely antagonistic, but the similarities mostly end there, and any attempt to square the events of this film with the animated canon quickly falls apart. To spare yourself the headache of trying to make sense of it all, you're better off just assuming that Cruella occurs in an alternate timeline — an "Elseworlds" tale, if you will.
Thanks to an introduction laden with voiceover and exposition, we learn Estella (Tipper Seifert-Cleveland) has always had something of a mean streak — or as she tells it, the need to make a statement. This earns her frequent admonishment from mother Catherine (Emily Beecham), who tries to encourage her daughter's budding interest in fashion design while tamping down the darker aspects of her personality. "Your name is Estella, not Cruella," she scolds. When Estella is expelled from private school for retaliating against a group of bullies, Catherine opts to relocate the family to London, but a quick stopover at the lavish Hellman Hall to visit an old acquaintance results in a tragic series of events that leaves Estella to fend for herself on the city streets.
From here, the film jumps forward to the 1970s and the early days of the punk rock movement, where Estella (now portrayed by Emma Stone) designs costumes that she and cohorts Horace (Paul Walter Hauser) and Jasper (Joel Fry) use to pull off a variety of grifts, schemes, and cons. Recognizing Estella's desire for something more legitimate, Jasper manages to land her a job a London's most luxurious department store, which she subsequently parlays into an apprenticeship for the reigning queen of the fashion world, The Baroness (Emma Thompson). But when she discovers the famed designer's connection to the devastating circumstances of her youth, Estella decides to let her alter ego take the wheel and chart a course for revenge. "Cruella was in a box for a long time," she tells her companions. "Now Estella can be the one who makes guest appearances."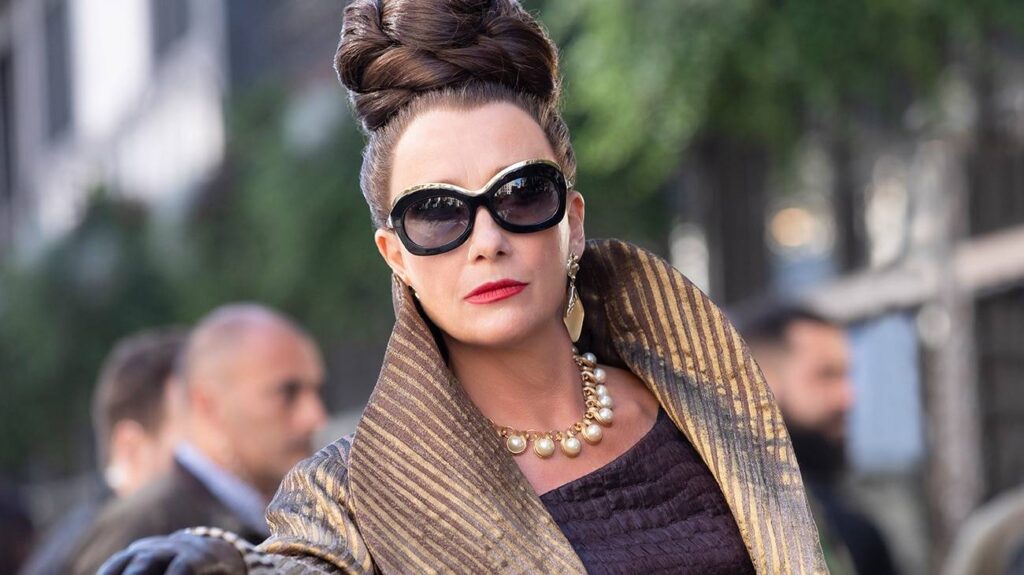 Setting the film primarily in the world of high fashion affords Oscar-winning costume designer Jenny Beavan the opportunity to take some massive swings, and her work here is absolutely eye-popping; Thompson and Stone look stunning in every frame, and Beaven's work is well complemented by Fiona Crombie's opulent production design. The Baroness and her mysterious new nemesis both wield fashion as a weapon, and the juxtaposition between Thompson's sumptuous gowns — created by an army of underlings — and Stone's homemade punk-infused attire makes for a wonderful contrast. The clashing styles also serve as a keen metaphor for The Baroness' extravagant lifestyle blinding her to the threat of a hungrier, scrappier, more resourceful opponent.
Unfortunately, the themes of overindulgence and profligacy extend to the running time, which feels even longer than its 134 minutes, and the screenplay, which is needlessly complicated and stuffed with too many supporting characters. Hauser and Fry are serviceable enough as Cruella's associates (and eventual henchmen), but Kirby Howell-Baptiste's gossip columnist and John McCrea's fabulous shop owner both get unfairly shortchanged.
Cruella is at its most enjoyable when leaning into our protagonist's mischievous and vindictive side, and Stone is positively electric in these sequences, exuding charisma with every word, every look, every gesture. Less effective are the moments where she's required to show fear, sorrow or vulnerability; director Craig Gillespie seems to overestimate the audience's level of emotional investment in this character. The chaos, the mayhem, and the wickedness have always been at the core of Cruella de Vil's appeal, and whenever those elements take center stage, the film is quite fun — I just wish it had spent less time focusing on wearisome backstory and more time reviling in devilry.