Long before he found himself at odds with a major film studio over his nihilistic approach to superhero mythology, director Zack Snyder burst onto the scene with an audacious modern take on George Romero's zombie classic, Dawn of the Dead. That visceral, violent 2004 debut remains the best film in Snyder's repertoire, and there's a strong argument for his latest offering, Netflix's Army of the Dead, taking home the second place trophy. While there are no direct narrative ties to Snyder's first film, Army nevertheless feels like a spiritual successor, an exercise in getting back to one's roots.
It also represents the purest distillation of Snyder's sensibilities, for all the good and bad that might entail. Set to a cover of "Viva Las Vegas" by Richard Cheese (who also appeared on the soundtracks for Dawn of the Dead and Batman v Superman) and Alison Crowe, the opening credits offer the first of many slow-motion sequences, chronicling the destruction of Sin City at the gnarled hands of the undead. Zombie showgirls devour a middle-aged guy in a hot tub, decaying Elvis impersonators gaze at the sky as fighter jets drop scores of bombs, and a handful of people we'll get to know very soon manage to hold their own against the ever-growing horde, utilizing everything from circular saws to mounted machine guns to keep the "shamblers" at bay. The exaggerated amount of blood and guts pouring forth from these desiccated decedents only adds to the goofiness.
Years later, Vegas has been completely walled off from the rest of the country, and Scott Ward (Dave Bautista), revered for rescuing the Secretary of Defense during the initial outbreak, has now been relegated to working the grill in a shitty desert diner. It's far from glamorous, so he's inclined to pay attention when billionaire Bly Tanaka (Hiroyuki Sanada) shows up with an enticing proposition: the vault beneath his Vegas casino is stuffed with cash, and if Scott can assemble a team to infiltrate the zombie-infested tourist attraction and extract the money, they can help themselves to the tidy sum of $50 million. The only catch? The US government plans to celebrate the 4th of July by nuking the crumbling city and wiping out the infected once and for all, so they've got less than two days to get the job done.
As with any heist film, Army of the Dead assembles an eclectic group of personalities to accompany Scott into the wasteland. Cruz (Ana de la Reguera) and Vanderohe (Omari Hardwick) both fought their way out of the city alongside Scott during the first wave of the virus; Mikey (Raúl Castillo) and Chambers (Samantha Win) have developed a massive social media following, thanks to a series of stylish zombie-killing videos; jittery locksmith Dieter (Matthias Schweighöfer) is their key to getting inside the vault, and sardonic helicopter pilot Peters (Tig Notaro) is their ticket out of the city once the money has been retrieved. Late additions to the team include Lilly (Nora Arnezeder), a "coyote" specializing in smuggling people into and out of the quarantine zone; Martin (Garret Dillahunt), Tanaka's shifty head of security; and Kate (Ella Purnell), Scott's estranged daughter, who has her own motives for wanting to breach the walls.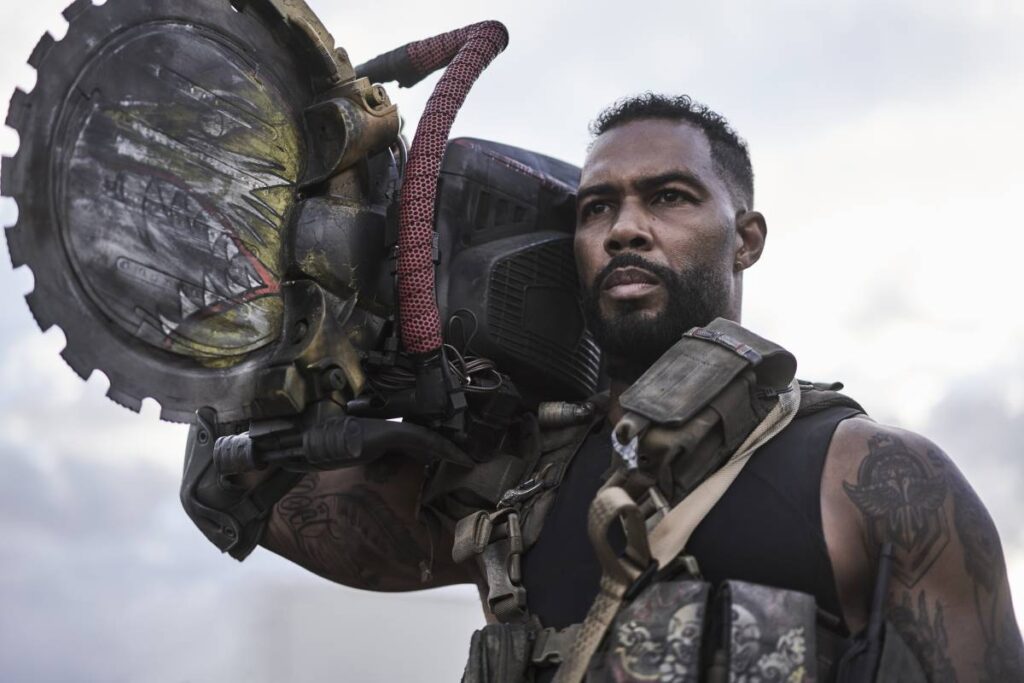 With such a sprawling cast, there's a ton of information Army of the Dead needs to convey before Scott and his team ever set foot inside Las Vegas, and the momentum established in the film's early moments slows to a crawl. But once our heroes emerge into the scorching sun, Snyder and co-writers Shay Hatten and Joby Harold dispense with well-established genre tropes and offer a glimpse at something genuinely fresh: an honest-to-goodness zombie society, with a clear leader (Richard Cetrone) to whom the others are subservient. There are some other novel ideas on display here, including a member of Siegfried and Roy's menagerie turned into a decomposing apex predator, and the notion of the undead "hibernating" while remaining upright; a sequence which finds the group sneaking through a kitchen full of sleeping, swaying undead bodies is wonderfully tense.
At the core of the film is a more intimate tale of a father trying desperately to connect with the daughter he believes he failed. Bautista is surprisingly adept at tapping into Scott's emotional side, and during his scenes with Purnell, his performance never feels anything less than genuine. The big guy may cut an intimidating figure, but there's an even bigger heart lurking beneath those mountains of muscle and masculinity. There's also a humorous budding friendship between Hardwick's stoic warrior and Schweighöfer's eager-to-please safecracker, and Notaro — digitally inserted into the film to replace an original cast member after a string of sexual misconduct allegations — provides a decent number of laughs with her wry delivery.
Overall, the ensemble cast is excellent, but Snyder often short-changes them by cutting away too soon, opting instead to indulge in yet another slow-motion action sequence or obnoxious, on-the-nose needle drop. Sure, watching Bautista and company blasting away at zombies in front of a bank of slot machines while cash rains down around them looks cool, but scenes like this frequently come at the expense of more character development — not to mention padding out the running time, which feels excessive at 148 minutes. It would be one thing if Snyder were focused solely on making a zany action comedy, or an intimate father-daughter drama, but he's clearly trying to have his cake and eat it, too, and the balancing act doesn't always work.
The narrative would've been better served by a bit more of the humanity, and a bit less of the splattered heads, but Army of the Dead is still a ton of fun, showcasing a playfulness that was sorely missing from Snyder's grim approach to superhero films. The director has always shown a flair for mesmerizing visuals, but marrying those instincts with a premise both silly and subversive proves to be a winning combination.