Life isn't easy for an Adélie penguin trying to make his or her way in the Antarctic, and lovable loser Steve is about to embark on life's journey as the protagonist of Disneynature's new documentary film Penguins. which screened last weekend at the 2019 Phoenix Film Festival. Following the successful formula orchestrated in Disneynature's previous seven films, Disneynature: Penguins is full of stunning imagery and mind-blowing nature facts framed in a heartwarming yet predictably constructed narrative.
If nothing else, Disneynature: Penguins is a technically triumphant masterpiece of nature documentary filmmaking. The beautiful and deadly cold vistas explored in the film are breathtaking and a testament to the will of the crew which spent years capturing the wildlife footage. In order to maintain the interest of both the young and the old, the film enlists comedic actor Ed Helms to be the narrator and voice of lead penguin Steve. The film crafts a fictional personified story of the penguins for those with shorter attention spans to follow, while also teaching nature buffs about the fascinating life cycles of Adélie penguins.
Helms is an inspired choice to embody the goofy Dad personality the filmmakers decided to instill on the clumsy, always late Steve as he develops from adolescent to fatherhood. The actor makes the most of some weak jokes written for Steve by using his natural charm to make the character an endearing presence, despite his continually frustrating missteps in life and brightens up a slow-moving middle act.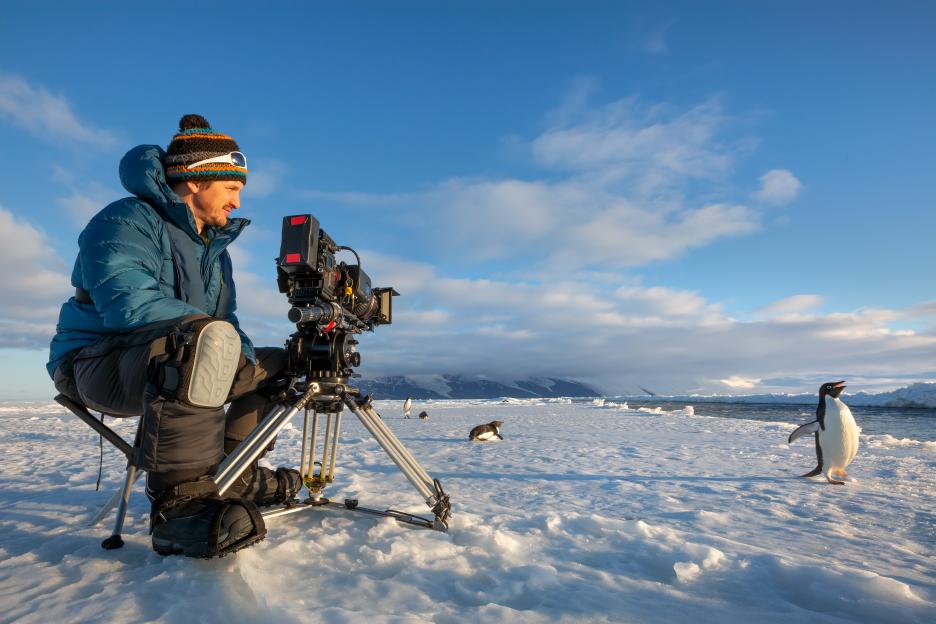 Disneynature: Penguins also avoids any type of major heavy or traumatic events that naturally occur in these environments, which might have scarred younger audience members or hurt the "feelgood" vibe intended. The film certainly has its share of nail-biting moments, including an intense scene involving leopard seals near the finale, but it doesn't have the unflinching ferocity of something like BBC's Planet Earth. Families will be able to go enjoy and also be educated on this icy tundra that has rarely been viewed by the human eye.
In addition to the tremendously filmed visuals, Disneynature: Penguins also uses a mixture of 80's rock/pop hits to montage its way through multiple sequences that get the toes tapping some of the time, but usually linger on a bit too long. The song choices also make the film even more accessible to casual moviegoers adding to the mix of both entertaining and educational, even though it may feel a bit cheap.
While Disneynature: Penguins works better as a nature documentary than an actual story, it's obvious how much dedication and skill that went into capturing this rare look at the lives of Adélie penguins. Despite formulaic character arcs created for the penguins themselves, the final result is still an impressive, predictably cute and crowd-pleasing watch for all ages, continuing the success of the Disneynature brand.
Score: 3.5 out of 5