It's been two decades since Eddie Murphy headlined an R-rated comedy (the last was 1999's Life, with Martin Lawrence), but lest there be any fear the legendary comic has gone soft, the barrage of F-bombs during the opening moments of Dolemite is My Name should assuage any doubts. That's not to say the film — which chronicles the journey of comedian Rudy Ray Moore from stand-up act to big screen star — is a celebration of profanity… well, in truth, it's exactly that, but also much more.
We first meet Rudy (Murphy) working in a record store, trying to convince the resident DJ (Snoop Dogg) to put one of his original songs into rotation. Rudy dreams of a career in show business, working nights in a local club in exchange for a few minutes of stage time, but he struggles to find his niche. Inspiration strikes in the form of a local wino (Ron Cephas Jones), who recites rhymes about a pimp named Dolemite, a trickster who brags about his sexual exploits in particularly vulgar (and hilarious) fashion.
Outfitting himself in stylish threads and brandishing a cane, Rudy adopts the Dolemite persona and crafts it into a standup act — and a lucrative one at that. Soon, he's raking in money from bootleg album sales (recorded in his living room, with a boisterous collection of boozed-up guests creating the atmosphere of a crowded club) and performing at sold-out nightspots across the country. But Rudy's aspirations go beyond a successful career on the comedy circuit — as he earnestly tells tells one of his pals, "I want the world to know I exist."
After a holiday trip to the cinema with his longtime friends (Craig Robinson and Mike Epps), Rudy and company puzzle over the praise heaped upon Billy Wilder's remake of "The Front Page." Clearly, the mostly white audience had a very different experience — as Epps' character relates, "this ain't funny, and there ain't no brothers in it" — and Rudy decrees that Dolemite is ready for a jump to the big screen. He envisions a film stuffed to the gills with sex, violence and vulgarity, and shows little concern when financiers tell him the proposed picture would only resonate with audiences in a five-block radius. "Every city in America has these same five blocks," he argues. "And those folks are gonna love it."
That Rudy and his cohorts have no idea how to make a film is also of little consequence: he sets up a base of operations in the abandoned Dunbar Hotel, hires a group of film students to serve as the crew, and secures the participation of D'Urville Martin (Wesley Snipes) as the film's villain, in exchange for allowing him to direct. As new obstacles spring up on a daily basis, Rudy soldiers onward undeterred — if it were possible to manifest a Dolemite feature film solely through sheer force of will, it's clear Rudy would have done so.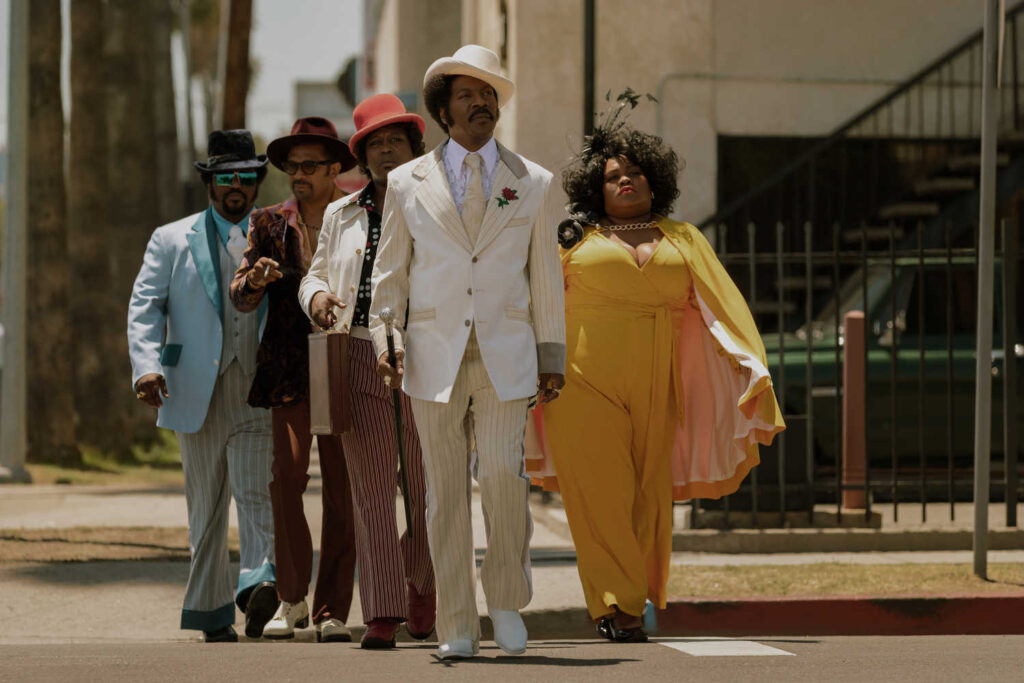 As the film's second half zeroes in on this group of scrappy misfits working outside the Hollywood system, it's easy to draw comparisons to The Disaster Artist — even the respective premieres of the film-within-a-film are staged in similar fashion. But whereas The Disaster Artist positioned one of its central characters as the butt of the joke, there's never a moment where Dolemite is My Name isn't firmly in Rudy's corner and cheering for his success. That support quickly becomes infectious, and there's something incredibly joyful about watching Rudy's dreams come to fruition, even if the wholesome message feels at odds with the film's nonstop barrage of obscenity.
Despite a twenty-year gap since he last uttered the word "motherfucker" onscreen, Murphy's penchant for profanity and expert comedic timing is very much alive and well, as is the incontrovertible charisma that catapulted him from Saturday Night Live standout to global fame. Murphy imbues Rudy with heaps of optimism and exuberance, and his "never give up" attitude — "if a man slams a door in my face, I just find another door" — is a welcome dash of positivity amid the typical gloom and doom of award season performances.
The supporting players are also dynamite here, with Snipes swinging for the fences in his delightfully zany portrayal of a pretentious and egocentric actor whose claim to fame is portraying an elevator operator in Rosemary's Baby — it borders on pure camp, but feels completely at home against the backdrop of Dolemite's ramshackle production. Even more impressive is Da'Vine Joy Randolph's soulful turn as Lady Reed, a single mother who begins as Rudy's opening act and evolves into one of his most trusted confidants.
With a screenplay from Scott Alexander and Larry Karaszewski (who penned 1994's excellent Ed Wood biopic) and confident direction by Hustle and Flow's Craig Brewer, Dolemite is My Name provides Murphy with his best material in years, and the actor rises to the occasion, embracing his R-rated roots with aplomb and firing off jokes with a ferocity we haven't seen in far too long. Whether or not Murphy continues down this path with future projects remains to be seen — next year's Coming to America sequel is rumored to be a PG-13 affair — but it's a welcome return to form.