I've always been a bit of a sucker for a good Metroidvania title, so it should come as little surprise that I've been itching to get my hands on Ghost Song for years. And when I say years, I mean that quite literally: the game's Kickstarter campaign was launched all the way back in 2013, but it wasn't until March of this year when developer Matt White announced his long-gestating passion project would finally be released, courtesy of Humble Games.
The original campaign promised a 2D platformer inspired by the likes of Super Metroid and Dark Souls, and Ghost Song skews pretty heavily toward the former. Players control Deadsuit, a female (we think) amnesiac android (we think) with an arm cannon, shipwrecked on a remote planet teeming with bioluminescent flora and a host of hostile life forms. This will likely sound instantly familiar to a wide swath of gamers, and that's before Deadsuit begins exploring the planet's various caverns and tunnels, collecting upgrades like a double-jump ability, a dash that allows her to briefly phase through enemies, or missiles needed to blast her way through certain barriers.
Despite wearing its influences rather proudly on its sleeve, Ghost Song nevertheless manages to carve out an identity of its own, thanks to a unique art design that evoke a hand-drawn aesthetic, a moody and atmospheric lo-fi soundtrack, and a smartly conceived cast of supporting characters (also shipwrecked) that Deadsuit will encounter within the first couple of hours. Tasked with salvaging parts to repair their ship, Deadsuit will explore the furthest reaches of the planet, and Ghost Song offers an impressive variety of environments for players to traverse while battling all manner of grotesque creatures.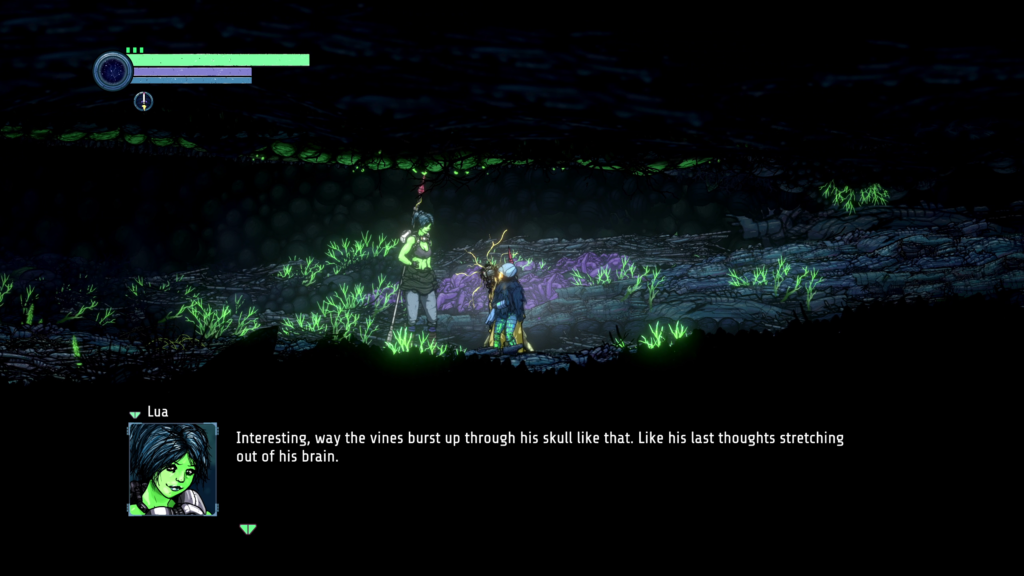 Every creepy life form that Deadsuit guns down — and there will be plenty — leaves behind a green substance called "nanogel" that players can use to increase her attributes, from expanding her HP pool to giving her blaster a bit more oomph. Should Deadsuit perish on her quest — and let's be honest, this is bound to happen at least once or twice — any nanogel yet to be consumed will be left behind at the site of her death. If players can make it back to her corpse in one piece, they can reclaim the lost nanogel, but if they should happen to run afoul of a particularly nasty foe, that batch of upgrade currency is lost forever.
This mechanic will be instantly recognizable to fans of Dark Souls or Hollow Knight, but luckily, Ghost Song's difficulty is far more forgiving than those titles, and I only counted a handful of instances where I wasn't able to safely reclaim my lost goodies. The game is unlikely to offer any major challenges for seasoned veterans of the genre, but that's not to say Ghost Song is a cakewalk, either; boss fights in particular can be rather frenetic, especially when stumbling into them unprepared.
The wide variety of upgrades for Deadsuit, including a dozen blaster modules and nearly 30 different modifications — like the ability to randomly sprout healing flowers at your feet or increase melee strength at the expense of defensive stats — encourages plenty of experimentation, and offers some additional replay value. Fellow Metroidvania lovers should find plenty to latch onto over the course of the campaign, which can be wrapped up in about ten hours or so, but expect to spend quite a bit more time if you hope to uncover all of its secrets. Overall, Ghost Song's lengthy development cycle seems to have been worth the wait. It may not offer much in the way of innovation, but its singular vision is executed with precision and polished to a sheen.
---
Version Reviewed: PC
Screenshots and gameplay footage captured by The Lamplight Review