2018's critically acclaimed Black Panther remains one of the most successful entries in the Marvel Cinematic Universe, with its worldwide gross of $1.3 billion only being surpassed by Spider Man: No Way Home and the four Avengers films. Given the popularity of the character and his prominent appearances in other Marvel entries, there was little doubt of another standalone film, but nothing could have prepared fans for the tragic death of star Chadwick Boseman in 2020 following a four-year battle with cancer. Not only was Boseman one of the most naturally gifted performers of his generation, his role as King T'Challa turned him into a veritable pop culture icon, and the profound devastation of his loss was felt across the globe.
That same devastation looms over the opening moments of Black Panther: Wakanda Forever, as the king's mother Ramonda (Angela Bassett) and younger sister Shuri (Letitia Wright) mourn the death of T'Challa after his body succumbs to an unknown illness. Director Ryan Coogler pays loving tribute to Boseman in a heartbreaking sequence that finds the entire nation of Wakanda coming together to bid farewell to their protector, but the legacy of T'Challa, and of Boseman himself, is felt throughout the film; even the Marvel Studios logo which precedes the title card has been updated to showcase footage of Boseman from across the MCU.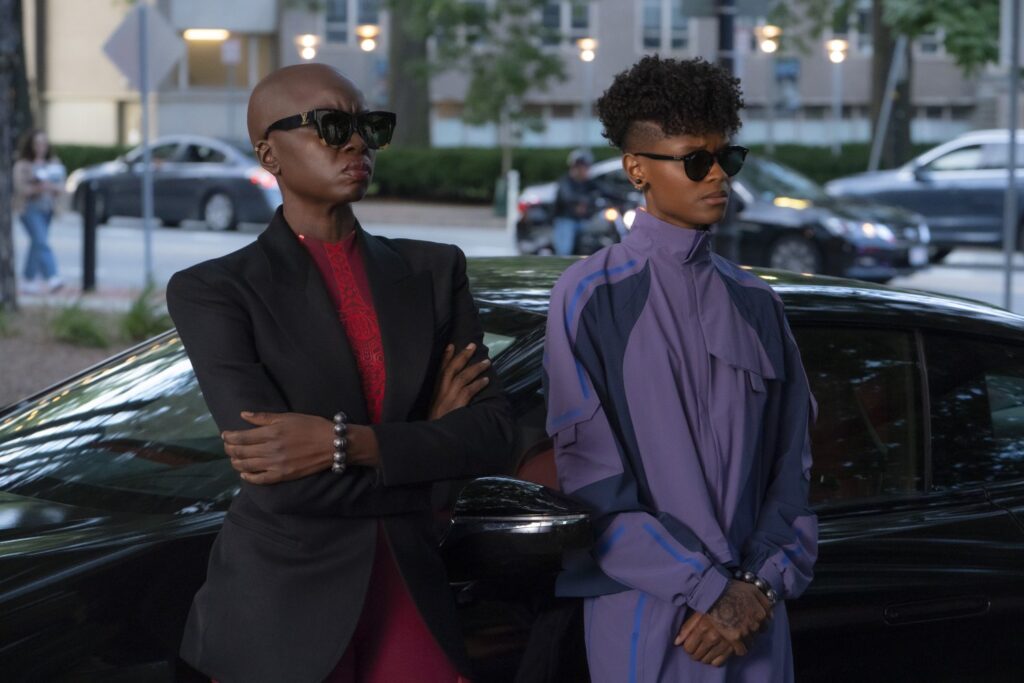 One year later, the United Nations is pressuring Queen Ramonda into sharing her nation's advanced technology and considerable reserves of vibranium with her "allies," even as those same countries employ mercenaries to raid Wakandan outposts. Elsewhere, a covert undersea mining expedition is thwarted when the entire crew is wiped out, and while immediate suspicious is cast upon Wakanda — the expedition was searching for vibranium, of course — the true culprit reveals himself to Ramonda, introducing himself as Namor (Tenoch Huerta Mejía), king of an ocean-dwelling race of blue-skinned warriors residing in the underwater kingdom of Talokan. They've remained hidden from the surface world for centuries, and the search for more of Wakanda's most valued resource threatens to bring humans to their doorstep for the first time, blame for which he lays solely at the feet of Ramonda and her people.
Much like its predecessor, Black Panther: Wakanda Forever introduces an antagonist whose motivations are grounded in something deeper and more complex; Namor has watched from afar as global superpowers have stripped other nations of their resources, culture and identity, and he knows Talokan would suffer a similar fate if his people were discovered. To safeguard his people, Namor offers an ultimatum to the Wakandans: eliminate the scientist whose invention led humans to underwater vibranium deposits in the first place, or be the first nation to fall when Talokan wages war on the surface world.
Conflict is inevitable — this is a Marvel film, after all — and Wakanda Forever ensures that key characters from the previous film have a role to play in these skirmishes. Imposing Dora Milaje general Okoye (Danai Gurira) leads her elite warriors with ferocity while trading verbal barbs with Jabari leader M'Baku (Winston Duke), while new addition Riri Williams (Dominique Thorn), a teenage prodigy from Cambridge, enters the fray with her own take on Tony Stark's technology, laying a foundation for her upcoming Disney+ spinoff series, Ironheart. They're well-met by the Talokanil, who possess near-superhuman strength and ride into battle on the backs of killer whales, wielding spears and lobbing bombs that explode into torrents of water.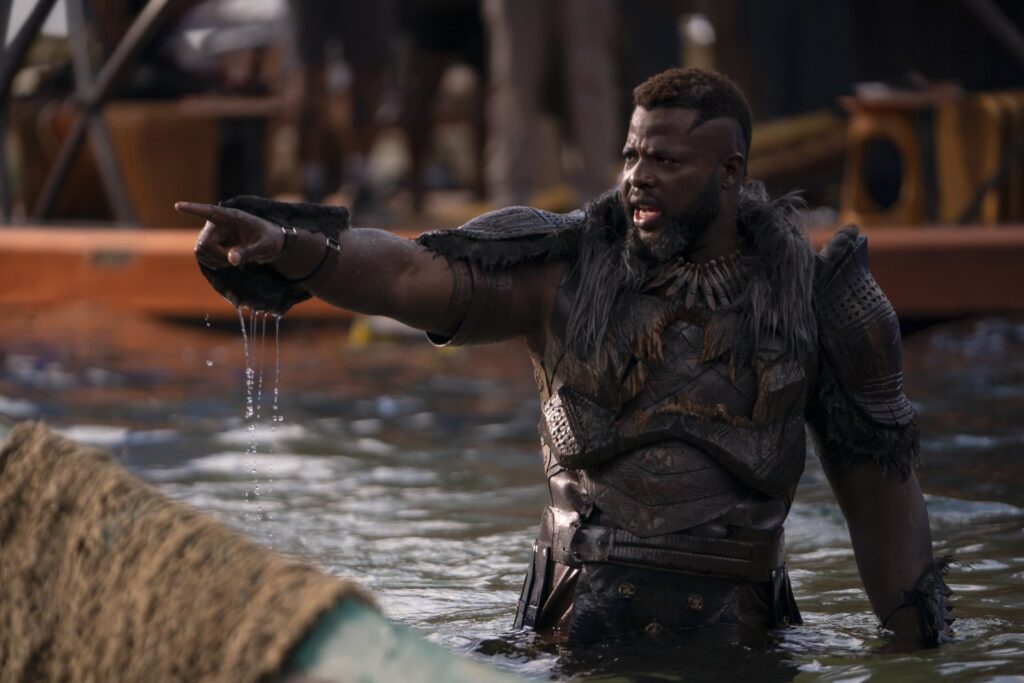 Costume designer Ruth Carter already picked up an Oscar for the previous film, but her work on Wakanda Forever is arguably even more stunning. From the shimmering white funeral garb worn by the Wakandans during the funeral procession to the gorgeous and regal gowns draped around Queen Ramonda to the intricately crafted armor and headdresses that adorn the Talokanil warriors, there's an eye-popping level of detail in nearly every frame. The same level of artistry extends to the production design: Wakanda's blend of African symbology and futuristic tech has never looked better, and the underwater kingdom of Talokan is breathtakingly beautiful.
Despite its blockbuster tentpole trappings, Wakanda Forever is ultimately a film about loss and grief, about learning to reconcile the nature of reality when it contradicts the perceived truths we've always told ourselves. Nowhere is this struggle more evident than with Shuri, whose lifelong faith in science and technology is shaken when those tools are unable to save T'Challa. And yet, she still can't bring herself to embrace the time-honored customs and traditions of her Wakandan heritage; when Ramonda burns her funeral cloak to mark the end of her mourning period, Shuri refuses to participate, and she continues to deny the existence of the ancestral plane despite evidence to the contrary (echoing, somewhat eerily, reports of Wright's alleged anti-vaccination views). Real-world controversy aside, Wright's performance is truly sublime here, matched only by the towering greatness of Bassett as the proud queen trying with all her might to keep her nation united.
The poignancy of Black Panther: Wakanda Forever owes a massive debt to Coogler, who once again penned the screenplay alongside Joe Robert Cole. Tackling a real-life tragedy head-on and using it as the backbone of this film was a risky endeavor, one that could've backfired spectacularly, but instead serves as the rudder that guides the narrative and informs the performances; it's astounding what Coogler has managed to accomplish here. The grief we see from Wright and Bassett and everyone else is rooted in reality, and never once do we question its authenticity. Superhero films are rarely imbued with this level of emotional resonance and gravitas, and even though it doesn't reach the heights of the original Black Panther, it's still head and shoulders above the MCU's other post-Avengers: Endgame offerings.