The undercard has wrapped and it's time for the main event: the ultimate monster showdown is finally here with Godzilla vs. Kong debuting in theaters and on HBO Max. At times too ridiculous for its own good (and that's saying a lot for the franchise), you can't help but shake your head and admire the audacity, and buy the ticket for the ride.
I could try to explain the incomprehensible and virtually non-existent plot to set up the film for this review, but Godzilla vs. Kong makes it clear very quickly the plot and characters aren't important. The talented ensemble cast that includes Alexander Skarsgard, Millie Bobby Brown, Rebecca Hall, and Kyle Chandler are shackled with atrocious dialogue that is delivered even worse by all. There's a lot of obvious "collecting a paycheck" going on, and clearly everyone is aware that no one is watching for the human element of this kaiju brawl.
Things move swiftly to action with the protagonist Kong crossing paths with the unleashed force of nature that is Godzilla. The giant lizard is just a destruction machine with a mysterious drive, in contrast to Kong as the heart of the story, just trying to find a new home. Their first skirmish on top of enormous Navy vessels is just the set dressing for how utterly dumb and loud things are going to get. From there, the story travels to a timeless (magical?) land in the center of the planet called "Hollow Earth," where Kong's backstory gets even more convoluted — and gets a giant (magical?) axe that will come in handy later with that pesky, chubby-looking enormous lizard.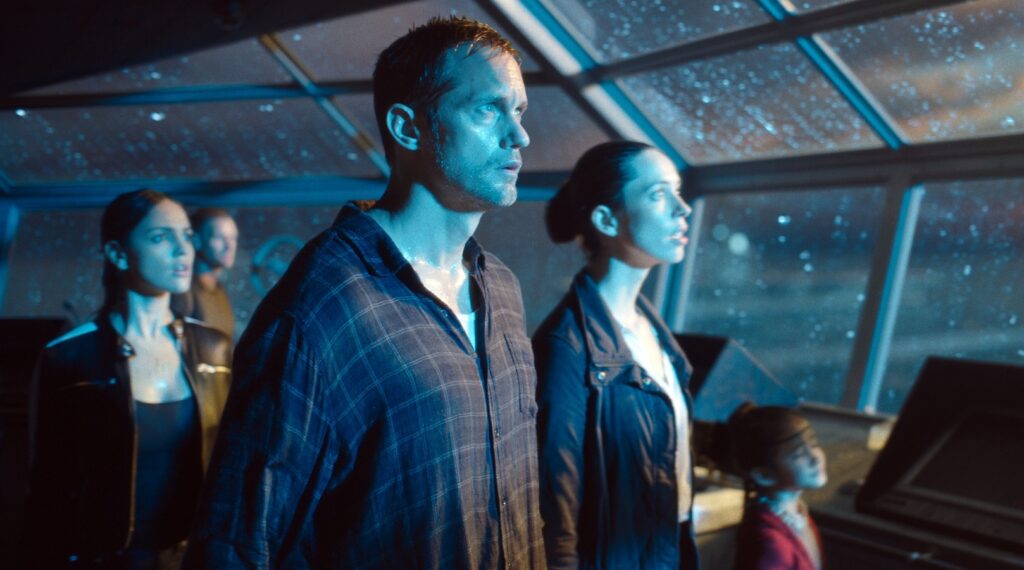 Also early on, the film establishes that on top of giant monsters we're also dealing with futuristic tech, complete with hovering spaceship-like vehicles that glow and several other head scratching advancements compared to the other films in the franchise. Nothing is grounded in reality, and as Godzilla vs. Kong progresses, things get weirder, more sci-fi and way more random leading up to an absolutely ludicrous final battle that has to be seen to be believed, and includes one of the better kept secrets of the film. It's very difficult to convey, even to people with low expectations, just how utterly bizarre this train wreck of a film truly is. But you know what? That kind of swinging for the fences is how this film delivers on the entertainment factor, avoiding the predictable creature smackdowns this franchise has been devolving into for the audience's attention.
Godzilla vs. Kong is even more dumb than you probably could have even imagined, but that doesn't mean the spectacle it provides isn't a sugar high of pure, childish excitement. Credit has to be given to the filmmakers for unabashedly diving into how silly the premise of the movie is and just bringing everything and the kitchen sink to blow viewers' minds instead of trying to pretend this all is Shakespeare. This is just a CG-laden escapist popcorn flick to giggle at with your friends and turn your brain off, and that's good enough for me.
Score: 3 out of 5