In May 2016, I managed to convince my wife that we should deplete the majority of our savings account in order to fly to New York City — the next day — and see Hamilton on Broadway with (most of) the original cast. Both of us were huge fans of the show, having listened to the official cast recording dozens, if not hundreds, of times, and we'd had numerous "wouldn't it be great" conversations about seeing the show in person. Plotting an expensive cross-country trip less than 24 hours before our departure was easily the most flagrantly irresponsible decision we had made together at that point — or since, for that matter — but the spontaneity only served to enhance the excitement.
We landed around 4pm and caught a taxi to our hotel, conveniently located across the street from the Richard Rodgers Theatre, and just a few hours later found ourselves seated in the balcony. The show was everything we imagined it would be, and despite the fact that time seemed to accelerate — the performance felt like it was over in the blink of an eye — I'm still able to vividly recall some of my favorite moments from that evening. Our whirlwind trip to the Big Apple, which lasted about 18 hours in total, is still one of our most treasured memories, and although we've seen Hamilton onstage in two other cities, there's something special about that particular version of the show, and that evening, which will likely never be eclipsed.
This weekend, fans across the globe can experience a bit of that magic for themselves, as Disney+ brings Hamilton to the masses with a slickly produced film of the original Broadway production. Captured live onstage across multiple performances in June 2016, the film was originally slated for an October 2021 theatrical release, but with the movie industry in dire straits and quarantined families in need of something uplifting and inspirational, plans have clearly changed. As director Thomas Kail explains in a brief intro, "it felt very important to give this story, which we were so proud of, to as many people as possible."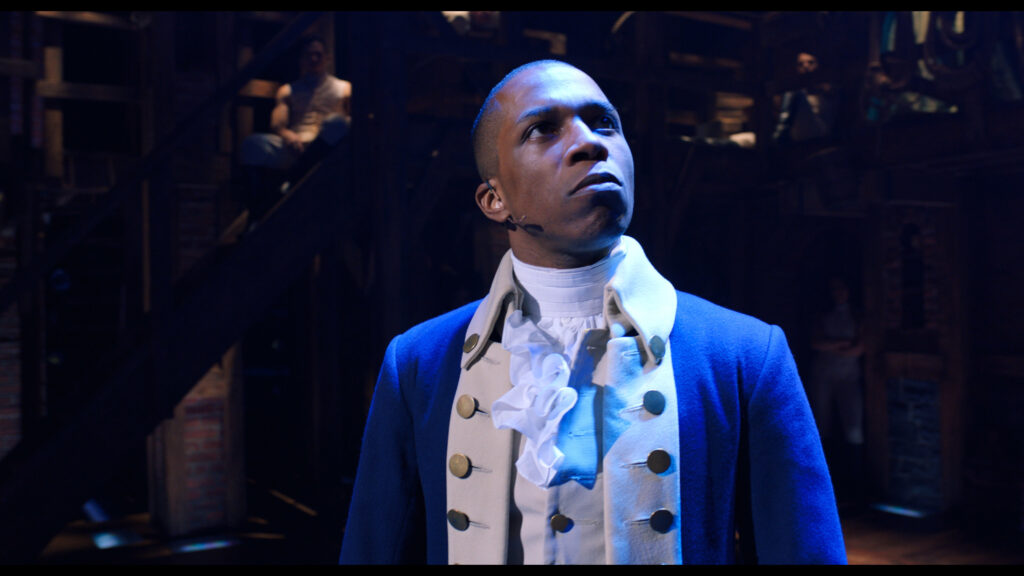 For those uninitiated, Hamilton is the story of the American Revolution and the country's subsequent formative years, told mostly through the eyes of Alexander Hamilton (Lin-Manuel Miranda) and his longtime frenemy, Aaron Burr (Leslie Odom, Jr.). Most of the roles are cast with performers of color, despite the historical figures themselves being almost exclusively white, and the music is a blend of hip-hop, R&B and traditional showtunes — as Miranda, who wrote and produced the show, has often been quoted "it's the story of America then, as told by America now." The original production was nominated for 16 Tony Awards, winning 11, and also counts a Grammy Award for Best Musical Theatre Album and a Pulitzer Prize for Drama among its numerous accolades.
Suffice to say, Hamilton arrives on Disney+ with quite the pedigree, and whether or not it lives up to its reputation will likely depend on a number of factors, not least among them one's personal affinity for musical theatre in general. Original and unconventional though it may be, it's still very much a musical, and by virtue of that distinction alone will not be everyone's cup of tea — although if any theatrical production were able to change one's perspective on the merits of the stage, you'd be hard-pressed to find a better candidate.
Fans whose only exposure to the live production of Hamilton has been through cell phone videos and grainy bootleg recordings will be stunned at the clarity of the film, rendering the ornate and colorful costumes in all of their richness — the dresses worn by the female leads (Phillipa Soo and Renee Elise Goldsberry) and the magenta coat favored by Thomas Jefferson (Daveed Diggs) in Act Two look especially gorgeous. Kail, who also directed the stage version, utilizes plenty of low-angle wide shots to showcase Andy Blankenbuehler's intricate choreography, but also leverages close-ups to capture subtle changes in facial expression and other small gestures that theatre audiences couldn't possibly notice from the back of the house. The result is something that feels more personal, more intimate, more immediate than a traditional stage production.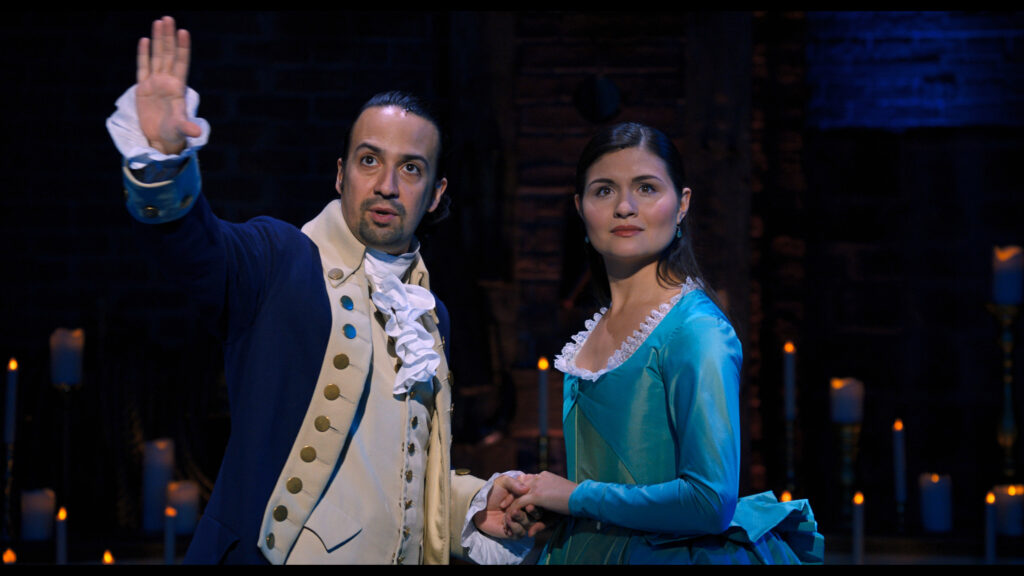 Hamilton's biggest show-stopping numbers are just as impactful on the small screen, from the bravado of "My Shot" to the triumph of "Yorktown," and Odom Jr. deserves immense praise for his show-stealing renditions of "Wait for It" and "The Room Where it Happens." The show's more emotional selections are equally effective, from Goldsberry's goosebump-inducing vocals in "Satisfied" to Soo's heart-wrenching defiance in "Burn," to say nothing of Act Two's "It's Quiet Uptown," which is all but guaranteed to have many a viewer wiping away tears.
With Broadway recently suspending all productions through the end of the year, it's difficult to predict when audiences might have another opportunity to see Hamilton onstage as its creators originally intended — and when live performances finally resume, I can't recommend enough that you seek out the show for yourself, whether on Broadway or the touring circuit. Hamilton was conceived as a piece of theatre, and truly deserves to be experienced as such, but until the world returns to some semblance of normal, this film of the original Broadway production is a damn fine substitute. And just like its onstage counterpart, the version available on Disney+ is well worth experiencing over and over again.