The idea that a slightly campy action flick starring Keanu Reeves would give rise to a blockbuster franchise, spawning numerous sequels and spinoffs (including a television miniseries and multiple video game entries), would have been nigh unthinkable when John Wick debuted back in 2014. But nearly a decade later, the films have grossed more than half a billion dollars at the box office, and that's before the latest installment, John Wick: Chapter 4, blasts its way into theaters on March 24th.
A wounded Wick (Reeves) has been given a new lease on life, courtesy of the Bowery King (Laurence Fishburne), but his refusal to die has become a rather complicated matter for The High Table. Wick's fate has been placed in the hands of the Marquis de Gramont (Bill Skarsgård), a particularly arrogant prick with a disdain for the "old ways" which govern the Table and all who sit beneath it. Rather than go after Wick himself, the Marquis dispatches a pair of assassins: a veteran swordsman (Donnie Yen) and an elite hunter (Shamier Anderson) with a canine companion, prompting Wick to seek help from an old friend (Hiroyuki Sanada) who now oversees the Tokyo branch of the Continental Hotel.
With a running time that clocks in 40 minutes longer than any previous entry in the series, John Wick: Chapter 4 is the franchise's biggest film yet, and one might assume that Reeves and director Chad Stahelski couldn't possibly sustain the carefully choreographed (and oft cartoonish) mayhem. Of course, those assumptions would be incorrect, as Stahelski continues his tradition of crafting increasingly spectacular setpieces in a variety of eye-popping locations, from neon-drenched hotel lobbies to serene Japanese tea gardens, from a Berlin nightclub filled with writhing and gyrating bodies to the heavily trafficked streets surrounding the Arc de Triomphe. Stahelski is unparalleled when it comes to framing action, and like other films in the series there's no shortage of extended and unbroken takes. But late in the second act there's a "oner" shot from overhead as Wick moves through an abandoned building, firing rounds of Dragon's Breath incendiary ammo, that's completely blew my mind — in a franchise stuffed to the gills with memorable sequences, this might be my favorite.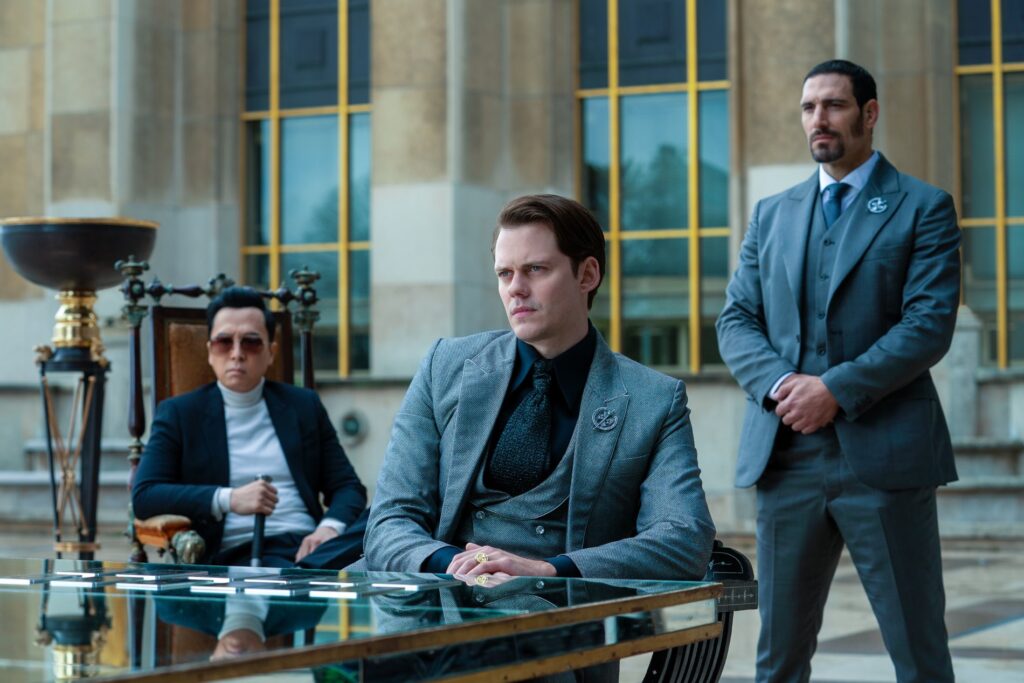 Technical achievements aside, John Wick: Chapter 4 — like its predecessors — boasts stellar casting from top to bottom. Reeves continues to impress in the title role, once again completing a significant portion of his own stunts and fight sequences, but the legendary Donnie Yen proves to be the most captivating onscreen presence; the film shifts into a higher gear every time he saunters into the frame, and his duel with the equally revered Hiroyuki Sanada is a dream come true for fans of Asian action cinema. Elsewhere, Skarsgård is perfectly detestable as the scheming antagonist, Fishburne devours scenery whenever the opportunity presents itself (which, sadly, is all too infrequent), and Ian McShane returns to lend dignity to the role of Wick's longtime friend, Winston; he's well-matched for gravitas by Clancy Brown, who shows up as a stoic High Table officiant. Honorable mention to Scott Adkins, whose scene-stealing turn as a purple-clad, poker-playing gangster with chrome-plated front teeth deserves its own spinoff.
If the previous three films weren't your cup of tea, the brew served up by John Wick: Chapter 4 certainly won't change your mind. But if you love kinetic action set in gorgeous locales, steeped in a heightened reality that borders on the absurd, there's no one in Hollywood doing it better than Reeves and Stahelski. And I say "in Hollywood" rather pointedly, because nothing could possibly get me more hyped for a fifth installment than the notion of tapping RRR's Ram Charan and NTR Jr to appear — make it happen, Lionsgate!