Grab your D20 dice and alert your favorite Dungeon Master because the most beloved tabletop RPG of all time is getting another shot at the big screen with Dungeons & Dragons: Honor Among Thieves. The Chris Pine-starring vehicle may not take the source material quite as seriously as it could, but instead, loads all of its stat points into charisma and succeeds as an enormously entertaining fantasy genre surprise.
As any good D&D quest would, Dungeons & Dragons: Honor Among Thieves revolves around a group of adventurers from all walks of the realm. After serving time for a heist gone wrong, the bard Edgin Darvis (Pine) and his partner in thievery, the barbarian Holga Kilgore (Michelle Rodriguez), pledge to steal back an important magical item from the kingdom of their former partner and betrayer, con-artist Forge Fitzwilliam (Hugh Grant), while also winning back Edgin's young daughter Kira (Chloe Coleman). Joining the heist is another former rogue compatriot, the confidence-lacking sorcerer Simon Aumar (Justice Smith), whose magic is far from reliable, and Doric (Sophia Lillis), a tiefling druid boasting incredible shape-shifting powers and a grudge against Forge for his kingdom's destruction of her forests.
While that's a very simplified synopsis of the ongoings, the plot isn't as important as the core actors' portrayals, which are largely the reason that Dungeons & Dragons: Honor Among Thieves succeeds where many other films of this type (including 2000's Dungeons & Dragons) have failed. Pine has demonstrated time and again that he can bring the energy and chemistry with almost any onscreen co-star and this role is perfectly suited for his talents. Whether he's trading barbs with Rodriguez or having hilarious, razor-tongued arguments with Smith, Pine is the glue that holds the entire picture together. Although, it's a shame the film only marginally takes advantage of the actors' singing ability despite his role in the group as a bard.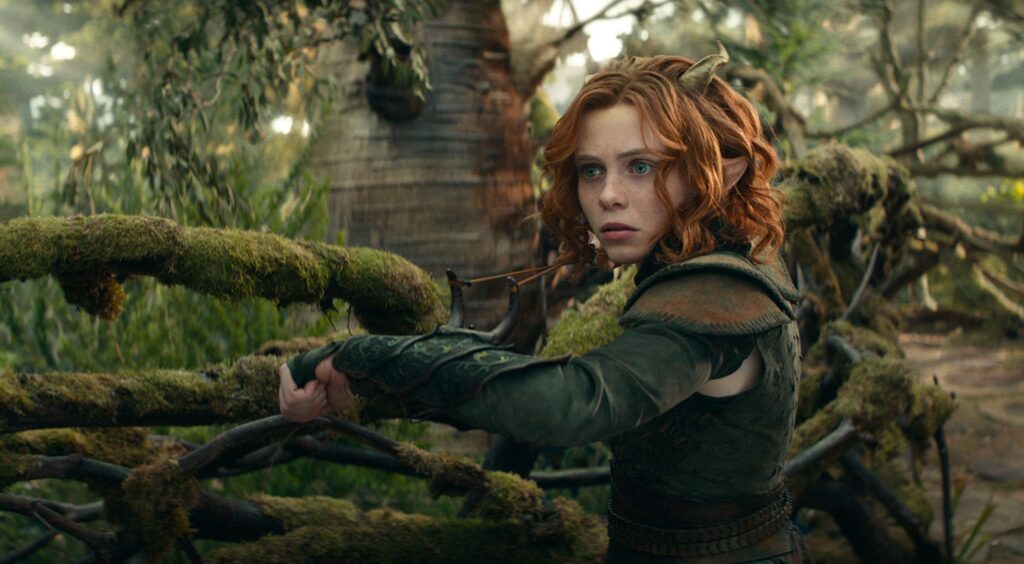 But even taken in individual doses, the other actors and their characters also shine. Justice Smith's comedic timing really pops here, knocking down even the laziest of setups with funnier-than-it-should-be line delivery. The refreshingly clever action sequences also put Lillis' character Doric on a pedestal, maximizing her magic abilities and making good use of the actress' innate strength and stunning fantasy looks. Meanwhile, Hugh Grant might not actually know what is going on in the movie surrounding him, but is having a splendid time chewing the scenery as a pseudo-villain for the adventurers. As affable as Grant can be, the actor also can effortlessly pivot to slimy and obnoxious with a quick change of body language or vocal tone. Bridgerton's Regé-Jean Page also deserves a nod for his scene-stealing turn as the virtuous dark wizard, Xenk Yendar, in the latter half of the film.
The film's running time, at just over two hours, is the chief weakness of an otherwise fast-paced and enjoyable journey, despite flying rather quickly through a significant amount of backstory and setup. The finale suffers from a few "probably should have ended there" moments and overstays its welcome just long enough to warrant note in this review.
That being said, this nitpick isn't enough to bring down the aforementioned joy of the sequences centered on Doric or clever portal magic heists or even the D&D Easter egg-filled race through a deadly labyrinth in a gladiatorial arena. Dungeons & Dragons: Honor Among Thieves provides inventive, magic-themed mayhem alongside all the unexpectedly hearty portions of laughs. Not since the original Guardians of the Galaxy has a movie successfully blended this level of humor and action, and it might just be a sleeper favorite amongst this year's blockbuster films.
Score: 4 out of 5