While the original Scream was a breath of fresh air that almost single-handedly revived a stale genre, the series has been on increasingly shaky ground in recent years. The 2011 reboot had its moments — likewise for last year's fifth installment — but the arrival of Scream VI may herald the imminent death of this franchise, as it grows ever more convoluted while continually recycling ideas and rehashing events from previous (better) episodes.
This time around, our survivors are leaving Woodsboro squarely in the rearview mirror, with Tara (Jenna Ortega), Mindy (Jasmin Savoy Brown) and Chad (Mason Gooding) headed off to college in New York City, and Sam (Melissa Barrera) tagging along to keep an eye on her little sister. But as Sam continues her attempts to reconcile her connection to a major figure from franchise lore, she's also beset with online conspiracy theories from "Westboro truthers" suggesting she committed the most recent cycle of murders herself and framed someone else for the crimes. It's the film's most interesting idea, but remains frustratingly unexplored as virtually all thematic nuance is thrust into the background as soon as a new Ghostface arrives on the scene and begins carving a path (quiet literally) toward Sam's inner circle.
Fan service abounds, with numerous references to events and characters from previous films (Hayden Panettiere even reprises her role from the 2011 installment) and yet another tired sequence where the resident movie buff explains the rules; apparently franchises have their own set of regulations, separate from sequels and reboots. The killings are among the bloodiest and most brutal in franchise history, which should appeal to the gorehounds, and while the Big Apple setting does virtually nothing to service the narrative, at least it provides some new environments for the series mascot to haunt, not to mention a convenient excuse for why characters can't race to someone's rescue ("that's all the way uptown, we'll never make it in time").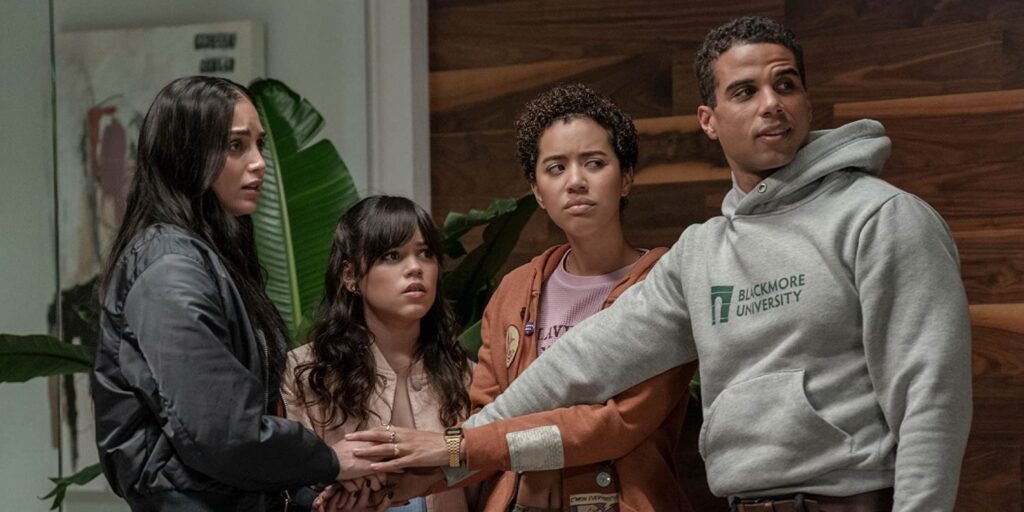 Yes, there's promise here, but the third act is so laughably stupid — even by Scream standards — and the customary "big reveal" flirts so dangerously with full-on camp that it begins to feel like the audience is being mercilessly trolled by the filmmakers. Scream VI hints at more interesting themes, like the 24-hour news cycle's culpability in magnifying horrific tragedies with little regard for the victims, or the propensity to assassinate someone's character the moment they start garnering too much fame or positive attention, but none of these ideas are fleshed out. Instead, we're left with bewildering plot contrivances and a ho-hum climax that would likely evaporate from memory immediately upon exiting the theater, if not for Barrera and Ortega, who remain innately watchable.
It's no wonder Neve Campbell declined an offer to return, as Scream VI is among the weakest entries in the series, a sentiment that seems shared even by its characters. "Fuck this franchise," someone sighs wearily in the lead-up to the big showdown, as if they were somehow able to peer into the future and encapsulate the opening weekend reactions.