After a commercially and critically successful foray into big-time Hollywood filmmaking with Thor: Ragnarok, director Taika Waititi is back with Jojo Rabbit, a film that hews closer to his earlier work but whose comparatively smaller size does not reflect its ambitions, which remain lofty. Combining the absurdly deadpan humor that permeated What We Do in the Shadows and Hunt for the Wilderpeople with the coming-of-age whimsy of Wes Anderson's Moonrise Kingdom, the film is a delightfully bizarre mix of tones that manages to tug heartstrings and tickle funny bones — often in unison.
World War II is beginning to wind down, but 10-year-old Jojo (Roman Griffin Davis) remains steadfast in his devotion to the Third Reich, counting the days until he can depart for Hitler Youth camp. Aside from his doting mother Rosie (Scarlett Johansson), who tolerates her son's exuberant fanaticism as little more than a phase, Jojo doesn't have anyone to talk to — unless you count his imaginary friend, Adolf (Waititi), a cartoonish oaf who crops up periodically to serve as the boy's conscience, and bears a striking resemblance to a certain political leader.
Under the tutelage of the bored and irritable Captain Klenzendorf (Sam Rockwell), Jojo's days at camp are filled with typical activities like rope climbing, book burning and grenade throwing. But when he's taunted by a group of bullies for his refusal to wring the neck of a captured rabbit, Jojo tries to prove his worth during a training exercise that goes horribly wrong, leading him to be sent home with a disfigured face. "I look stupid," he complains to Rosie, who advises him to look on the bright side. "Enjoy the attention, not everyone is lucky enough to look stupid."
Recovering at home and investigating the source of a strange noise upstairs, Jojo is shocked to discover a teenage Jewish girl named Elsa (Leave No Trace's Thomasin McKenzie) living in a hidden chamber behind the wall of the study. Even more appalling is the revelation that Rosie herself invited the girl into the home, an act which Jojo considers a betrayal of the highest order — as a Nazi-in-training, Jojo couldn't possibly cohabitate with the enemy. But he also realizes that reporting Elsa would likely result in his mother's arrest, and consults his imaginary pal to determine the best course of action. "Burn down the house," suggests the Fuehrer.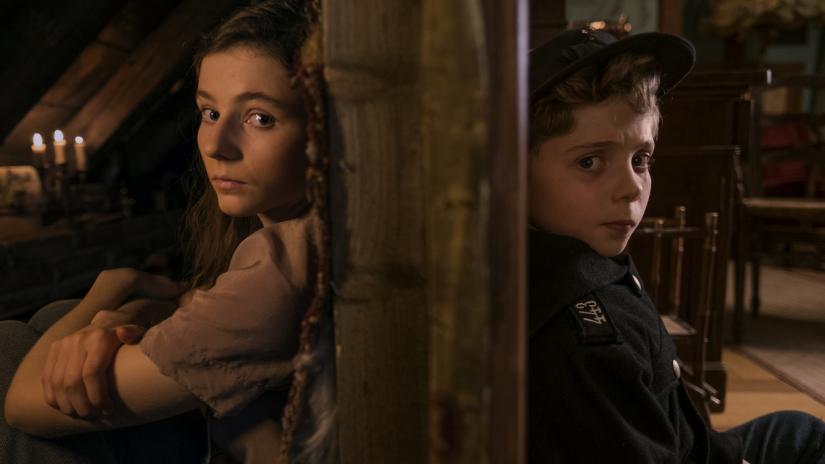 Much of what follows gets played for laughs, such as Jojo stipulating that Elsa must reveal the secrets of the Jewish people so he can publish a book full of revelatory information (she obliges by claiming that Jews grow horns and sleep hanging upside down like bats, among other amusing falsehoods). But there are some genuinely tender and emotional beats as well, and Jojo Rabbit deftly balances these decidedly more human moments with the same farcical tone that we've come to expect from Waititi.
The director also deserves a commendation for his uncanny ability to select incredibly talented young performers (see Julian Dennison in Hunt for the Wilderpeople), and 11-year-old Roman Griffin Davis — in his first professional acting role — carries the film with the confidence of a seasoned veteran. McKenzie is equally stellar in a performance that's mostly subdued based on the circumstances of her character's plight. The young actress continues to impress, and the string of high-profile projects in her immediate future (including films by Justin Kurzel, David Michod and Edgar Wright) should give us plenty more to look forward to.
Setting a whimsical coming-of-age story during one of history's most horrifying events is a tricky notion for any director to attempt, much less pull off. At its core, Jojo Rabbit is a funny and extraordinarily sweet tale of a young boy confronting what he believes — or what he thinks he believes — in the face of overwhelming evidence to the contrary. "You're not a Nazi," Elsa tells him. "You're a ten-year-old kid who wants to be part of a club." But that "club" is still responsible for atrocities, and despite a gut-wrenching moment or two, Waititi's film never quite reckons with the harsh reality of its backdrop. The film's ambition is admirable, and it's hard to imagine anyone more capable of wringing so many laughs from such a peculiar premise, but the downplaying of certain events leaves the experience falling just short of perfection.