Edoardo Vitaletti's feature-length debut, The Last Thing Mary Saw, is a somber horror tale set in the winter of 1843, where a forbidden romance will have shocking consequences for the titular maiden and her devoutly religious family. Premiering at the 2021 Fantasia International Film Festival, the languid pacing, candlelit interiors and ominous threat of a higher power that's always watching may invite comparisons to Robert Eggers' stellar 2015 offering The Witch, although its positioning of a same-sex relationship as the catalyst for persecution and violence actually has more in common with recent Netflix release Fear Street Part 3: 1666.
We first encounter Mary (Stefanie Scott) bloody and blindfolded, seated across the table from a local constable and a pair of armed guards. When she's asked to recite the Lord's Prayer, the men train their rifles on her as though speaking the words aloud might cause her to transform into some horrifying beast. No such act occurs, and Vitaletti winds the clock backward to set the table: Mary's parents have come before the family matriarch (Judith Roberts, excellent) to convey their dismay that "her ears are deaf to the Lord's preachings," and that she and housemaid Eleanor (Isabelle Fuhrman) "long for one another's touch" — in bright sunlight, no less!
Mom and Dad are eager to dismiss the maid, but the rest of the family opts for "correction" instead, forcing the girls to kneel on grains of rice and quote lessons from the Bible. Despite this and other grueling physical torture, Mary and Eleanor continue their clandestine affair, bribing a farmhand (P.J. Sosko) to keep watch as they sneak out for midnight trysts in the barn. Their discovery at the hands of Mary's siblings spurs Grandmother to take drastic action, and Mary responds in kind, concocting an escape plan that will also serve as fiery retribution — until the arrival of a mysterious stranger (Rory Culkin) throws everything into disarray.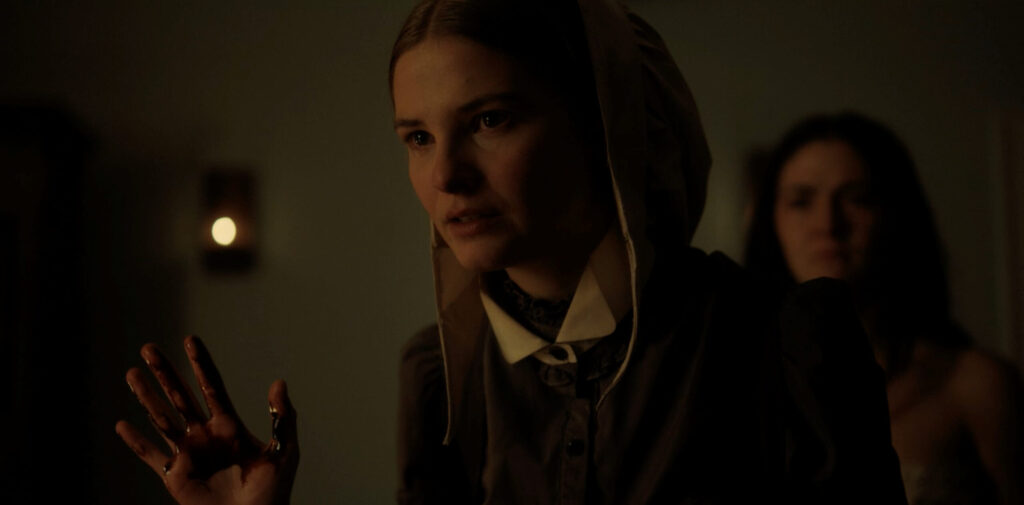 The Last Thing Mary Saw frequently flashes back to the interrogation room, where Mary — whose alleged crimes have yet to be revealed — challenges the constable and the belief system which governs his actions. "For this purpose, the son of God was manifested; that he might destroy the works of the Devil," says the lawman resolutely, but he's taken aback by the reply. "Lucifer was an angel before we cast the name of the Devil upon him," Mary says, barely suppressing a smile. "God creates enemies in order to perform his good." It's no secret that acts carried out in His name, particularly in this time period, were often used as means to subjugate, and Vitaletti acknowledges this, cutting away from images of Mary and Eleanor wincing in pain to show male family members smiling, almost gleefully, while Grandmother nods her head in approval.
There's a certain amount of satisfaction that comes from watching these smug zealots answer for their heinous deeds, even though it's clear from the beginning that things don't play out quite as our heroine had hoped for. That doesn't make the climax any less thrilling — in fact, Vitaletti's decision to stage this lengthy sequence during a period where the family has taken a vow of silence is one of the more compelling directorial choices in recent memory. This, and the magnificently crafted atmosphere of oppression and dread, help to offset the film's biggest shortcoming: the underdevelopment of its central romance.
Scott and Fuhrman are fine actresses, but their scenes together lack the sort of intensity one might expect from two women whose desire for each other is so great they're willing to repeatedly risk torture — or worse — just to steal a few precious moments together. Despite the hurried embraces and furtive kisses away from prying eyes, Mary and Eleanor never seem to be exhibiting the sort of lustful longing the family insists. It's a minor complaint, but one that affects the overall believability of their plight, and the decisions they're ultimately led to, leaving the film to fall a bit short of the greatness it might have achieved.
The Last Thing Mary Saw screened at the 2021 Fantasia Film Festival. Find more of our Fantasia coverage at this link.