Following the unexpectedly dark events of Fantastic Beasts: The Crimes of Grindelwald, fans will once again get to return to J.K. Rowling's magical Wizarding World in the latest installment, Fantastic Beasts: The Secrets of Dumbledore. The evil wizard Gellert Grindelwald (Mads Mikkelsen) is free and amassing followers at a frightening pace, but a secret past shared with Hogwarts Headmaster Albus Dumbledore (Jude Law) has the two playing a chess game with the fates of both the magical and muggle worlds in the balance.
Naturally, Dumbledore does what Dumbledore does best to address the issue — by hanging back in the shadows and recruiting other individuals to move against Grindelwald, led by lovable magizoologist Newt Scamander (Eddie Redmayne). Returning to join the fight are his Auror brother Theseus Scamander (Callum Turner) and French wizard Yusuf Kama (William Nadylam), newcomer Professor Eulalie "Lally" Hicks (Jessica Williams), and everyone's favorite muggle baker Jacob Kowalski (Dan Fogler).
Directed by Potter veteran David Yates from a story written by J.K. Rowling and Steve Kloves, Fantastic Beasts: The Secrets of Dumbledore is essentially Warner Bros' attempt at a course correction with the box office gleam of the Potter franchise waning after The Crimes of Grindelwald. Mads Mikkelsen is a significant upgrade in the recasting of Grindelwald this time out, taking over the baggage and hammy portrayal Johnny Depp previously brought to the role. Mikkelsen's performance is understated with a feeling of true restrained evil, but yet still vulnerable when it comes to Dumbledore.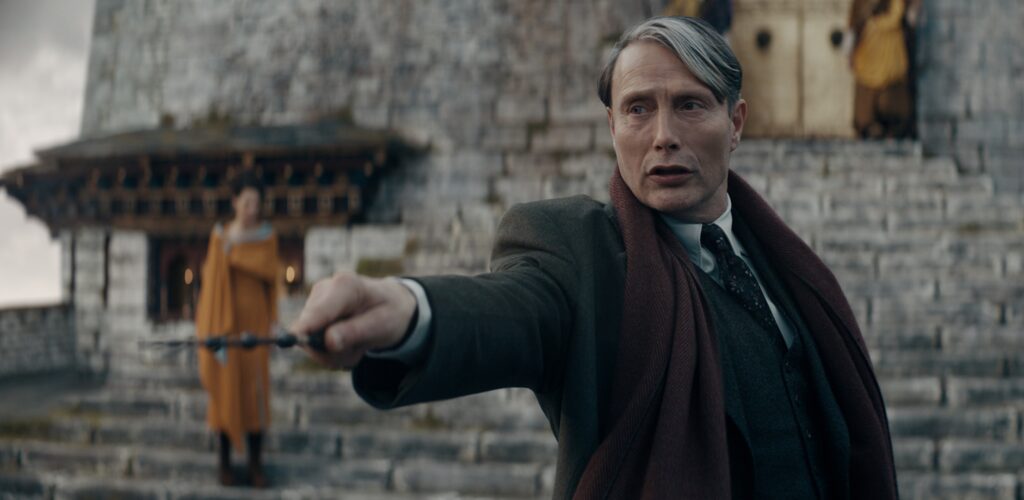 Fan service is also front and center to entice viewers back to the action, including a return to Hogwarts in a few humorous but unnecessary scenes used mostly to invoke nostalgia. There's even other unexpected locations and younger versions of important Potter characters to get the fan hearts fluttering like a golden snitch, but none impact the story as a whole.
Yates, Rowling and Kloves also seem to find a more fitting balance somewhere between the tones of the first two films. Fantastic Beasts had an air of whimsy and wonder while The Crimes of Grindelwald was far too grim and joyless. Despite retaining some of the oddly dark elements (even for a Potter film), The Secrets of Dumbledore brings the beasts themselves back a little more into focus and the sense of adventure is more intact.
The true standouts of the franchise continue to be Redmayne and Law in their respective starring roles. Law especially lays his claim to the role of Dumbledore with a perfect twinkle in his eye that was only last seen in the late Richard Harris in the original (and best) version of the beloved Headmaster. Redmayne continues to make Newt's awkward social interactions and enormous heart enough reason to keep coming back to Fantastic Beasts. Honorable mention to Dan Fogler as Jacob, whose unwavering loyalty to his friends and pure excitement among the magical world is infectious.
One important element of Newt's overall character growth is strangely absent throughout the film. Katherine Waterston's fan favorite character Porpentina Goldstein, the future wife of Newt, is basically non-existent in this story with Lally filling the role on the team that seemed originally intent for Tina. Regardless of what happened behind the scenes to prevent Waterston from taking part in a significant role, the character's presence was sorely missed and left Newt without the person best at getting him out of his shell.
Also, it makes zero sense that Tina wouldn't be involved in a mission that could result in the retrieval of her traitorous sister Queenie (Alison Sudol) whom is now helping the growing Grindelwald army. Another plotline that falls flat sees Ezra Miller's long-lost Dumbledore brother Credence's storyline comes to a rather tepid conclusion. If this truly is the payoff to his storyline — and with the actor once again in hot water in real life — this is a good opportunity for WB to cut his ties to this franchise.
While it's neat to see how this film expands the global scope of the wizarding world and visits some truly cool new locations, the action set pieces are a bit short and lacking anything original to the series. As the final battle closes and the audience steps back to take an inventory of where things stand, unfortunately The Secrets of Dumbledore is more about tonal correction and only just resets the board while advancing little of the overall plotlines, setting up yet another film in the franchise to attempt at finally elevating it to greatness.
Score: 3 out of 5
Fantastic Beasts: The Secrets of Dumbledore Hits Theaters on April 15, 2022.