Breaking Bad. Better Call Saul. What's next for the surprise dramatic acting gem of a generation, Bob Odenkirk? Action star! No, seriously. From the screenwriter of John Wick, Derek Kolstad, comes the ridiculously fun and bloody bullet-fest called Nobody, an undeniable blast of a film and the perfect action vehicle for Odenkirk, loaded with dry wit and terrifically raw fight scenes.
Hutch Mansell (Odenkirk) is just your ordinary, bored-with-his-life suburban dad, stuck in the rut and dull repetition of the daily grind. Things take a turn when two burglars break into his home and emasculate Hutch in front of his teenage son, triggering a part of him he thought was long buried. After a terrible night and a series of chance encounters, Mansell decides it's time to fight back and embrace his dark side to regain his swagger and save his family.
Nobody is not revolutionary in its action/revenge trope subject matter, but what it lacks in originality it by far makes up for in style and terrific character actors. The film relies on the performance of Odenkirk to stand tall, and he is absolutely fantastic as the reluctant hero and surprisingly believable as someone that could "fuck you up," as he aptly puts it in an early scene. His natural world-weary look is perfect for Hutch and as the character's backstory begins to unfold, Odenkirk's slight shift in mannerism and confidence are subtle brilliance.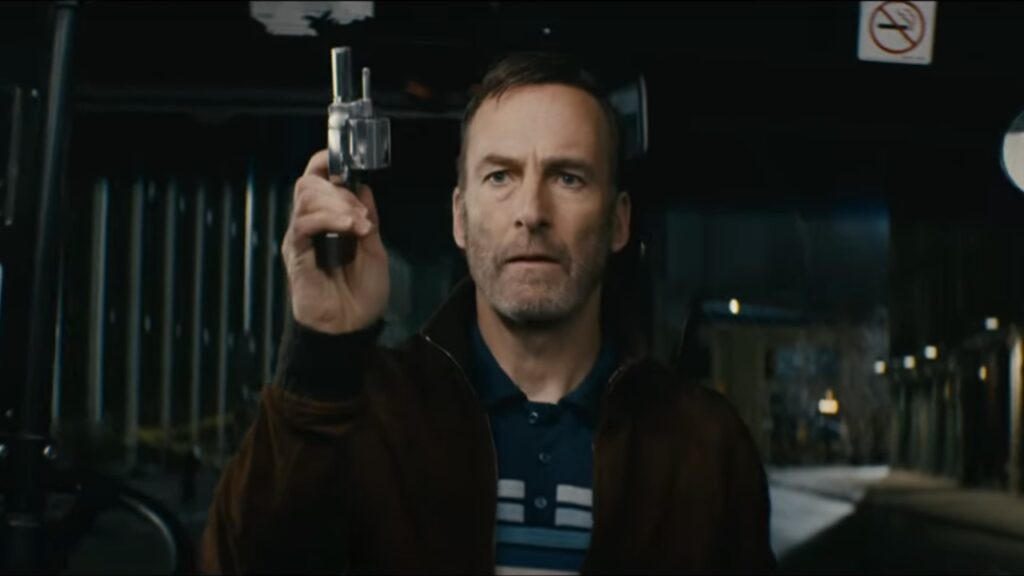 The script for Nobody also really allows Odenkirk's comedic timing to shine in wonderful moments of absurdity, whether screaming about getting back his daughter's kitty cat bracelet or menacingly lecturing captured would-be assassins in his home, the actor has killer line deliveries. But he never loses the humanity of the character in genuinely sincere scenes with his wife, and also with his dad (Christopher Lloyd) that leave you attached and rooting for Hutch to kill 'em all by the end.
Hutch doesn't go it alone though, with the film bringing in some terrific supporting cast including the aforementioned Christopher Lloyd in what will be one of the hardest-to-top supporting moments in a popcorn flick for 2021. Additionally, Odenkirk never runs out of interesting faces to interact with, like RZA as an old friend of Hutch and Colin Salmon (Krypton) as the mysterious The Barber, or the scenery chewing insanity of Aleksey Serebryakov as a hot-headed Russian mobster with a penchant for theatrics.
Truth be told, the John Wick films never really clicked for me, so I'm certainly not the target demographic for this film and obviously there will be Nobody comparisons to Liam Neeson's action star renaissance in Taken, which also never did much for me. This one though, had me from start to finish, rocketing by at a lean hour and thirty minutes and packing a terrific soundtrack, tons of wickedly dry wit, and a tone that knows when to go over the top and when to pull back. It's all topped off by a perfectly paced gun fight/car chase sequences that leads into a bonkers trap-laden climax that is both completely ridiculous and tremendously satisfying.
Score: 4.5 out 5