Netflix's female-driven shoot 'em up Gunpowder Milkshake is a neon-soaked, stylish riot that mixes humor and bloody violence with wicked glee. Writer-director Navot Papushado (Big Bad Wolves) gathers a terrific ensemble cast to tell this John-Woo-meets-Quentin-Tarantino tale of three generations of female assassins coming together to protect their own and take down those that want them dead — including the mob and even their own employers, The Firm.
Gunpowder Milkshake stumbles a bit out of the gate with a slow, action trope-filled introduction as Papushado begins to world-build this timeless, unidentified noir setting. If audiences stick around, about 30 minutes into the film everything begins to click when a completely bonkers fight sequence in a brightly lit black market doctor's office finally takes the leash off. From there, the flick doesn't scrimp on inventive action, laughs and colorful visuals that are just superb and beyond stylish.
Karen Gillan (Guardians of the Galaxy) stars as Sam, daughter of elite assassin Scarlett (Lena Headey), who was forced to abandon Sam as a young teen after a job went bad. Gillan is sublime in the role, working through some tough fight choreography and bringing her wonderful comedic timing and vulnerability that made her a fan favorite on Doctor Who. Doesn't hurt that she has a kickass jacket and a retro-cool car with flip-up headlights to give her a Ryan Gosling in Drive vibe. Sam now also faces a job gone bad and takes it upon herself to protect plucky 8-year-old Emily (Chloe Coleman) who quickly wants in on the assassin life after her father is killed, leaving her orphaned.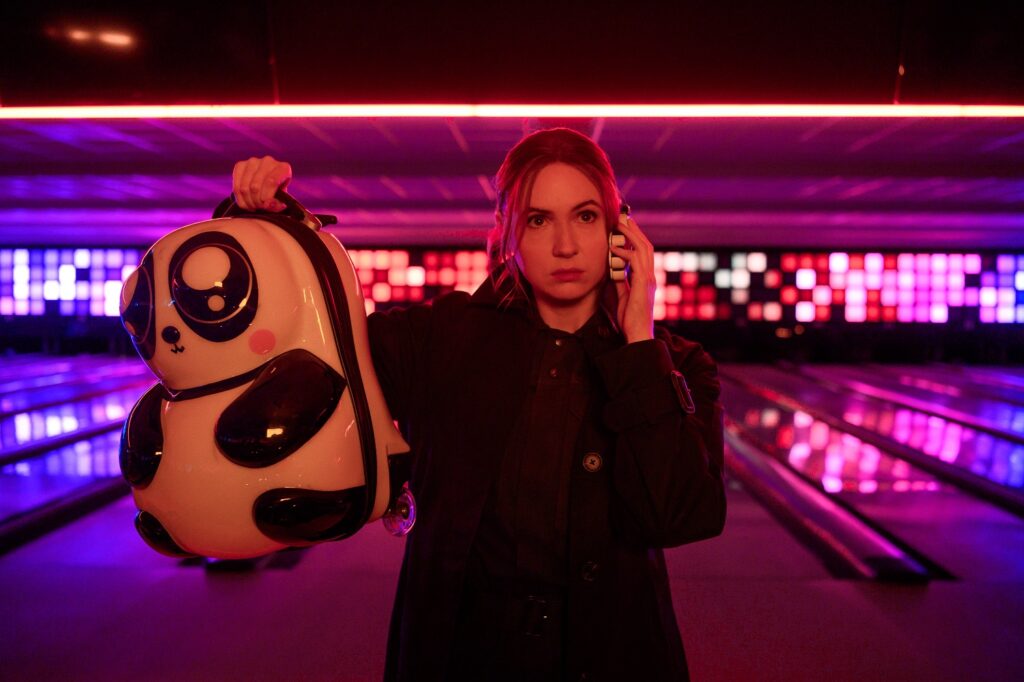 The supporting cast is absolutely loaded with talent including the aforementioned Lena Headey (Game of Thrones) who establishes fun chemistry with Gillan and seems to have the time of her life in the big last confrontation. Alongside her, Sam looks for aide from the Librarians (Angela Bassett, Carla Gugino, Michelle Yeoh), a trio of women who protect a library that doubles as a secret arsenal for the assassin world. All three actresses bring their considerable talents to give each character a distinctive personality despite their limited screen time. In one of the last sequences, set in a retro diner, Bassett makes a face of pure joy while bashing a thug's head in slow-motion that mirrors the infectious good time of the film.
If there's a primary weakness to Gunpowder Milkshake, it would be the lack of a main villain as vibrant as the rest of the film. Paul Giamatti plays Nathan, Sam's liaison to the voiceless Firm, but the decorated actor is more in his grumpy, but still likable persona instead of an evil bad guy to hate. There's also some amusing performances from a trio of lower-level The Firm thugs that confront Sam in the bowling alley and doctor's office. There's even the intimidating mob boss himself, but none are the true heavy of the film, they're essentially mini-bosses setting up this franchise with The Firm as the overall Big Bad.
Netflix has something here with the eye-popping aesthetics, inventive action and razor sharp humor that the film brings after a rocky start. The ending certainly feels like things are being put into place for this franchise to continue past this film. Gillan has long deserved to be a leading lady and Gunpowder Milkshake has all the style and substance to give her another big push in that direction.
Score: 4 out of 5
Gunpowder Milkshake is in select theaters and on Netflix July 14