It wasn't HYDRA or Ultron that figured out how to slow down Black Widow, it was actually a real life worldwide pandemic. But over a year after its scheduled release, Scarlett Johansson's long-awaited solo flick for Marvel's super spy assassin is finally hitting theaters (and Disney+), and it turns out that this better-than-expected origin story was worth the wait.
Taking place after the events of Captain America: Civil War but before Avengers: Infinity War, Black Widow sees Natasha Romanoff alone and on the run from the authorities and her ex-Avengers teammates. When Natasha finds herself mercilessly hunted by new villain Taskmaster, she finds herself unexpectedly reunited with her surrogate family and facing the ghosts of her past.
From the terrific opening scene extremely reminiscent of FX's The Americans, Black Widow immediately establishes a unique tone with sharp action and unexpected humor. To the benefit of the audience, it's made clear from the start this film is about this family and not just a solo-Natasha mope fest.
David Harbour as Alexei Shostakov (aka Red Guardian) is a scene stealer with his burly, Russian knockoff Captain America who pines for his glory days. The actor brings that same rough-around-the-edges warmth that makes him so great as a reluctant father figure on Stranger Things, and his chemistry with Rachel Weisz's cold, but motherly Melina Vostokoff is another highlight of the film.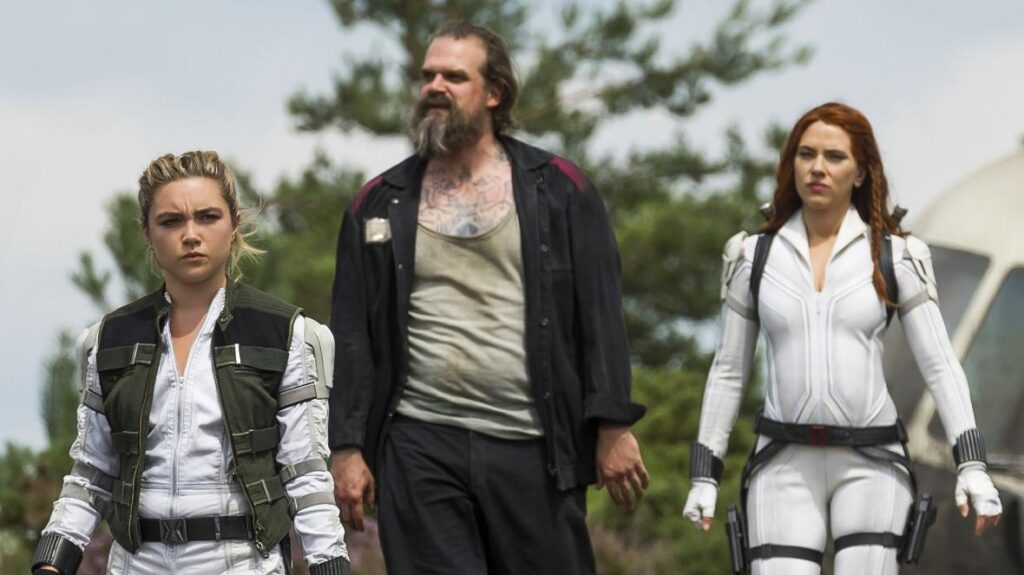 Perhaps Black Widow's biggest unexpected secret weapon is Florence Pugh as Natasha's adopted sister Yelena Belova. The fiery Yelena is every bit as dangerous as Natasha, but with a quirky and hilarious sense of humor that caught me off guard many times. Yelena has a big arc that requires serious range and Pugh is flat out fantastic — her future in the MCU should be exciting to watch.
The slowest parts of the film are the flashbacks to Natasha's childhood training/brainwashing in the notorious Red Room where young girls are turned into spies called Black Widows. Director Cate Shortland doesn't let the film lag too often though, and each Bourne-esque hand-to-hand combat sequence or destruction-laden vehicle chase is expertly executed. The use of Taskmaster's abilities also makes for some really slick battles and there's even a twist with the villain that plays nicely into the overall plot. The film relies a bit too heavy on iffy CG in the big finale, but much of the rest of the film still looks solid and grounded in reality with good old-fashioned practical effects.
The Marvel Studios film that had to this point garnered the least interest from me, Black Widow turned out to be one of the MCU's most pleasant surprises. Interesting and complex familial relationships are brought to life with colorful characters and memorable performances. Natasha Romanoff is given the backstory and send-off she deserves, while introducing fans to terrific new characters that can now play in the sandbox of the MCU.
Score: 4 out of 5
For more on Black Widow, check out Brent's review.