Being famous in the age of social media is not only far more attainable, but also far more dangerous. Zoey Deutch (Everybody Wants Some!!) stars in the new film Not Okay, a Hulu exclusive cringe-comedic drama that shows how far people will go to get that fame and the cost when your actions blow up in your face.
Danni Sanders (Deutch) is an influencer for an outlet appropriately named "Depravity," where she is disliked by her co-workers and her editor ignores her work. She wears a big smile on her face despite being numb from her depression medication, and her rather vapid view on life has also turned off any type of friendships or relationships that she's been so dying to develop. Suddenly she stumbles upon the epiphany to fake a trip to Paris through social media to impress her peers and gain the attention that this broken, lonely girl needs from the internet. Unfortunately, a terrorist attack hits Paris while she is supposedly on said "trip," making her an instant celebrity as a survivor, which ignites an ever-growing lie that festers into a powder keg waiting to explode.
Not Okay is a lot of things, but mostly it's uncomfortable for significant stretches of the film. Danni is more complex than she initially appears and, despite her superficiality, is quite endearing thanks to Deutch's performance. The daughter of Lea Thompson and Pretty in Pink director Howard Deutch, she carries much of the film on pure charisma, even with the despicable selfish manipulations Danni continues to carry out with her new popularity. Although it seems farfetched that this attractive, sunny-dispostitioned girl initially couldn't make a single friend in New York, even if not just within her snooty work circles.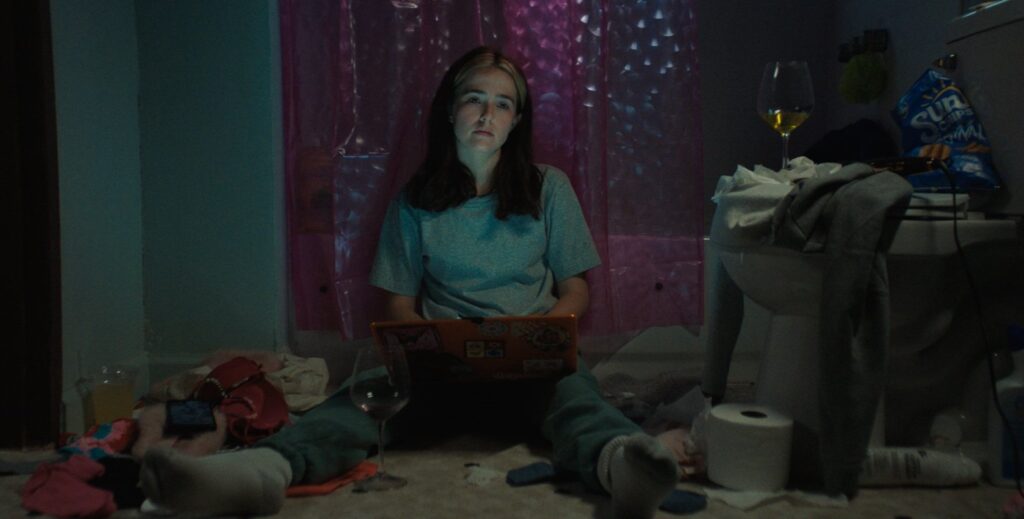 A run-in with her crush, the Pete Davidson-esque influencer Colin, played believably hilarious by Dylan O'Brien (The Maze Runner), inspires Danni's big little lie. O'Brien doesn't have an abundant amount of screen time, but when he does, it's extremely entertaining witnessing how he sees the world. He's Danni's unattainable love and as the story evolves, her feelings towards him shift and act as a gauge for her emotional evolution both up and down.
The other major character in Danni's story is Mia Isaac as Rowan, a young activist Danni meets at a support group for people that survived tragic events. Yes, Danni makes some deplorable decisions. The two develop a doomed friendship and Isaac has good chemistry with Deutch. Their characters bring out the best in each other when their friendship is at its peak, but sadly, the whole plot of the film revolves around Danni's outing as a liar. Isaac handles some large dramatic moments quite well, but occasionally goes a bit too much with the performance.
Not Okay is both a cautionary tale of modern fame and a look into the current over-fetization of toxic social media influencer popularity. The plot is extremely plausible and handled with dexterity by director Quinn Shephard, but the film's overall identity is an issue. The storytelling sometimes struggles to balance the comedic elements with the drama, namely much of the comedy hits light, but Deutch's charismatic performance helps keep those areas from being too problematic.
Score: 3 out of 5