Picking right up where the happy new couple, Harley and Ivy, left off in the prior season finale, Harley Quinn Season 3 on HBO Max smacks with greatness like an oversized mallet. The newly dubbed "Harlivy" return to Gotham fresh off their "Eat. Bang! Kill. Tour," which is totally a thing — an actual comic book series tie-in. Google it. With their new status as the "it" power couple of the DC villains world, the duo reunites with their crew to pursue more hijinks and Ivy's dream of transforming Gotham into an Eden paradise.
Harley Quinn's first time debuting new episodes on HBO Max (R.I.P. DC Universe streaming service) continues the show's tradition of absurdly hilarious gags, surprising heart, and an enormous growing roster of DC characters. I think it's safe to say after viewing the entirety of Season 3, that Harley Quinn is now without question one of the best adult-animated comedy series of all time. Each season builds on the previous, the characters keep evolving and the comedic bits are devious and wholly unique.
Kaley Cuoco (Harley) and Lake Bell (Ivy) are huge reasons the series continues to work. Cuoco may not do the iconic Harley accent, but her manic energy is more than spot-on Harley and the rapport that she has with Bell is as absolutely funny as it is teeming with palpable affection. In contrast, Bell's wicked subtlety in the role lands humorous punches that you never see coming. Her Ivy is so cool, yet lovably not cool that the character has never felt more tangible and realized.
Although, the real secret weapon of Harley Quinn is the impossibly great supporting voice cast and their subsequent characters. Alan Tudyk's Clayface has some amazing moments this season because of the character's continued boisterous love for the artform of acting, which this time results in a wild cameo attached to it. Did we mention director James Gunn (Guardians of the Galaxy, The Suicide Squad) has a recurring role and it's not the cameo? Tudyk also returns as Joker in manners the character has never been seen before — that rumored Joker 2 musical is beat to the punch.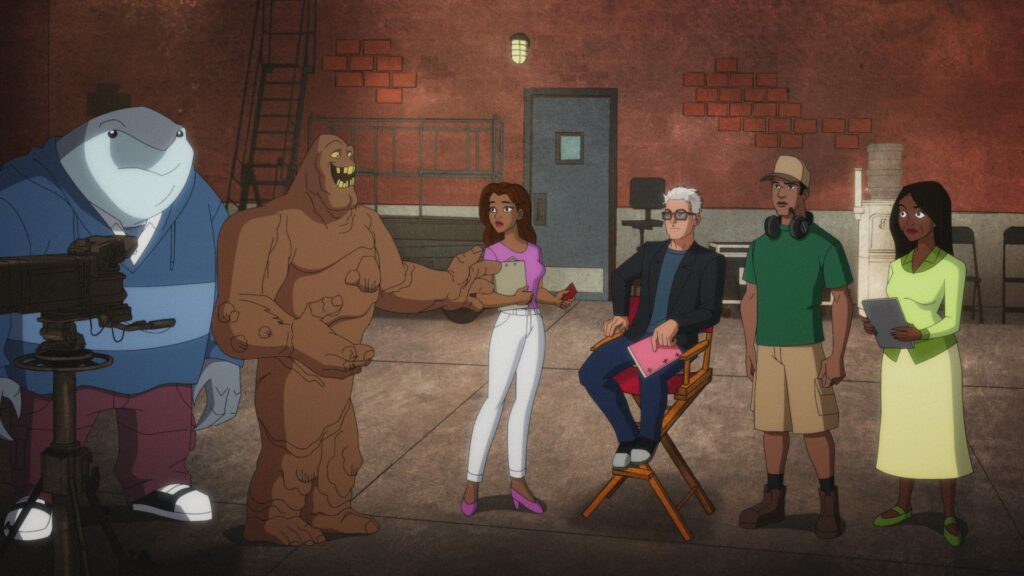 Ron Funches somehow is now the default voice for King Shark in my brain even though it's completely ludicrous. Old K.S. has some of the cutest and most uproarious one-liners of the season and has plenty of moments to shine. JB Smoove is JB Smoove as Frank the Plant, and I don't think anyone has a problem with that. Smoove is naturally hilarious and Frank even plays heavily into the final arc of the season. Similarly, the writers keep coming up with ingenious stuff for Christopher Meloni's unhinged Commissioner Gordon, who sees a much deserved role bump here. And don't get me started on how much I love the torturously minimal screen time we get from James Adomian as Bane.
Another standout element of Season 3 is the Bat-Family-centric final run of episodes. Diedrich Bader's wonderfully dry take on Bruce Wayne/Batman gets the front and center treatment along with the returning Brianna Cuoco as Batgirl and the earlier season debut of Harvey Guillen (What We Do in the Shadows) as Nightwing. Guillen is a fantastic addition and his voice lends itself perfectly to this heroic but aloof version of the young hero. Bat-fans will also lose it over a particular late-in-the-season episode with heavy connections to Batman: The Animated Series.
What felt like a possible fluke of a great first season has blossomed into one of the most intelligent, unpredictable and legitimately funny animated series anywhere. A few story beats here and there are minor retreads of seasons past, but Season 3 of Harley Quinn has the show firing on all cylinders and expanding a sandbox full of fantastic characters and locations to endlessly entertaining new places.
Score: 4 out of 5
Harley Quinn Season 3 debuts with three episodes July 28 on HBO Max, followed by one episode weekly through September 15.