The notion of condensing Elton John's storied 50-year career into a two-hour film seems like an insurmountable task, one that could only lead to failure. Thankfully, Dexter Fletcher opts for a more creative and stylized approach with Rocketman, which shares more in common with the likes of I'm Not There or the impressionistic Beatles-inspired Across the Universe than it does last year's Bohemian Rhapsody (which Fletcher himself completed after Bryan Singer was fired).
A full-on jukebox musical that positions many of Sir Elton's classic tunes as narrative devices, the film opens with the legendary singer (Taron Egerton) entering a group meeting at a rehab facility, still clad in the orange jumpsuit, feathery wings and jeweled devil horns that he wore onstage. As he begins to recount tales of his childhood, his younger self (Matthew Illesley) manifests before him, and soon we're whisked away to a British suburb as both launch into a stirring duet of "The Bitch is Back." This sequence, with splashes of color accentuated by a desaturated, nearly monochrome backdrop, is the first of many visually arresting moments that Rocketman has up its sleeve.
Another highlight charts the creation of "Your Song," as John goes from plucking out notes on the piano in his mother's living room while longtime friend and co-writer Bernie Taupin looks on, to performing the completed version for a delighted music publisher (Stephen Graham) who immediately signs the boys to a record deal and sends them off to America. This leads to the legendary performance at The Troubadour in August 1970, and the film uses the now-iconic photo of John playing his piano sideways to inspire a beautifully imaginative moment where both the singer and audience levitate off the floor due to sheer elation. The thunderous ovation leads to a series of sold-out gigs on the West Coast, and a bit of sagelike advice from an industry veteran: "Put on a great fucking show and don't kill yourself with drugs."
The latter is easier said than done, it seems. Unlike Bohemian Rhapsody, which was criticized for sanitizing Freddie Mercury's lifestyle, Rocketman has no qualms about depicting gay sex and gratuitous drug use in equal measure. As his relationship with music manager John Reid (Richard Madden) goes from tender romance and steamy trysts to cruel manipulation and physical abuse, John finds solace in piles of cocaine and endless bottles of alcohol, and even a brush with death after a Valium overdose doesn't slow him down. His brokenness is no better communicated than during a quiet backstage moment as he stares into the dressing room mirror, trying to manufacture an expression of happiness before resigning himself to having another bump of coke just to make it to the stage.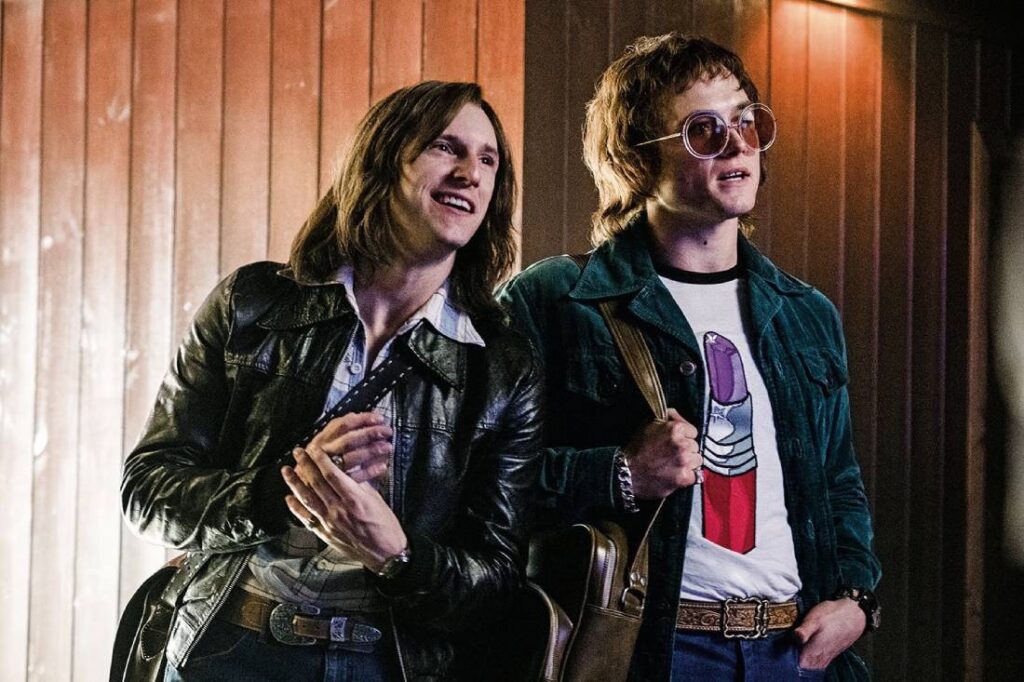 Egerton has already showcased impressive range during his brief cinematic career, but his performance in Rocketman — which feels less like imitation and more like pure embodiment — is leaps and bounds above anything else on his resume. He gets straight to the heart of the loneliness, the confusion, and the isolation, and not only does he bear a striking resemblance to the rock legend, he performs all of his own vocals, which lends an extra layer of authenticity to his work. Not to be outdone, Bell's quiet and contemplative portrayal of Taupin is an excellent counterpoint to the oft-flamboyant antics that Egerton is tasked with, and he even gets the chance to showcase his own vocal stylings as "Goodbye Yellow Brick Road" is used as an allegory for a falling out during John's downward spiral.
Try as they might, Fletcher and screenwriter Lee Hall (who worked with John on the Broadway version of Billy Elliot) can't fully extricate themselves from the biopic formula, and the film threatens to derail whenever the script becomes mired in familiar tropes for too long. But thanks to inventive and imaginative musical numbers that aren't always bound by the limits of reality, a catalog of Sir Elton's most beloved and recognizable songs and the irrefutable charisma of its leading man, Rocketman manages to break the mold just enough to stand tall above many of the genre's other offerings.