The Spider-Man film franchise is one of the most beloved and successful series of all time, with fans spanning multiple generations. The character is seeing a lush renaissance under the protective watch of Kevin Feige's MCU and it's endearing Peter Parker/Spider-Man actor: Tom Holland. Now Spider-Man: No Way Home sees director Jon Watts' "Home" trilogy concluded with an expectation defying and emotional embodiment of everything fans have fallen in love with about the character and franchise.
There are far too many spinning plates and moving pieces to encompass the scale of this film's enormous story, but if broken down into the most basic form, the following is the rundown: Peter Parker's life has been ruined since his secret identity was revealed at the end of Spider-Man: Far From Home, so he seeks the help of Doctor Strange (Benedict Cumberbatch) to wipe the world's mind of the knowledge that he's Spider-Man. Things get botched and Strange cancels the spell, but unknowingly causes a multi-verse beacon that sees villains from different Earths all seeking this universe's Spider-Man.
Reviewing the film without spoilers is an arduous task, seeing as how many tremendous surprises and impactful twists influence what makes Spider-Man: No Way Home such a wonderful piece of superhero popcorn genius. But what I can tell you is that fans returning to the series to see their old school favorites again, like Green Goblin (William DaFoe) or Doctor Octopus (Alfred Molina) are in for an absolute treat. All the villains are not just glorified cameos, but well written and integral parts of the plot with substantial screen time and each actor's reprisal feeling inspired and reinvigorated.
I also can not express how much I love DaFoe in this film. The actor is absolutely killer in his return as Norman Osbourne, looking and feeing like he stepped right out of the set of Tobey Maguire's 2002 Spider-Man. Molina is also impeccable, bringing back the fury, heart and intelligence of Otto Octavius and serves as the focal point for explaining the history of the known Spider-Verse. Even Andrew Garfield's The Amazing Spider-Man's franchise villains are both used well and upgraded, most notably Jamie Foxx's return as Electro, getting a more comic accurate look and making him more unpredictable and dangerous than ever.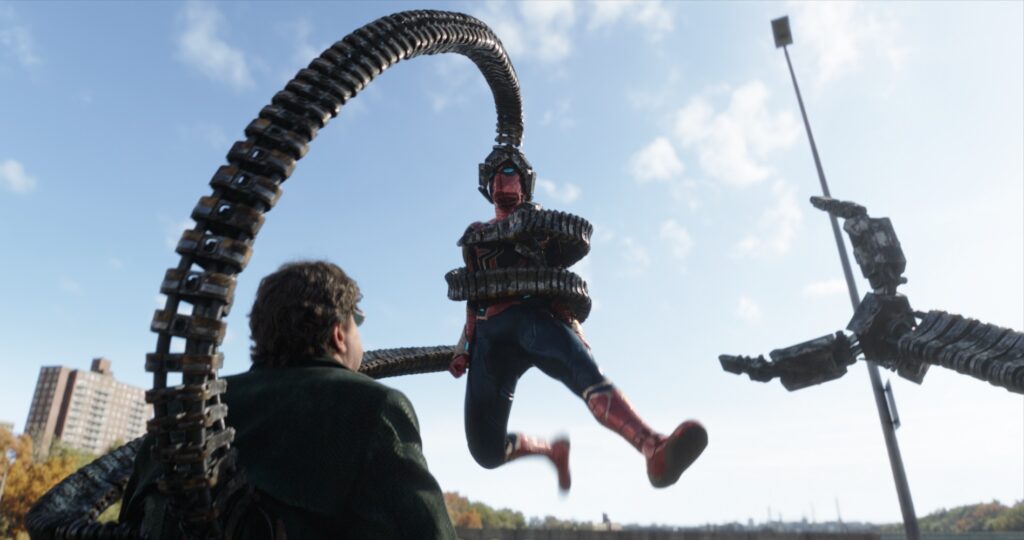 But let's not forget about Spider-Man himself. This film by far demands the most out of Tom Holland's performance in this solo film trilogy, and he steps up big time. You may expect this to be a loud, emotionless superhero tent pole, but you'd be very wrong. Holland's performance is the heart at the center that keeps all the insanity grounded and will have you laughing one minute and crying the next. He's that good, and this film is that good.
It would be easy to continue gushing about how great Zendaya, Jacob Batalon, Marisa Tomei, and Jon Favreau are returning in their respective roles, because they were all terrific with the perfect balance of screen time. But I would also like to highlight how deftly director Jon Watts and screenplay writers Erik Sommers and Chris McKenna juggled this massive amount of characters and their complicated backstories into a cohesive, easy to digest plot. The clever way in which the heroes and villains are introduced and then the surprising way they interact with each other is so exciting to see unfold and shows levels of understanding of this cinematic world that is unparalleled.
Buckle up for that last hour of the film that will shock and delight theater-goers with the rare third act that 100% delivers. To paraphrase the old movie cliche, I laughed, I cried, I cheered. This movie had that effect on me, which is something I rarely experience in a theater. Spider-Man: No Way Home is a shining beacon of superhero film making and rightfully will earn its place as one of the greatest of all time.
Score: 4.5 out of 5