Pete Davidson is the next comedian to get a shot at big screen stardom courtesy of comedic kingmaker Judd Apatow with The King of Staten Island. The SNL star follows in the footsteps of Steve Carrell, Seth Rogen, Amy Schumer, just to name a few, who all had their careers elevated to A-list status after leading roles for the director.
In similar fashion to Schumer's role in Trainwreck, here Davidson plays Scott, a loosely inspired by his real life role of a lost man-child who is still struggling with the death of his firefighter father from over a decade ago. As adulthood begins to set in and his mom and sister are moving on with their lives, he continues to drift and risks burning out if something in his life doesn't change.
The King of Staten Island in theory is a great vehicle for Davidson, but in reality it turns out to be one of Apatow's weaker efforts. Davidson's performance is quite sincere, but it never showcases any kind of range or standout moments to display acting chops he may possess, besides comfortably playing himself. This performance makes it hard to believe he could thrive as a consistent dramatic actor, if not in the hands of a capable talent like Apatow.
The film also takes far too long to get to the point, a normal complaint of Apatow's work, but here the time is really felt — especially with the low level of legitimate laughs. When the story eventually reaches its heart, the audience has been dragged through an hour and a half of Scott being a mostly unlikable jerk to all the good people around him and arguably hasn't shown any kind redemption by the end credits.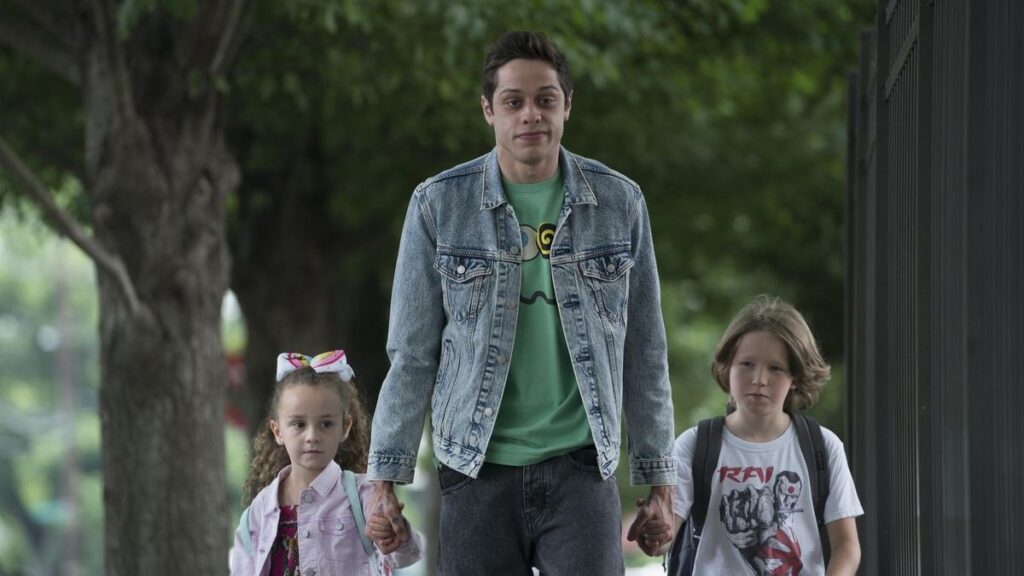 The supporting cast is the movie's true strength with the always reliable Marisa Tomei leading the pack as Davidson's vibrant, loving mother Margie. Bill Burr has the best character arc as Margie's new rough-around-the-edges but well-intentioned firefighter boyfriend Ray. Scott and Ray also boast the most interesting and complicated relationship in the film with a majority of the entertaining scenes.
Bel Powley is quite endearing while tasked with the unenviable role of Kelsey, the patient and poorly treated life-long friend turned lover of Scott, whose thick Staten Island accent masks her intelligence and big heart. Additionally, the last act of the film thankfully turns out to be the best, due in part to the inclusion of Steve Buscemi and a lovably unkempt cast of Ray's firefighter buddies.
Sadly, The King of Staten Island stays as listless and adrift as Davidson's character, bumbling through weird side-plots like a goofy Fight Club situation at Scott's restaurant job that goes bafflingly nowhere or the use of Ray's kids and ex-wife (Pamela Adlon) as a character growth tool for Scott that seemingly just fizzles out and goes away. The film has its moments, but the overall experience doesn't establish Davidson as the next big thing along with a story that unfortunately buries the best parts until the end after a long, mediocre road to reach it.
Score: 2.5 out of 5
The King of Staten Island premieres on demand June 12.