Amazon Prime Video is aiming to start the new year by having audiences looking to the stars with their feel good charmer flick, Troop Zero. The underdog tale is sure to warm hearts with its quirky humor and wonderful performances, despite occasionally dipping into formulaic territory.
Christmas Flint (Mckenna Grace) is seen as a bed-wetting weirdo by the other girls her age in the small town of Wiggly, Georgia in 1977. Her fascination with making contact with outer space hits max velocity when she learns of an opportunity to get her voice recorded on NASA's Golden Record to be sent into the stars for extraterrestrial life to hear. The only problem is she has to win a competition as a local Birdie Scout to take part and they have no interest in someone so unpolished, forcing her to recruit her own troop of misfit girls to enter the competition in order to realize her dream.
Troop Zero is a tried and true feelgood movie brought to vivid life by great performances and a pure heart. The film may follow some predictable beats, but ventures outside the expected just enough times to keep this underdog tale fresh and quirky. Directors Bert & Bertie are new to the game, but nicely handle the visuals, music and varied age range of the ensemble cast with sure hands.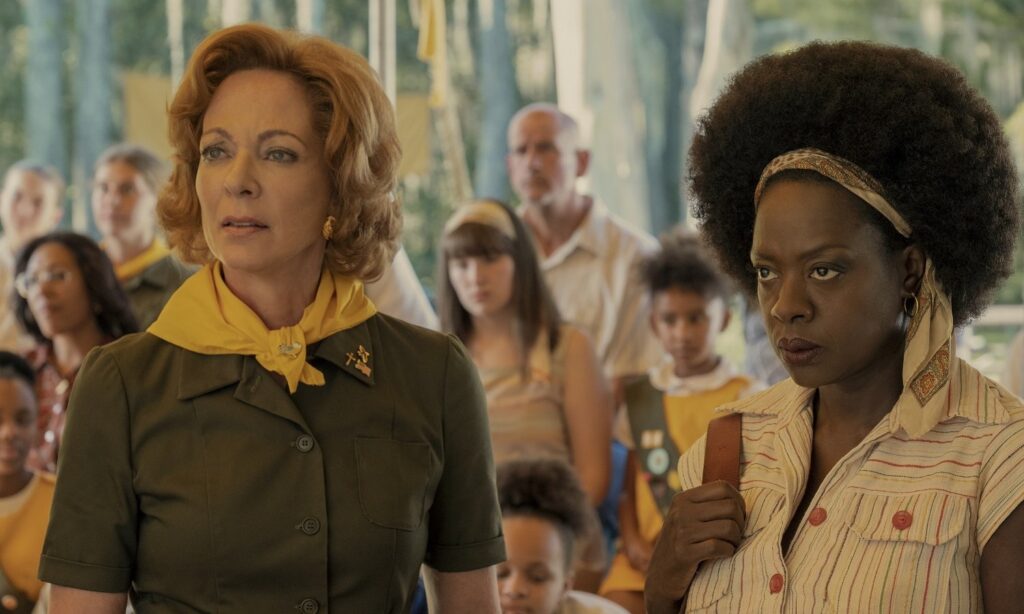 Speaking of newcomers, Mckenna Grace is instantly endearing and lovable as the slightly damaged young Christmas with a fearless heart and keen eye on those around her. The relationship with her backwoods, lovable loser father, played by comedian Jim Gaffigan, is also terrific with the funny man showing unexpected range in a few key emotional scenes.
Academy Award winners Viola Davis and Allison Janney anchor most of the film with their strong performances as eventual rival Birdie Troop leaders. Davis is especially good, stepping into a reluctant motherly figure for these ragtag girls. On the opposite side, Janney plays the uptight, judgy antagonist role she always excels at, with just the right amount of restraint to keep her character still feeling real and believable.
Troop Zero has the most fun around mid-film when the girls finally come together and begin to bond, learning each other's unique personality characteristics and talents, and finding common ground in their outcast status. The film has some sincere, good-natured presentations of self-worth and motivation that are a refreshing message for younger viewers, while never feeling too preachy or forced.
When it comes down to it, Troop Zero is an irresistibly sweet and easy to enjoy underdog story that works for all ages. It may stretch a bit too far at points to bring out extra emotion while hitting some usual feelgood movie tropes, but it's hard to find too much fault in this otherwise cozy, warm blanket of a film.
Score 3.5 out of 5
Troop Zero premieres on January 17th, exclusively on Amazon Prime.