Director Michael Showalter is best known for comedic efforts like Wet Hot American Summer and The Big Sick, so you'd be forgiven for assuming he might adopt a similar approach to The Eyes of Tammy Faye, a profile of religious television personality Tammy Faye Bakker, inspired by the 2000 documentary of the same name. But Showalter's latest, which screened at the 2021 Toronto International Film Festival, is a mostly straightforward affair, hewing closely to the biopic formula and all of its pitfalls but elevated by a dazzling performance from Jessica Chastain as the iconic televangelist.
Tammy Faye's early years are glossed over: we learn that she was the product of a failed marriage, and that her mother (an excellent Cherry Jones) was only welcomed back to the local church because they needed a piano player, but God's house has no place for Tammy Faye. Determined to learn what all the fuss is about, she slinks into a Sunday morning service and announces to the preacher that she wants to be saved. Before her mortified mother can make it off the piano bench, Tammy Faye collapses to the floor and begins speaking in tongues as the Holy Spirit moves through her — or at least, that's how she remembers it.
Fast forward a decade or so, and Tammy Faye meets Jim Bakker (Andrew Garfield), a fellow student at North Central Bible College who believes, quite fervently, that the Good Lord doesn't expect his disciples to suffer in his name, but rather to amass great quantities of wealth. "God does not want us to be poor!" he thunders from the pulpit. "When Jesus calls you home, do you think you'll get a bonus if you made yourself miserable?" It's the sort of attitude that puts Jim at odds with the conventional teachings of Christianity, but for Tammy Faye, it's a lightning rod that sparks a whirlwind courtship, ultimately landing her back on her mother's doorstep with a new husband in tow.
The Eyes of Tammy Faye tracks the newlyweds from their humble beginnings as traveling preachers to the stars of a children's television program on the Christian Broadcasting Network, a budding operation run by Pat Robertson (Gabriel Olds). The Bakkers' rise to prominence gets them a seat at the big table — literally — where Jerry Falwell (Vincent D'Onofrio) holds court, bristling at Tammy Faye's radical ideas that Christianity should embrace people from all walks of life. ""I just think of them as other human beings that I love," she replies when Falwell rails about the insidious agendas of liberals, feminists and homosexuals. "We're all just people, made out of the same old dirt, and God didn't make any junk."
This depiction of Tammy Faye's big-hearted worldview rings true. She scandalized conservatives in the mid-80s when she conducted an emotional interview with a gay HIV-positive minister on her television show, chastising fellow Christians for failing to exemplify the sort of unconditional love that her religion was founded on. In one of the film's best sequences, Showalter recreates this moment in painstaking detail, juxtaposing Tammy Faye's on-camera heart-to-heart with a backstage altercation between Jim and a seething Falwell. "You need to get her under control," he demands.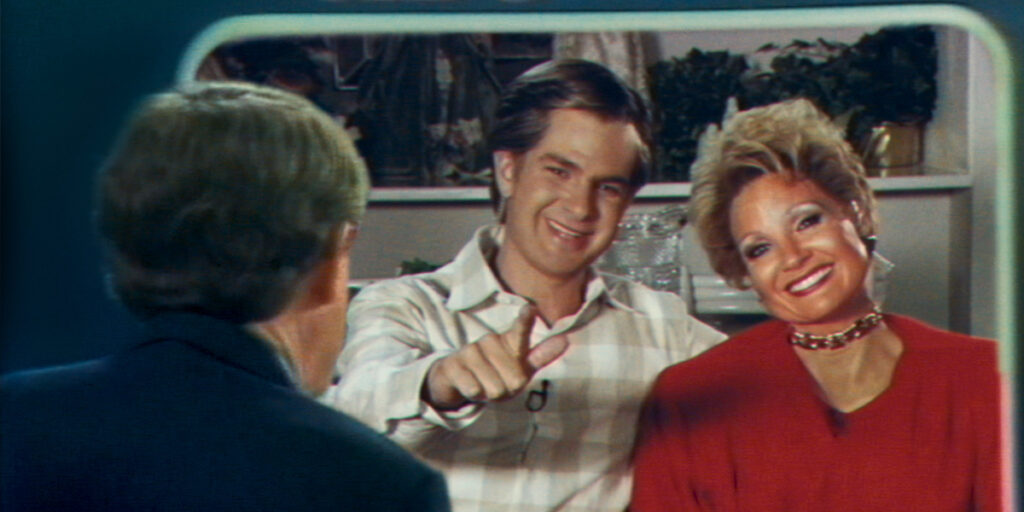 But Tammy Faye is the least of Jim's worries. Of chief concern are the bills continuing to pile up thanks to his lavish spending habits, along with rumors of sexual impropriety — with both men and women — and accusations of an elaborate financial scheme where he bilked investors by selling fraudulent shares of a planned development project. The extent of Tammy Faye's involvement in her husband's crimes has long been the subject of debate, but Showalter's film goes to great lengths to paint her as a victim rather than an accomplice. Was she truly so hopelessly naive about their extravagant lifestyle that she never sensed something was amiss?
That notion may be the biggest pill The Eyes of Tammy Faye asks us to swallow, but Chastain's transformative portrayal helps the medicine go down easier. As the film moves into the late 1980s and beyond, Tammy Faye develops a fondness for garish makeup, including thick layers of eyeshadow and enormous false lashes that resemble fuzzy spiders peeking out from beneath her eyelids. It's an image that anyone who recalls the downfall of the Bakker empire will recognize immediately, and Chastain positively disappears beneath the multiple layers of prosthetics necessary to recreate her character's signature look.
Thankfully, Chastain's performance isn't nearly as showy as her flamboyant appearance, decked out in fur coats and opulent jewelry. If anything, she comes across as a bit more subdued than my memories of the real-life Tammy Faye, but that could also be attributed to how much time Showalter spends on her life away from the TV cameras. Here, she reads as an actual human being rather than just a personality, although there's admittedly not much difference between the two, and we can't help but feel sympathetic upon discovering how much of her private life was forced to play out in front of an audience, just to keep the donations rolling in.
Regrettably, Showalter's narrow focus on Tammy Faye results in a missed opportunity for the film to interrogate some larger issues, like the ramifications of evangelicals becoming such a prominent political force, and the corrupt and deceptive practices of some of its key players. There are certainly hints of this –Falwell discusses the importance of delivering vital Republican votes to the Reagan and Bush campaigns, and later in the film is shown to have a villainous streak — but The Eyes of Tammy Faye never really dissects this in a meaningful way. The film is still a legitimate showcase for Chastain (and to a lesser extent Garfield, who expertly balances Jim's warm, folksy demeanor with the self-obsession that would eventually become his downfall), but Tammy Faye's story might've been better served by breaking free of the biopic mold.