About thirty minutes into Nobody, there's a moment where Hutch Mansell (Bob Odenkirk) witnesses a group of dangerous-looking, clearly intoxicated men clamber onto a city bus and immediately begin harassing the only female passenger. Noting the fear in her eyes as the men crowd around her, waving bottles of liquor in her face and laughing at her obvious discomfort, Hutch resolves to ensure the young lady makes it home safely. With the slightest tinge of regret in his voice — and perhaps even a tinier hint of excitement — he announces, "I'm gonna fuck you up," and proceeds to deliver on that promise.
The grisly violence that unfolds in the next few moments should be shocking, but it's actually somewhat cathartic in its relatability. After spending the past year in the throes of a deadly pandemic, prolonged and exacerbated by a subset of the population who routinely ignore the advice of epidemiologists and health care professionals, subscribing to easily disproven claims about masks and social distancing, and embracing wild conspiracy theories about DNA-altering vaccines, 5G radiation and microchips, I ask you: which of us hasn't wanted to beat the living shit out a bunch of smug, smirking pricks with no regard for the health and safety of the people around them?
(It should go without saying that I'm being facetious here, but lest there be any confusion, allow me to clarify that I neither advocate nor condone actual violence in the real world. Onscreen, however, it doesn't bother me, particularly in the hyper-stylized fashion depicted here.)
Back to Hutch: as it turns out, this mild-mannered suburban dad was once an "auditor," so named because he was "the last guy you wanted to see at your door." He's been out of the game for more than a decade, trading in a life of bullets and bloodshed for a boring, blue-collar job and a peaceful, if not mundane, existence as a husband and father. But after a home invasion results in the loss of his son's respect — not to mention his daughter's kitty cat bracelet — Hutch dusts off the trappings of his old profession and goes on the hunt, attracting unwanted attention in the form of a sadistic Russian mobster (Aleksey Serebryakov) with a fondness for karaoke.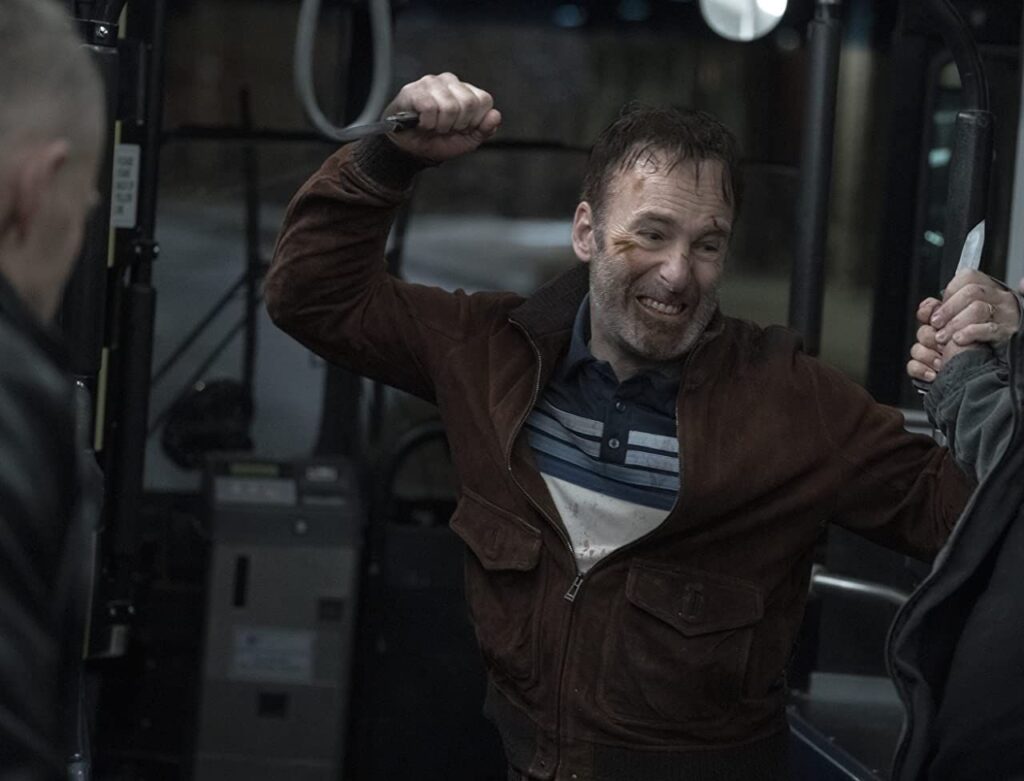 Written by John Wick screenwriter Derek Kolstad, Nobody shares a similar mixture of snappy dialogue, wry humor and heightened, nigh-cartoonish levels of violence and mayhem: the imaginative carnage of the film's third act, which feels like an R-rated riff on Home Alone, is jaw-droppingly bonkers. The film also boasts a colorful assortment of supporting characters, like an enigmatic information broker known as The Barber (Colin Salmon) and Hutch's elderly, trigger-happy old man (Christopher Lloyd). Until a few days ago, I had no idea just how much I needed to see a cardigan-clad Doc Brown blasting baddies with a double-barrel shotgun, and the experience was nothing short of glorious.
Best known for his sublime dramatic work in Breaking Bad and Better Call Saul, Odenkirk acquits himself nicely here, donning the "unlikely action star" label previously worn by Liam Neeson, although with a bit more winking at the camera. A battered, bruised Hutch sitting in a police interrogation room, pulling a kitten from his jacket as casually as the pack of cigarettes he produced a moment before, is hilarious both in its silliness and in the earnestness with which the scene is presented. Despite having just dispatched an entire warehouse full of criminals in gruesome fashion, Nobody wants to remind us that Hutch is still a decent guy, and I'll be damned if the innately charming Odenkirk doesn't make us believe it.