PORTLAND — "Are you ready to seal the deal with Volbeat?" asked lead singer Michael Poulsen as he strode onto the stage Saturday night at Veterans Memorial Coliseum. The crowd responded with a thunderous roar, and the massive curtain bearing the band's logo dropped away as Volbeat launched into their opening number, "Seal the Deal."
Former Slayer drummer Jon Dette — filling in for the band's COVID-stricken percussionist, Jon Larsen — and bassist Kaspar Boye Larsen provided the foundation upon which lead guitarist Rob Caggiano laid his searing riffs, and the band tore through high-energy tracks like "Pelvis on Fire" and "Temple of Ekur" before stopping to indulge in a thunderous ovation from the audience.
The setlist was weighted heavily in favor of Volbeat's latest release, Servant of the Mind, but they still managed to reach back into their catalog to showcase live staples like "Sad Man's Tongue," and "Lola Montez." Their signature blend of metal and rockabilly kept the Portland crowd dancing for the duration of their 90-minute set, which closed with "Still Counting" from their 2008 release, Guitar Gangsters & Cadillac Blood.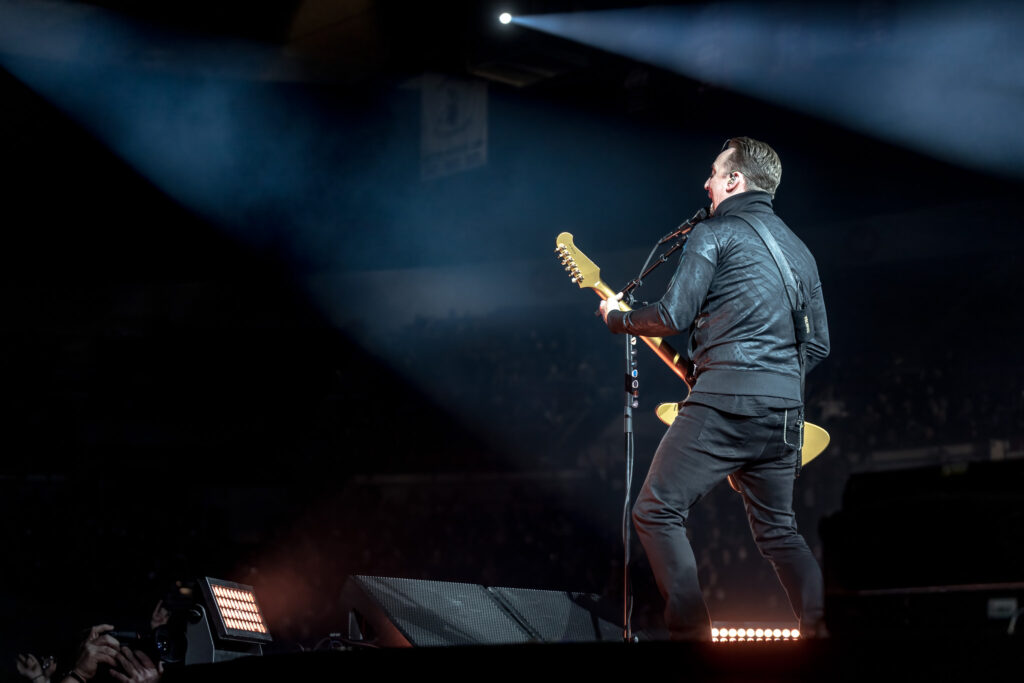 Photo Credit: Brent Hankins
Volbeat Setlist
Seal the Deal
Pelvis on Fire
Temple of Ekur
Lola Montez
Sad Man's Tongue
Becoming
Fallen
Wait a Minute My Girl
Black Rose
Shotgun Blues
The Devil's Bleeding Crown
The Devil Rages On
Doc Holliday
The Sacred Stones
Die to Live
Still Counting
It would be nearly an hour after Volbeat said their farewells before the show would continue, and the crowd grew restless as technicians and stagehands scurried about behind the curtain while ominous choir music was piped into the venue. Finally, just before 10:30pm, the lights came down and Ghost took the stage with an explosion of pyrotechnics and the opening notes of new track "Kaisarion" from their forthcoming release, Impera.
Vocalist Tobias Forge — better known by his stage name, Papa Emeritus IV — led his band of Nameless Ghouls (all clad in identical cloaks and steampunk-inspired gas masks) through a setlist comprised mostly of selections from 2015's Meliora and 2019's Prequelle, although they did treat the audience to another new track from their upcoming record, lead single "Hunter's Moon." The Swedish outfit's penchant for theatricality was on full display throughout the 75-minute performance, which featured the requisite fog, lighting effects and extravagant backdrop, not to mention a few costume changes for Forge.
Ghost and Volbeat will spend the next month criss-crossing the US, traveling across the midwest and onward to the east coast before doubling back, dropping down through the southwest and wrapping up the tour in Anaheim on March 3rd.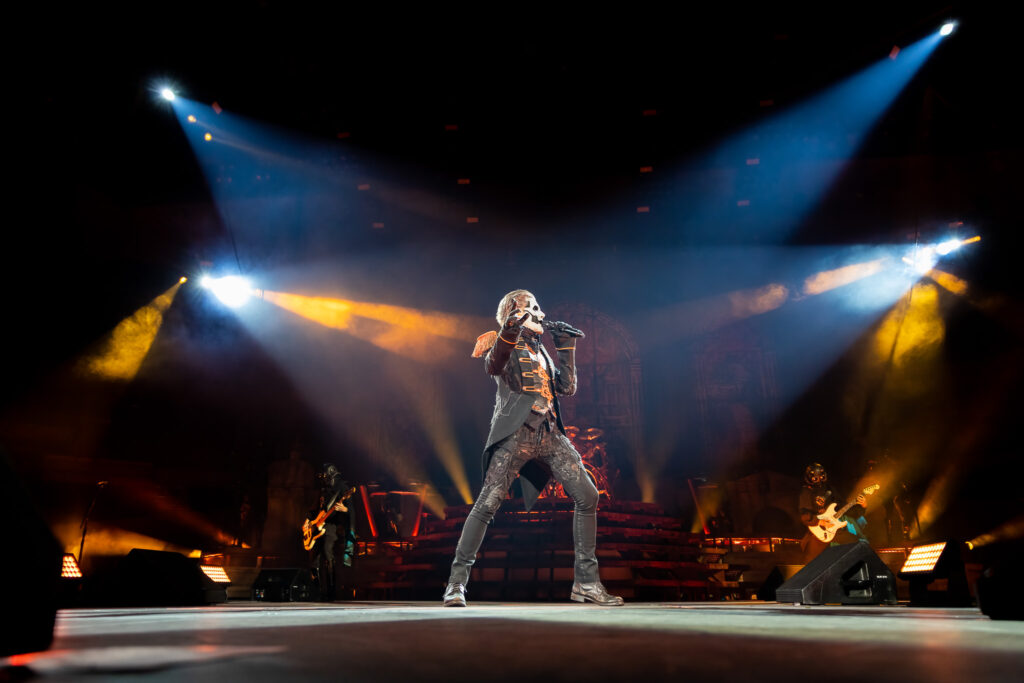 Photo Credit: Brent Hankins
Ghost Setlist
Kaisarion
Rats
From the Pinnacle to the Pit
Mary on a Cross
Devil Church
Cirice
Hunter's Moon
Faith
Helvetesfönster
Year Zero
Ritual
Mummy Dust
Enter Sandman (Metallica cover)
Dance Macabre
Square Hammer
Remaining Ghost/Volbeat Tour Dates
Jan. 31 – West Valley City, Utah @ Maverik Center
Feb. 02 – Denver, Colo. @ Ball Arena
Feb. 04 – Lincoln, Neb. @ Pinnacle Bank Arena
Feb. 05 – Minneapolis, Minn. @ Target Center
Feb. 07 – Columbus, Ohio @ Nationwide Arena
Feb. 08 – Hershey, Pa. @ GIANT Center
Feb. 10 – Newark, N.J. @ Prudential Center
Feb. 11 – Worcester, Mass. @ DCU Center
Feb. 12 – Camden, N.J. @ BB&T Pavilion
Feb. 14 – Pittsburgh, Pa. @ Petersen Events Center
Feb. 15 – Toledo, Ohio @ Huntington Center
Feb. 16 – Grand Rapids, Mich. @ Van Andel Arena
Feb. 18 – Chicago, Ill. @ Allstate Arena
Feb. 19 – Cincinnati, Ohio @ Heritage Bank Center
Feb. 20 – Milwaukee, Wis. @ Fiserv Forum
Feb. 21 – St. Louis, Mo. @ Chaifetz Arena
Feb. 23 – Independence, Mo. @ Cable Dahmer Arena
Feb. 25 – Houston, Texas @ Smart Financial Centre at Sugar Land
Feb. 26 – Dallas, Texas @ Fair Park Coliseum
Feb. 28 – El Paso, Texas @ Don Haskins Center
March 01 – Phoenix, Ariz. @ Footprint Center
March 03 – Anaheim, Calif. @ Honda Center