TROUTDALE — 25 years after the release of their self-titled debut, Third Eye Blind opened their "Summer Gods" tour just outside of Portland, Oregon on Wednesday at McMenamins Edgefield. Fans hoping to commemorate the anniversary of the band's first record weren't disappointed; of the 14 songs on that album, 10 were performed over the course of the nearly two-hour set.
Third Eye Blind has played a handful of shows over the past year, but the Edgefield performance marks the beginning of their first consistent touring schedule since hitting the road in 2019 to support the release of Screamer. For the occasion, frontman Stephan Jenkins had promised a "comprehensive" setlist comprised of their most beloved songs, and the band delivered the goods with classics like "Jumper" and "Semi-Charmed Life" and early hits like "Never Let You Go" and "Anything" slotting nicely alongside more recent fare like "Box of Bones," from their 2020 studio release Our Bande Apart.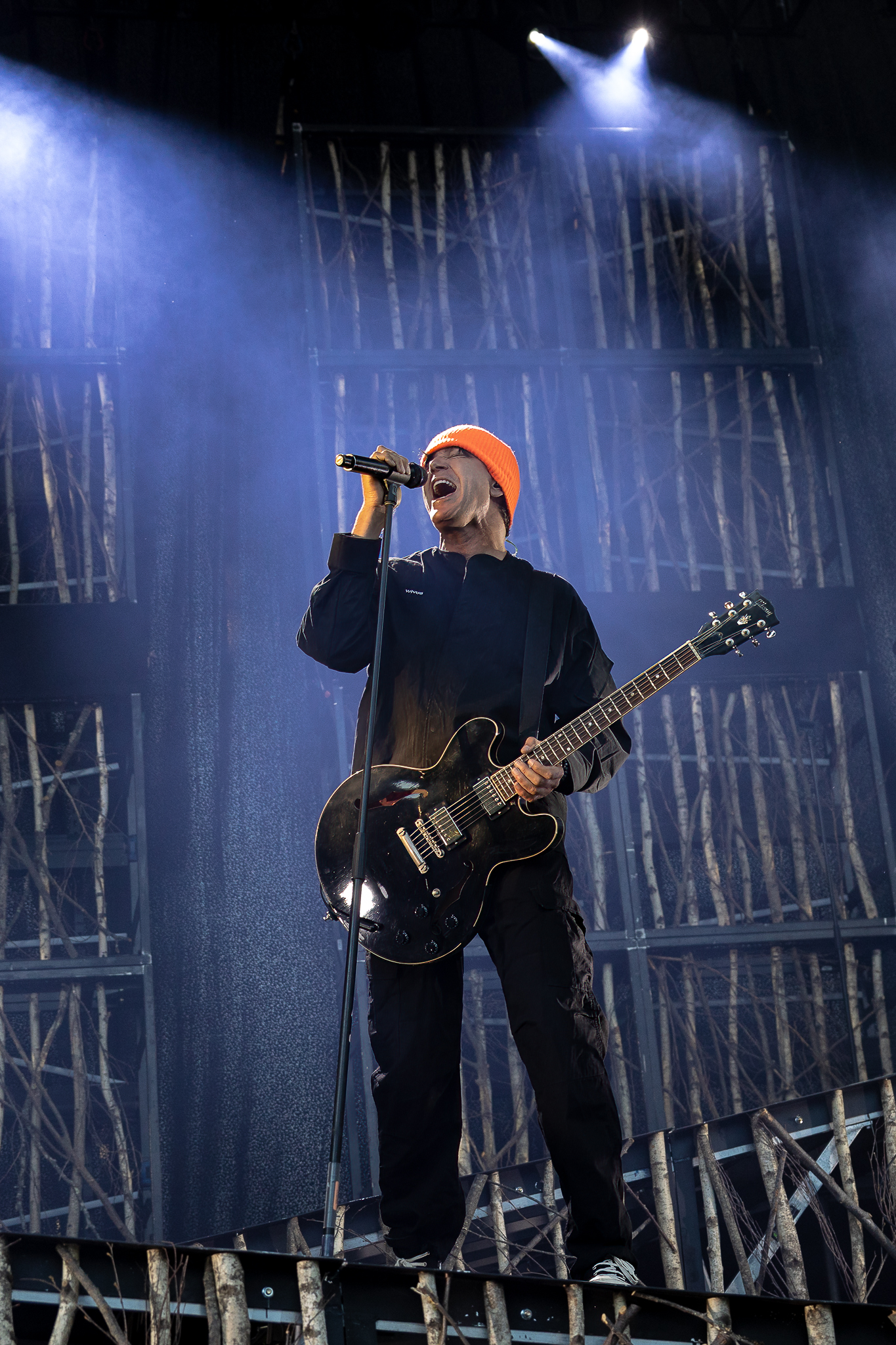 Photo Credit: Brent Hankins
Third Eye Blind Setlist
Intro (Ways)
Thanks a Lot
Dust Storm
Anything
Faster
Crystal Baller
Never Let You Go
The Kids Are Coming (To Take You Down)
Disorder (Joy Division cover)
Narcolepsy
Can't Get Away
Graduate
Wounded
The Background
Box of Bones
Losing a Whole Year
Motorcycle Drive By
Blinded (When I See You)
One in Ten
Jumper
Funeral Singers (Califone cover)
Semi-Charmed Life
How's It Going to Be
God of Wine
Earlier in the evening, Taking Back Sunday warmed up the audience with a high-energy set that found vocalist Adam Lazzara and guitarist John Nolan waxing nostalgic about the headliners, reminiscing about listening to Third Eye Blind while driving around in Lazzara's car during their formative years. Lazzara even joked that he was so excited for Third Eye Blind that he was going to backstage, put on their first album and aim the speaker toward the dressing room of his tourmates. "What are they gonna do, kick me off the tour?" he cracked. "I'm six-foot-two!"
Taking Back Sunday tore through a selection of tracks from their most popular records, highlighted by live mainstays like "What's It Feel Like to Be a Ghost?" and "Cute Without the 'E' (Cut From the Team)." Their newest song, a collaboration with Steve Aoki entitled "Just Us Two," was written on the setlist but cut from the performance when sound issues caused a mid-set delay, but the band rallied to wrap things up on a high note with their biggest hit to date, "MakeDamnSure" from the 2006 release Louder Now.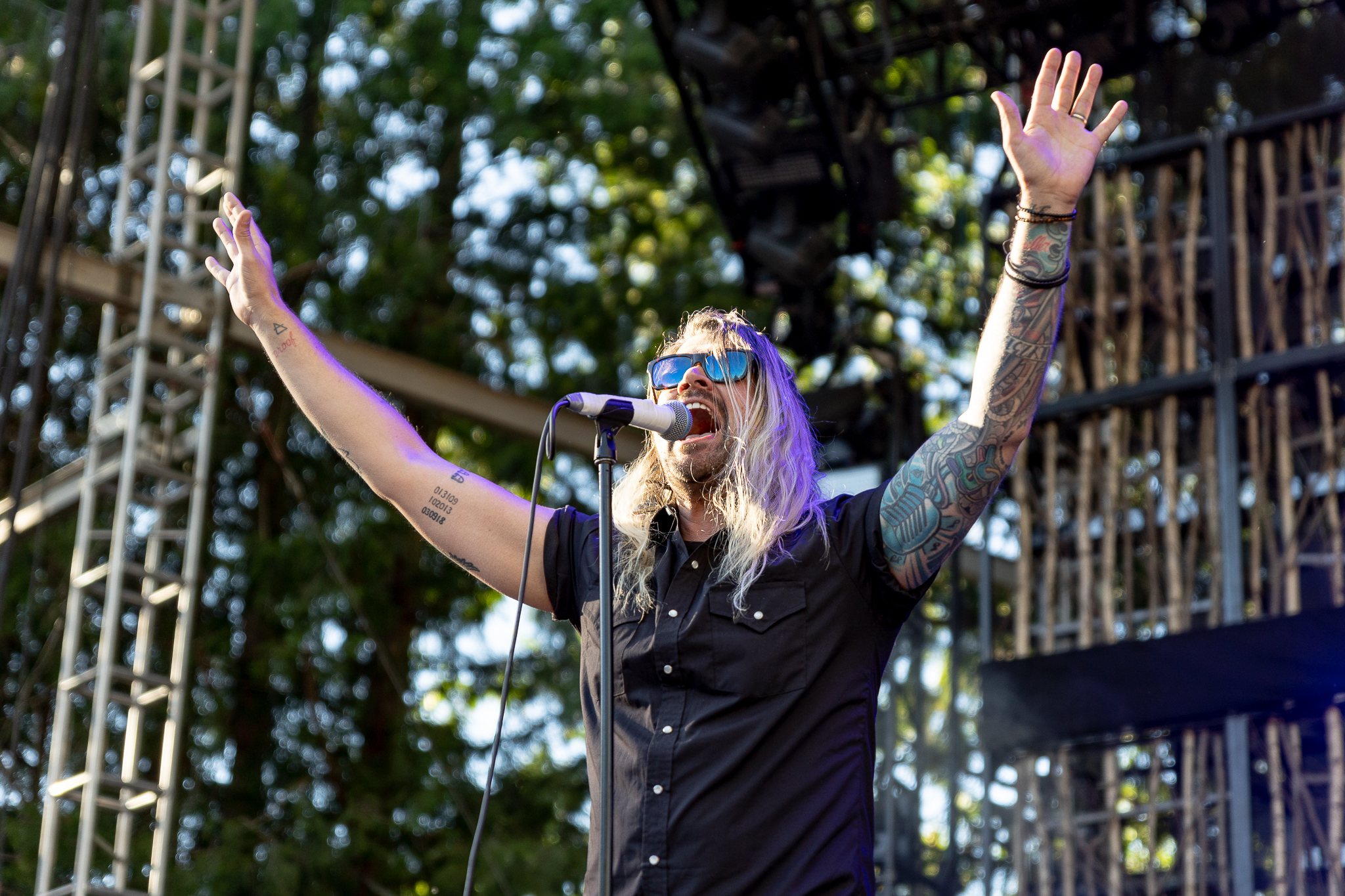 Photo Credit: Brent Hankins
Taking Back Sunday Setlist
Tidal Wave
Set Phasers to Stun
You Can't Look Back
Flicker, Fade
Timberwolves at New Jersey
Liar (It Takes One to Know One)
Error: Operator
Better Homes and Gardens
A Decade Under the Influence
What's It Feel Like to Be a Ghost?
Cute Without the 'E' (Cut From the Team)
MakeDamnSure
Remaining Third Eye Blind/Taking Back Sunday Tour Dates
06/23 — Auburn, WA @ White River Amphitheater
06/24 — Bonner, MT @ KettleHouse Amphitheater
06/25 — Sandy, UT @ Sandy Amphitheater
06/27 — Morrison, CO @ Red Rocks Amphitheatre
06/29 — Council Bluffs, IA @ Stir Concert Cove
06/30 — Kansas City, MO @ Starlight Theatre
07/01 — Prior Lake, MN @ Mystic Amphitheater
07/06 — Newport, KY @ OVATION
07/07 — Indianapolis, IN @ TCU Amphitheater at White River State Park
07/08 — Chicago, IL @ Huntington Bank Pavilion
07/09 — Sterling Heights, MI @ Michigan Lottery Amphitheatre
07/12 — Columbus, OH @ KEMBA Live! Outdoor Amphitheater
07/13 — Pittsburgh, PA @ Stage AE
07/15 — Philadelphia, PA @ The Mann Center
07/16 — Mansfield, MA @ XFINITY Center
07/17 — Wantagh, NY @ Jones Beach Theater
07/21 — Uncasville, CT @ Mohegan Sun Arena
07/22 — Holmdel, NJ @ PNC Bank Arts Center
07/23 — Columbia, MD @ Merriweather Post Pavilion
07/26 — Atlanta, GA @ Cadence Bank Amphitheatre
07/27 — Franklin, TN @ FirstBank Amphitheater
07/29 — Houston, TX @ White Oak Music Hall
07/30 — Del Valle, TX @ Germania Insurance Amphitheater
07/31 — Irving, TX @ The Pavilion at Toyota Music Factory
08/01 — Oklahoma City, OK @ The Zoo Amphitheatre
08/04 — Phoenix, AZ @ Arizona Federal Theatre
08/05 — Inglewood, CA @ YouTube Theater
08/11 — San Diego, CA @ Cal Coast Credit Union Amphitheater
08/12 — Las Vegas, NV @ Virgin Hotels Las Vegas
08/13 — Irvine, CA @ FivePoint Amphitheatre