Like 40 million others adults in the United States alone, Winona (Jessica Barden) suffers from an anxiety disorder — she just doesn't realize it yet. Recently bailing on a college writing program and returning to live with her parents in southern California, the blue-haired 20-year-old is trying to get her life in order, and getting her driver's license is the first order of business. Unfortunately, when we meet Winona during the opening moments of Pink Skies Ahead, she's so focused on complaining about her folks that she blows through a stop sign, landing her an automatic failure. "How come everybody else in the world can talk and drive, and I can't?" she exclaims. "What's wrong with me?"
That answer comes after a visit to her childhood pediatrician, Dr. Cotton (a good-natured Henry Winkler), who agrees to keep seeing Winona despite her long having outgrown the brightly colored office space. Recounting his patient's history of physical ailments that only seem to manifest in period of great stress, he suggests that Winona might suffer from anxiety, a notion she immediately dismisses. "I've never had a panic attack," she says, but Dr. Cotton urges her to schedule an appointment a colleague that specializes in mental health. "Oh my god," she wails. "I need a therapist?"
Begrudgingly arriving for an appointment with Dr. Monroe (Mary J. Blige), Winona is reluctant to discuss anything personal, but eventually lets her guard down and opens up about her decision to drop out of college: she never felt like she belonged there. "I wasn't Felicity at all," she says, in one of the more overt references to Pink Skies Ahead's late-90s setting, largely communicated through needle drops, background decorations and a distinct lack of smartphones and social media. Winona and her two besties (Odeya Rush as a kleptomaniac with a love of hallucinogens, and Rosa Salazar as Winona's sensible, slurpee-sipping confidant) don't text, they actually talk, a notion that practically feels antiquated by today's standards, but makes their bond feel so much more genuine.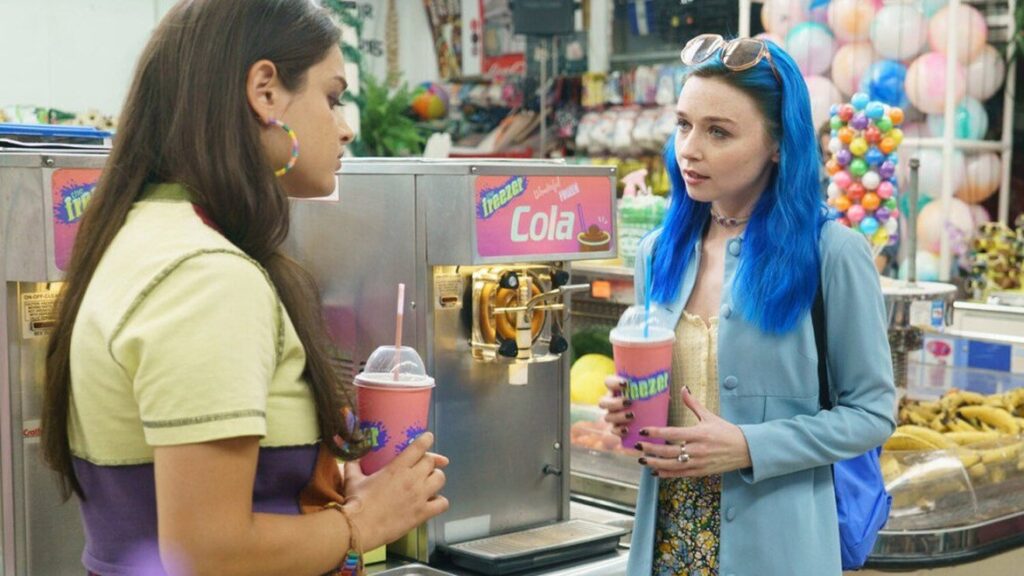 As the stress factors in Winona's life continue to mount — including the revelation that her parents are selling the house and "downsizing" to an apartment, a new relationship with a sweet but somewhat dull PhD candidate (Lewis Pullman, Them That Follow) and Winona's growing suspicion that her father is harboring a major secret — she'll be forced to confront the truth of her diagnosis head-on. When the panic attacks that Winona prides herself on avoiding finally begin to manifest, they're harrowing to behold, especially because Pink Skies Ahead presents these moments in a manner quite different from any cinematic depiction that has come before.
Written and directed by Kelly Oxford, and based on her own autobiographical essay "No Real Danger" from the 2014 collection When You Find Out the World is Against You, Pink Skies Ahead is a frank, honest examination of mental health disorders, full of empathy and steeped in a delicate balance of warmth and humor. The ensemble cast is wonderful, especially Winkler's benevolent doctor and Marcia Gay Harden's turn as Winona's yoga instructor/art enthusiast mom, but it's the livewire performance from Barden that provides the film with its emotional core.
Pink Skies Ahead makes some major strides toward destigmatizing mental health disorders and therapeutic treatment, thanks to Oxford's empathetic approach and the way she normalizes these experiences through the eyes of her protagonist. Far too often, entertainment has offered exaggerated depictions of characters with anxiety or other mental health afflictions, but Winona feels almost startlingly real, as if she could step right off the screen and strike up a conversation with us. Her authenticity makes it easy to connect with her, to care about what happens to her, and hopefully her story will offer new degrees of understanding for people who may know someone — or who may be — like Winona.