Fourteen years ago, a fictional Kazakh journalist became a box office sensation in Borat: Cultural Learnings of America for Make Benefit Glorious Nation of Kazakhstan. Audiences howled as Sacha Baron Cohen's alter ego interacted with real people in a series of increasingly uncomfortable scenarios, provoking genuine reactions that often exposed their prejudices. Grossing $262 million worldwide, the film was such a hit that Cohen elected to retire the character in 2007, claiming Borat had become so well-known that it would be too difficult to produce any future content.
The notion of Borat being immediately recognizable — particularly to Americans — is baked into the premise of Borat Subsequent Moviefilm: Delivery of Prodigious Bribe to American Regime for Make Benefit Once Glorious Nation of Kazakhstan. Sent back to the "US and A" to restore his homeland's reputation after the original film turned the country into a laughingstock, Borat (Cohen) is forced to don various disguises in order to avoid detection, in hopes of delivering a special gift to "Vice Premier" Mike Pence. The gift in question? Borat's fifteen-year-old daughter, Tutar (Maria Bakalova).
Of course, Tutar has much to learn about what's expected from a wife: she might have picked up a few ideas from her favorite television show, an animated series about Melania Trump, but there's no substitute for experience. From hair stylists to tanning salons to a debutante ball, Tutar gets a crash course in American culture with hysterically funny results (a father-daughter dance number is uproarious in its sheer depravity). But when Tutar learns that women in America are permitted to do things like own a business or drive a car — contrary to what she's been led to believe by the Kazakhstan Ministry of Agriculture and Wildlife's official publication on daughters — her newfound independence threatens to derail Borat's mission and put him on the road to execution.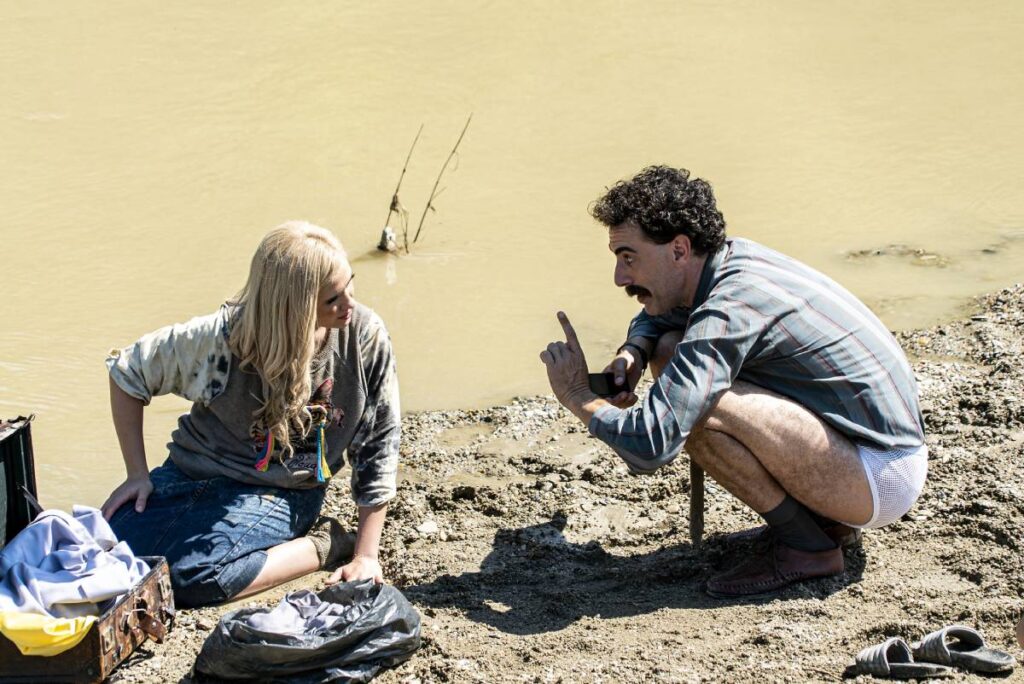 Cohen has long been lauded for his uncanny ability to remain in character, even in the most extreme circumstances, but even he admits to his limits being tested during a sequence where he quarantines for five days with a pair of QAnon truthers. But Bakalova proves to nearly be Cohen's equal, showcasing immense poise while relating a very graphic, very personal experience to a room full of shocked faces at a Republican Women's Club gathering. But nowhere does the young actress impress more than during the film's coup de grace, a sit-down interview with a prominent member of President Trump's inner circle that will undoubtedly be the cause of much consternation — and possibly even the impetus for a lawsuit — when the film releases.
Cohen's comedy has become far more left-leaning in recent years, as evidenced by the Showtime series Who is America?, wherein he would often target conservative politicians, commentators and other personalities. But Borat Subsequent Moviefilm practically amounts to comedic activism, with its skewering of religious-based "women's health" clinics, bonkers conspiracy theories and right-wing racism (pretending to be a country artist, he leads a rally of Trump supporters in a horrifying sing-along about injecting Barack Obama "with the Wuhan flu" and chopping up journalists "like the Saudis do").
There are a handful of non-partisan setups in Borat Subsequent Moviefilm, such as a recurring gag where he enlists a shop owner's help to send and receive fax correspondence with the Kazakh government, but for the most part the film is staunchly political — the closing credits even encourage viewers to vote. Wielding comedy like a weapon, Cohen's latest effort once again uses satire to bring us face-to-face with some painful truths about ourselves and the people around us, all the while managing to make us laugh until it hurts.