Still reeling from the recent death of her father, fertility doctor Sarah (Sarah Snook) is hoping a birthday celebration for 7-year-old daughter Mia (Lily LaTorre) might finally be the thing to shake her out of a funk and inject some joy back into her life. But between ex-husband Pete (Damon Herrimon) dropping an upsetting bit of news and his new wife showing up late to the festivities — not to mention an unwanted birthday card sent by someone from Sarah's past — the evening proves to be more taxing than tranquil. There's also the matter of the white rabbit left on their doorstep; much to Sarah's chagrin, Mia insists on keeping it as a pet, and Sarah's attempts to rid herself of the fluffy new friend only invite a nasty bite injury.
Regrettably, the unpleasant happenings continue to pile up: a phone call from the care facility where Sarah's estranged mother has spent her last few years reveals a worrisome diagnosis (and a request for more expensive specialized care), and Mia begins wearing a creepy papier-mâché rabbit mask, exhibiting disturbing behavior at school, insulting Sarah on an almost daily basis and demanding to be addressed as "Alice." It's that last bit that gets under Sarah's skin the most, as the name is associated with a traumatic event she would just as soon never discuss with anyone, least of all her own daughter.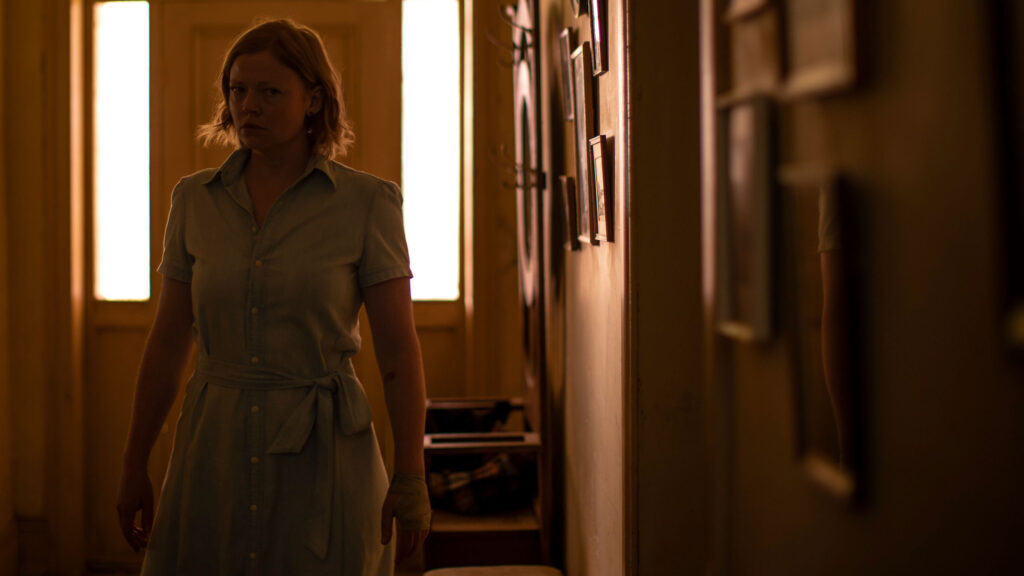 Mia's frequent hateful outbursts toward her mother are reminiscent of the fraught parent-child dynamic in 2014's The Babadook, another film helmed by an Australian director that screened at Sundance. But whereas Jennifer Kent's feature-length debut felt bold and original in its examination of trauma and grief, Run Rabbit Run is often left feeling derivative of other works. Hannah Kent's screenplay leans heavily on numerous "creepy kid" tropes, from disturbing sketches scribbled on the back of homework assignments to Mia's apparent knowledge of places, people and events she couldn't have possibly experienced on her own. Meanwhile, director Daina Reid proves herself adept at setting up jump scares and showcasing creepy locales — props to cinematographer Bonnie Elliott for those drone shots of the waterlogged Australian countryside — but the film is sorely lacking in atmosphere.
Run Rabbit Run survives (just barely) on the strength of Snook's increasingly deranged performance; as Sarah's frustration with Mia gives way to bewilderment and eventually something much more primal, we're captivated by everything Snook is doing onscreen, even if it feels out of step with the progressively improbable narrative. Strong supporting work from LaTorre is also an asset; she's a genuinely unsettling presence in many of her scenes, especially when Mia and Sarah spend the night in the latter's childhood home. If only the film itself seemed as confident and self-assured as its two leads, instead of relying on tried-and-true horror tactics we've seen time and time again.
---
Find more of our Sundance 2023 coverage at this link.