"I hope you will reveal your plan for me soon," prays Maud (Morfydd Clark), a nurse whose involvement — and possible culpability — in a tragic medical incident resulted in her dismissal from Britain's national health service. Now employed by a private agency in a coastal town, Maud is assigned to care for Amanda (Jennifer Ehle), a former dancer whose once-graceful body has been ravaged by cancer.
When Maud arrives at the residence, her predecessor doesn't mince words about the challenges ahead, but Maud sets about her task with grim determination. At first keeping her faith separate from her duties, Maud gradually invite God into the space she occupies with Amanda, offering a prayer — "bless Amanda's body, and bless her mind, which is shrouded in darkness" — or a parable to her somewhat bemused patient. Amanda humors her for a time, even christening her "my little savior," but Maud's mission to save Amanda's soul is doomed from the start.
Whether throwing lavish parties with old friends or reveling in the company of a lover (Lily Frazer), Amanda just wants to enjoy what little time she has left — she has no interest in whatever lies beyond, and Maud's zealotry becomes a near-constant source of vexation. Bullying and embarrassing Maud in front of a room full of strangers, Amanda unknowingly pushes the pious young nurse to a level of devotion even more frightening than before, with horrific results.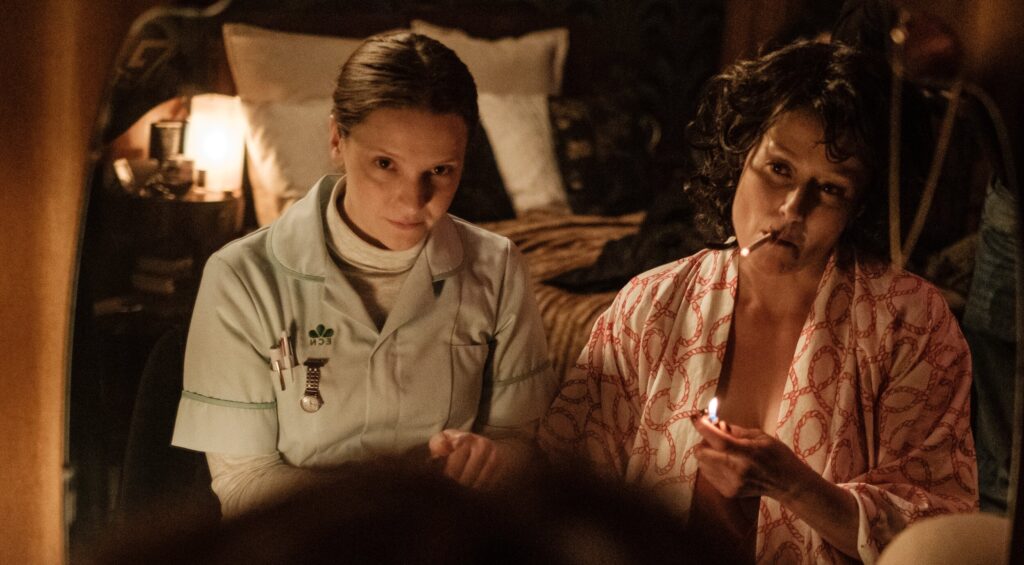 In her debut feature, director Rose Glass offers a spellbinding exploration of the razor-thin line between faith and fanaticism. From Amanda's perspective, Maud is a shy, sheltered girl who just needs to loosen up a bit, whereas from Maud's point of view, she's communing directly with the divine and feeling his touch so powerfully that it causes her body to contort in ecstasy.
The psychological game of cat-and-mouse that develops between these two women boasts a tense, almost Hitchcockian vibe, and the slow-burn pace and blistering third-act payoff finds Saint Maud slotting neatly into distributor A24's horror repertoire, alongside acclaimed entries like The Witch and Hereditary.
Ehle is superb as the terminally ill Amanda, a hard-drinking hedonist who manages to foment empathy even as she wields a sharply acidic tongue, and Clark is magnificent as the dangerously devout nurse, who seems much more haunted than holy. Saint Maud is a dynamite debut for Glass, and the first truly great horror film of 2021.