Scott Lang (Paul Rudd) has come a long way from his days as a struggling ex-convict; granted, joining The Avengers and traveling through time to save the whole of existence from a genocidal alien will do wonders for one's reputation. And just in case you're unaware of Scott's heroic feats, don't worry: he's happy to tell you all about it, provided you haven't already picked up a copy of his bestselling tell-all book.
When he's not having his morning coffee comped by a cafe owner who frequently mistakes him for another bug-based hero, Scott spends time at home with his daughter, Cassie (Kathryn Newton) and their extended family: Scott's girlfriend and fellow superhero Hope Van Dyne (Evangeline Lilly) and her parents, Hank Pym (Michael Douglas) and Janet Van Dyne (Michelle Pfeiffer). Everything seems peaceful, at least until Cassie's latest invention goes haywire, shrinking the entire family to subatomic size and trapping them inside the quantum realm. As if that fate weren't bad enough, returning to the quantum realm is especially dangerous for Janet; during her three-decade imprisonment there (before the events of 2018's Ant-Man and The Wasp), she ran afoul of Kang (Jonathan Majors), a time traveling warlord with a score to settle.
Faithful fans of the Marvel Cinematic Universe will have already been introduced to Kang during the first season of Loki. But whereas that appearance was little more than monologues and verbal sparring with Tom Hiddleston, Ant-Man and the Wasp: Quantumania establishes what a terrifying threat the intergalactic conqueror poses, not just to Scott and his family, but to the larger MCU. Majors, ever a captivating screen presence, brings a level of gravitas to the role that remains sorely missing from many of the villains that have faced off against Marvel superheroes on the big screen, and I look forward to seeing the various ways in which Kang will continue to threaten The Avengers, The Fantastic Four and the rest of the studio's roster over the next few years.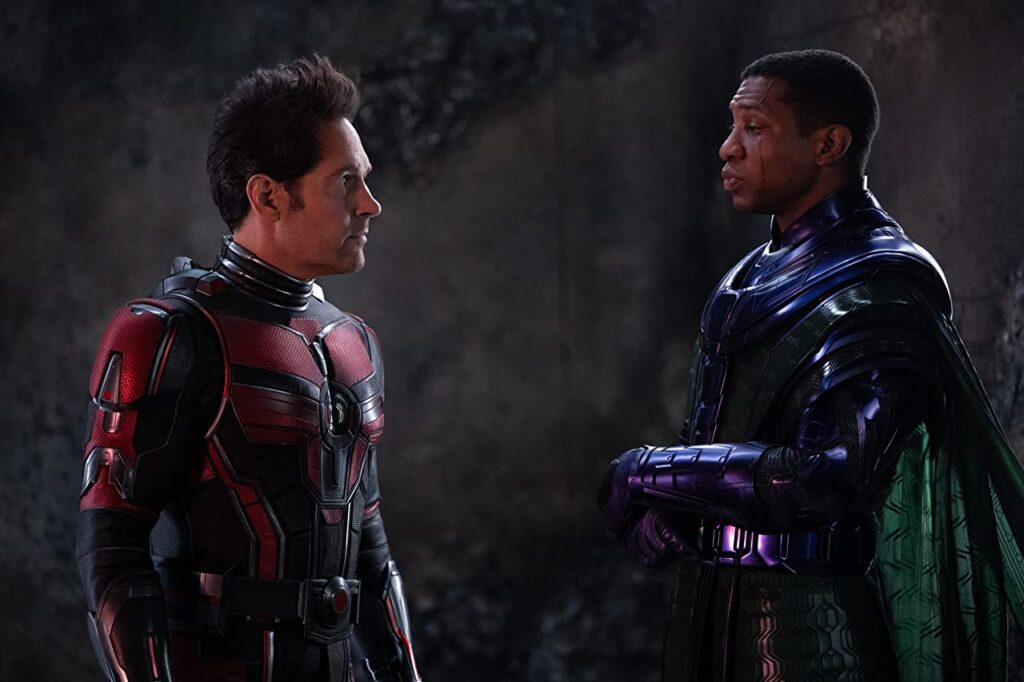 Visually, Quantumania is one of the most striking Marvel films yet; taking place almost entirely within the quantum realm allows for a massive and mostly blank creative canvas, and director Peyton Reed conjures up stunning landscapes, eye-popping colors and some truly bizarre creature designs. As with the two previous films, Reed also continues to find new ways to utilize Scott's resizing abilities — which is a bonus, since there's considerably more action this time around. And Reed even finds a way to utilize a classic Marvel comics villain, whom I never thought would appear in a live-action film, albeit with excruciatingly uncomfortable results (you'll understand as soon as this character shows up, it's disturbing on a primal level).
Regrettably, it's the humor department where Quantumania really stumbles. Perhaps its just my fuzzy memory of the previous films, but it seems like this threequel has fewer jokes overall, and many of the existing ones fall flat; even a cameo appearance by a colossal comedic star fails to inspire laughs. Rudd's everyman-turned-unlikely-hero shtick, which has served him so well in other appearances, feels constantly at odds with the heavier themes at play here. And some of those concepts, like the notion of fighting against injustices happening even when they don't affect you directly, are given lip service but remain unsatisfactorily explored.
As an Ant-Man film, Quantumania feels a bit removed from its predecessors; not so much as to be entirely incongruous, mind you, but still a much different experience than Scott's first two standalone outings. But as a proper introduction to the next intergalactic (and interdimensional) threat and table-setting for the future of the MCU, the film accomplishes its role with aplomb, even if its characters get short-changed in the process.