The coming of age drama is a tried-and-true indie staple, one whose cookie-cutter character archetypes and predictable story beats can often feel like the equivalent of cinematic comfort food. But every so often, a filmmaker comes along to remind us there's still plenty of life in the genre, and at the 2021 Sundance Film Festival, it's writer-director Siân Heder with her sophomore feature, CODA.
As the only hearing person in her family, high school senior Ruby (Emilia Jones) — the titular CODA, "child of deaf adults" — has spent most of her life saddled with the responsibility of serving as her family's interpreter. She wakes every morning at 3am to join father Frank (Troy Kotsur), a third-generation fisherman, and older brother Leo (Daniel Durant) on a rickety old trawler, helping to haul in the day's catch before racing off to school, where she secretly pines for handsome, shy Miles (Ferdia Walsh-Peelo) — even going so far as to enroll in choir as an elective, just for an excuse to be in the same room.
But lo and behold, Ruby actually has a talent for singing, one that music instructor Bernardo Villalobos (Eugenio Derbez) — or "Mr. V," as he demands to be addressed by anyone who can't adequately roll their Rs — begins to encourage. "There are plenty of pretty voices with nothing to say," he tells her. "Do you have something to say?" She does, indeed, but a lifetime of bullying at the hands of classmates and defending her family to snickering townsfolk has left her more than a little guarded. And yet, Ruby can't deny the joy that envelops her whenever she gives herself over to the music, even though she can't quite find the words to express it: when Mr. V asks how singing makes her feel, she responds in ASL.
Ruby's voice just might be the key to a future she can hardly imagine, but the responsibility she feels toward her family is a heavy burden to bear, and when Leo and Frank elect to start their own fishing co-op, there's an expectation that Ruby get involved, too. In fact, the notion that she would have other commitments seems almost like an affront, and mom Jackie (Marlee Matlin) challenges Ruby's interest in singing as though it's an act of rebellion. "If I was blind, would you want to paint?" she signs.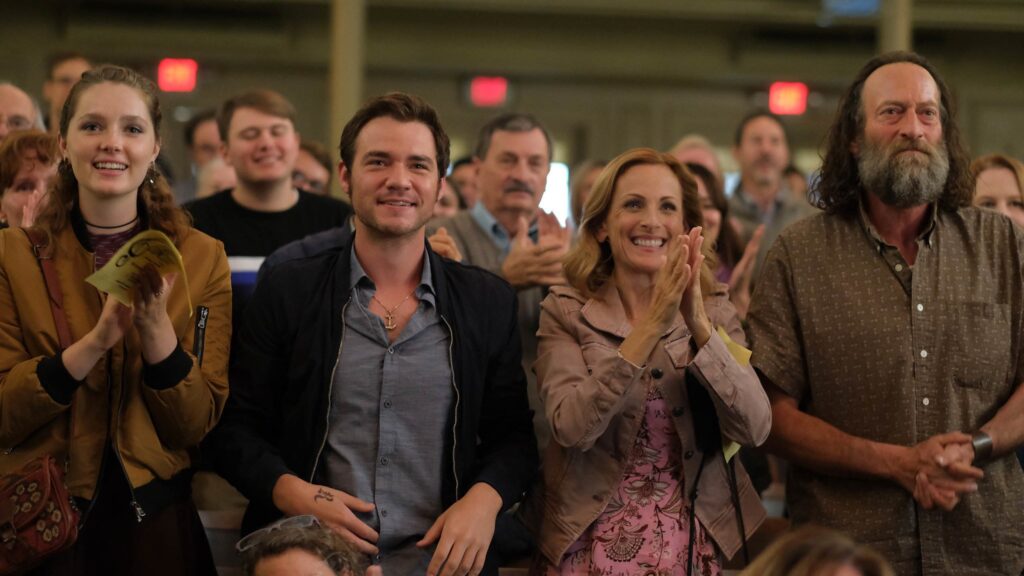 Pursuing a once-in-a-lifetime opportunity while trying to balance family drama and a budding romance doesn't exactly smack of originality, but CODA deftly combines these ingredients into something that feels incredibly fresh and vibrant. Much of the film's magic comes from its wonderfully talented cast, with Kotsur especially entertaining as the mischievous and delightfully profane Frank: he may be deaf, but his language is saltier than any other fisherman on the docks. Not to be outdone, Leo and Ruby frequently engage in the time-honored sibling tradition of vulgar name-calling, cheerfully signing insults like "shit face" and "twat waffle" at each other.
Jones is brilliantly cast as Ruby, straddling two different worlds while trying to keep from being consumed by a storm of complicated emotions. There's a fierceness to Ruby's love for the family, but that love is constantly at war with a growing sense of resentment at being taken for granted, at being asked to set aside her own ambitions to bridge the gap between her family and the rest of the community. "My stuff is important, too!" she insists when Jackie guilts her into skipping a rehearsal with Mr. V, one of many emotionally wrought scenes Jones shares with Matlin. The best comes late in the film, when Ruby asks if Jackie wishes she'd been born deaf, and the vulnerability on display from both performers is heartbreaking. Likewise, a scene with Jones and Kotsur near the end of the film, where Frank tries to understand the magnitude of his daughter's gift, is exquisite in its intimacy.
A bonafide crowdpleaser — even without the crowd — CODA knows precisely when to play the material for laughs, and when to pluck at the heartstrings. While I would've loved to experience it with a packed house at one of the major Sundance venues, viewing it from the comfort of my living room had a silver lining: I didn't have to feel self-conscious about ugly crying in front of strangers, just our dogs. Heder has returned to Sundance with a beautiful, breathtaking film, bursting at the seams with warmth and affection.
Find more of our 2021 Sundance Film Festival coverage at this link.