The 2021 Sundance Film Festival is in full swing, with the (mostly) digital presentation already generating plenty of buzz for a number of titles. We'll continue to provide full-length reviews for select features throughout the festival, while also offering brief impressions of other films we're lucky enough to experience.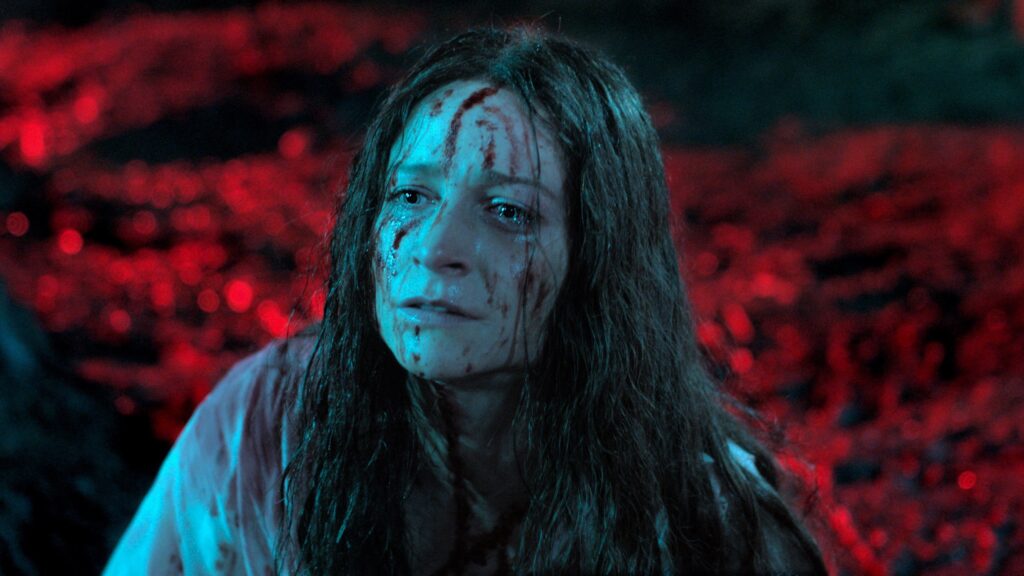 Censor
Directed by Prano Bailey-Bond
As the introduction of VHS gives rise to a wave of ultra-violent horror films in 1980s Britain, a board of censors is saddled with the unpleasant task of viewing each new submission and determining what content must be excised in order to approve the film for release. The constant deluge of grisly images would be difficult for most people to endure for extended periods of time, but for Enid (Niamh Algar) the stress is compounded by two events: the first is a gruesome murder, with the killer seemingly taking inspiration from a film she recently approved for release, leading the pearl-clutching media to place the blame on Enid's shoulders.
The second incident is even more frightening: the latest submission from noted provocateur Frederick North (Adrian Schiller) features a sequence that seems to mirror Enid's fragmented memories of her sister Nina's disappearance several years before. In fact, one of North's frequent collaborators bears a striking resemblance to Nina — could she truly be alive after all this time?
Director Prano Bailey-Bond clearly has great affection for the "video nasties" that inspired Censor, and she's not shy about leaning into the gory, low-budget aesthetic that defined the genre, particularly during the film's latter half as Enid's investigation into Frederick North begins escalating into all-out obsession. From seeking out banned videos from shady rental stores to confronting a sleazy producer (Michael Smiley) about the location of North's next shoot, Enid is deep in the rabbit hole, and the line between what's real and what's happening just for the camera gets all the more blurry. But despite solid work from Algar, Censor runs out of steam before the gory, blood-soaked climax, which plays out in disappointingly predictable fashion. It's a decent effort, with a throwback approach that could resonate with horror connoisseurs, but it didn't quite work for me.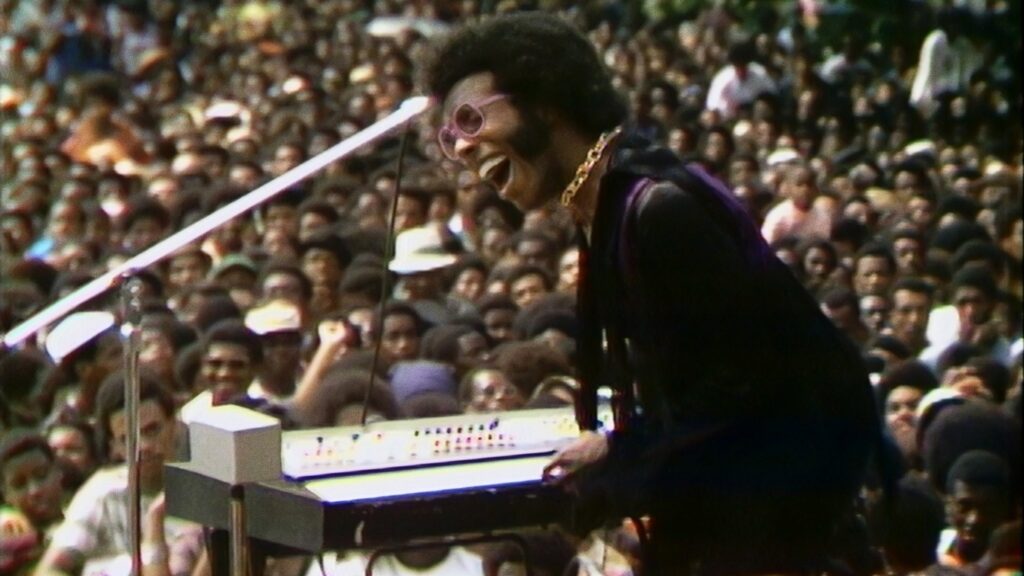 Summer Of Soul (…or, When the Revolution Could Not Be Televised)
Directed by Ahmir "Questlove" Thompson
During the summer of 1969, over the course of six weekends, an estimated 300,000 people attended the Harlem Cultural Festival. Held in Mt. Morris Park (now known as Marcus Garvey Park), the free concert series was the brainchild of local lounge singer and promoter Tony Lawrence, and played host to a staggering lineup of performers, including Stevie Wonder, the Staple Singers, B.B. King, Gladys Knight and the Pips, Nina Simone, Sly and the Family Stone and plenty more. But even though TV producer Hal Tulchin documented the event, shooting over40 hours of footage, the end product never materialized due to lack of interest from potential buyers — no one was interested in a film about "Black Woodstock."
At least, not until The Roots drummer Ahmir "Questlove" Thompson came along some 50 years later, transforming Tulchin's raw footage into Summer of Soul, a stunning documentary that simultaneously serves as a concert film, historical document and wide-ranging examination of Black culture and identity in the late 1960s. Despite sitting in Tulchin's basement for decades, the footage looks and sounds fantastic, and every performance — there are nearly 40 songs featured throughout the film — is dynamite. Among the most affecting: a duet featuring Mavis Staples and her mentor, Mahalia Jackson, as they eulogize the late Martin Luther King, Jr. with a sensational, goosebump-inducing rendition of "Precious Lord, Take My Hand."
But equally stirring are some of the modern-day interviews, where Thompson shows the footage to festival attendees and performers, allowing them an opportunity to relive such a pivotal milestone. There's something beautiful about watching The 5th Dimension members Billy Davis Jr. and Marilyn McCoo reminisce about their lavish stage attire — "I thought they were a little extreme," jokes Davis — and discuss how much importance they placed on being part of the festival. "We wanted our people to know what we were about," says McCoo. "And we were hoping they would receive us." Based on the footage in Thomson's film, that was never a concern — the crowd was enamored with the group (one interviewee even calls McCoo "the most beautiful woman I had ever seen), and Summer of Soul will likely be embraced with the same sort of warm reception by its audiences, both at Sundance and beyond.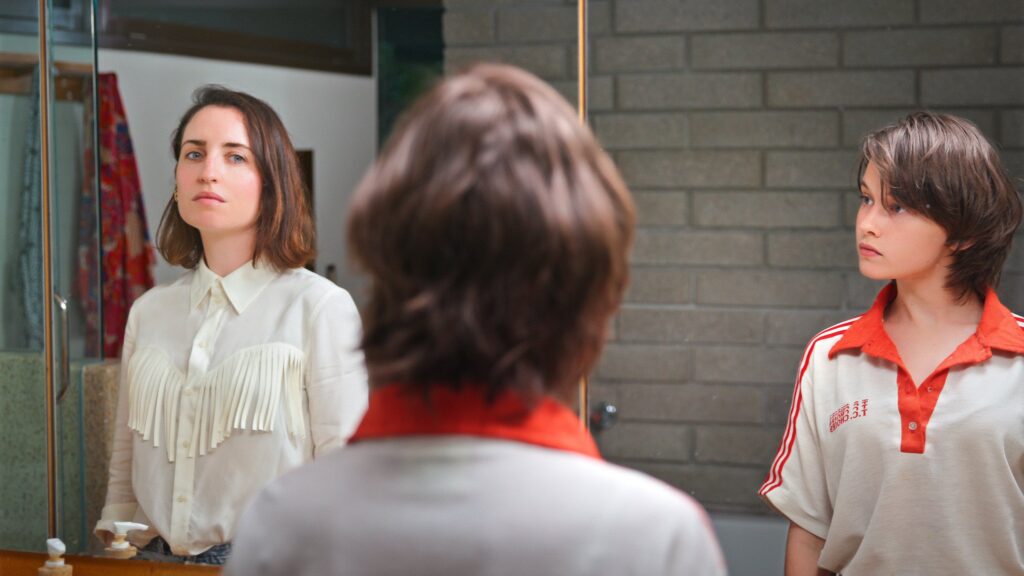 How it Ends
Directed by Daryl Wein and Zoe Lister-Jones
"My whole life I've been terrified of dying alone," bemoans Liza (Zoe Lister-Jones). "And tonight, I'm literally dying alone." She's referring to the impending destruction of Earth, via an asteroid plummeting through space and schedule to make impact around 2am. "You're not alone, you have me" protests the teenage girl (Cailee Spaeny) sitting across the breakfast table, but Liza dismisses the notion. "You don't count, you're metaphysical."
The bundle of optimism is Liza's younger self, and she's not exactly thrilled with older Liza's initial plan for her last day of existence: get high, eat until she vomits, and pass out before the world ends. She posits a more adventurous approach: meet your regrets head-on, confront the world, and say all those things you always wished you had the courage to say. If things don't go well, it's not like anyone will be around much longer to remember, right?
Liza's reluctant acquiescence leads to encounters with everyone from her estranged parents (Bradley Whitford and Helen Hunt) to her douchebag ex-boyfriend (Lamorne Morris) to the hunky old flame who got away (Logan Marshall Green). Between each of these heart-to-heart moments are smaller chance meetings with a variety of bizarre characters portrayed by comedians like Fred Armisen, Charlie Day, Glenn Howerton, Nick Kroll and more. It's as if Lister-Jones and co-director Daryl Wein staffed the film with every famous person they knew in Los Angeles, but the gimmick becomes more of a distraction than anything else — especially since many of these interludes aren't particularly funny.
Shot all over LA during the pandemic (with social-distancing protocols in place, naturally), How it Ends feels more like a thought experiment than a fully-baked idea. There are a handful of great scenes — nearly all of them between the two leads, although Olivia Wilde pops up for a hilarious tête-à-tête over a giant cake — but even at a scant 82 minutes it feels padded, often meandering as listlessly as its protagonist and her plucky companion.
Find more of our 2021 Sundance Film Festival coverage at this link.