Murder in Big Horn
Directed by Razelle Benally and Matthew Galkin
For decades, an epidemic has been plaguing Native American communities across the United States, as countless women and girls have disappeared; some of them eventually turn up dead, others are never found at all, and none of them receive the sort of around-the-clock media coverage that is often devoted to missing white children. Elizabeth Smart and Jaycee Duggard were household names, but the vast majority of people have likely never heard of Kaysera Stops Pretty Places, who went missing in 2019, or Selena Not Afraid, who disappeared the following year.
This riveting three-part docuseries wants viewers to know those names, along with Henny Scott and Shacaiah Harding, both of whom went missing in 2018. All four cases occurred in Montana' Big Horn County, where the local authorities allow reports to languish on their desks for weeks at a time before investigating; where law enforcement agencies squabble over jurisdiction in order to absolve themselves of responsibility; where the medical examiner frequently attributes suspicious deaths to hypothermia; and where a former undersheriff flatly denies the existence of the MMIW crisis. "I don't believe the issue is real," he tells the filmmakers, laying the blame squarely at the feet of other issues that plague Native American communities, like drug abuse, domestic violence and poverty. "Instead of being upset about Natives doing things to other Natives, they come up with the idea of a white boogeyman. If it doesn't fit that narrative, they don't want to hear it."
But crusaders like local journalist Luella Brien aren't buying it, and they continue to search for answers long after the cases have been closed by law enforcement. Murder in Big Horn examines not only the current state of the crisis, but the myriad factors which created the circumstances under which these incidents continue to occur. Unfortunately, with so many unanswered questions and so many variables to consider, answers on how to address the MMIW epidemic are few and far between, but forcing the issue out of the shadows and into the public eye, asking viewers to reckon with the harsh reality of this seemingly endless nightmare, is a step in the right direction.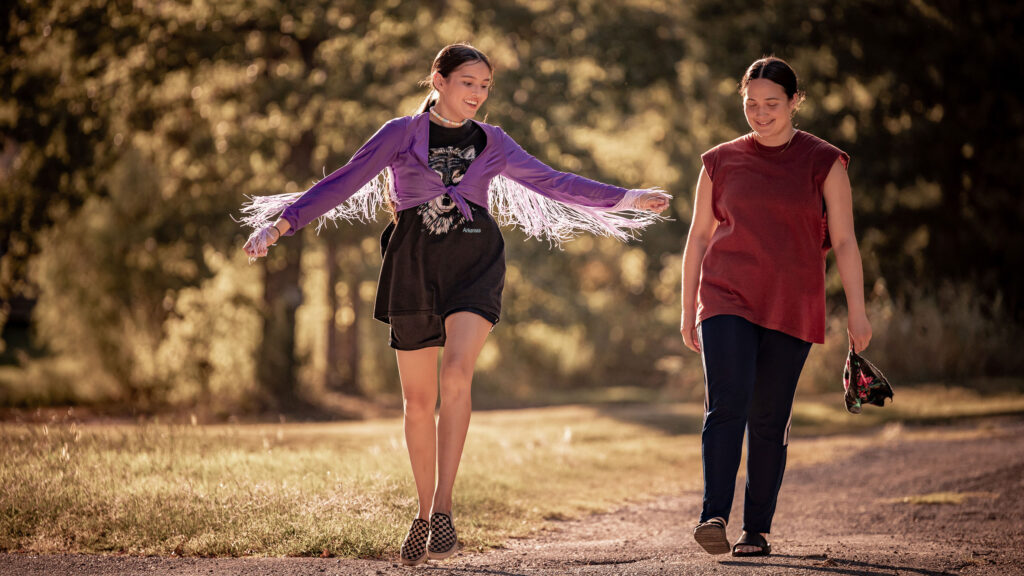 Fancy Dance
Directed by Erica Tremblay
Set on the Seneca-Cayuga reservation in northeastern Oklahoma, this debut feature from Erica Tremblay follows Jax (Lily Gladstone) as she balances caring for her 13-year-old niece Roki (Isabel Deroy-Olson), while also searching for Roki's mother, Tawi, who recently went missing. The FBI is on the case, but much like the law enforcement agencies depicted in Murder in Big Horn, they're clearly not devoting many resources or making the investigation a priority, leaving Jax and her half-brother JJ (Ryan Begay) to follow leads and piece together the circumstances surrounding Tawi's disappearance.
It's a tough balancing act for Jax, who continually downplays her sister's absence in front of Roki and assures her that Tawi will reappear in time for the mother-daughter dance at the upcoming powwow. But when child welfare services remove Roki from the home and place her in the care of Jax's white father (Shea Whigham), Jax makes a rash decision that, despite being motivated by affection and concern for her niece, nevertheless puts both women on a perilous path.
While the plight of missing Indigenous women serves as the film's most prominent theme, Tremblay also shines the spotlight on other issues: generational poverty, unchecked drug and alcohol abuse, and arguably most importantly, a system that doesn't care; a scene where Jax pleads with Frank to follow up with the FBI — because as a white man, they'll take him seriously — is both heartbreaking and infuriating. Gladstone is great in the leading role, sharing strong chemistry with Deroy-Olson, who shines in her film debut, and despite the darkness of its subject matter, there's a breezy quality to Jax and Roki's interactions that almost wanders into "buddy comedy" territory. Between the solid performances and the confident direction, Fancy Dance marks Tremblay as a talent to watch closely in the coming years.
---
Find more of our Sundance 2023 coverage at this link.