The 2021 SXSW Film Festival is officially underway! After the COVID-19 pandemic forced a last-minute cancellation of last year's event, SXSW 2021 is a strictly online affair. We'll be devouring as many films as possible over the next few days and sharing our impressions, so keep checking back for our latest updates!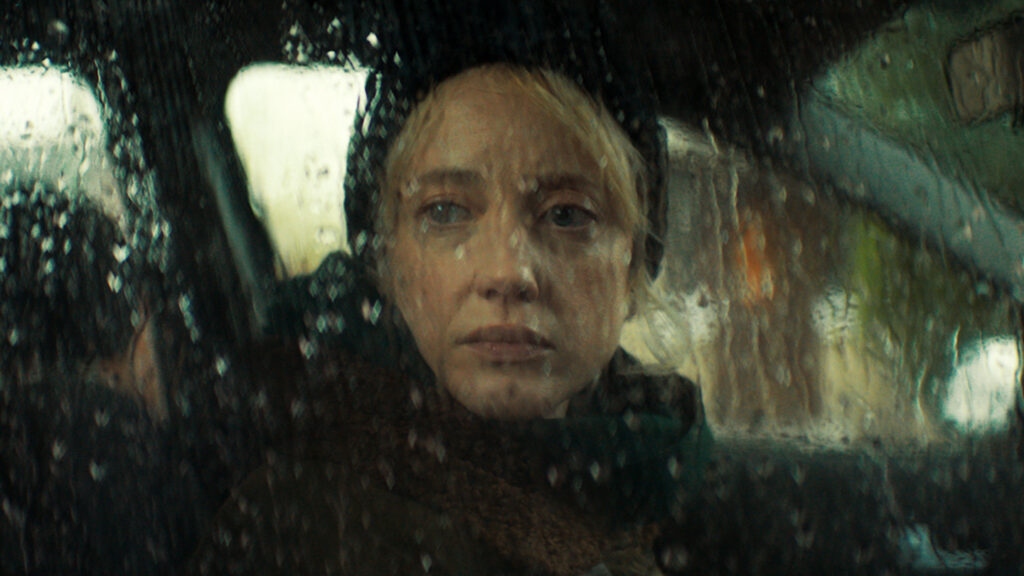 Here Before
Directed by Stacey Gregg
Bereaved mother Laura (Andrea Riseborough), whose daughter Josie was killed in a tragic accident some years past, spends more of her days sleepwalking through existence, barely able to connect with husband Brendan (Jonjo O'Neil) and eldest son Tadhg (Lewis McAskie). When a new family moves in next door, Laura strikes up an immediate friendship with their daughter Megan (Niamh Dornan), inviting her to dinner with the family and offering to give her a lift home from school.
Almost immediately, something about Megan seems off: despite having just moved to town, she claims to have attended school there in the past; she recalls a specific piece of playground equipment at the local park that was torn down years earlier; she draws pictures of herself and Laura's family, labeling Tadhg as her brother, and even starts wearing a ribbon in her hair identical to the one Josie wore before her death. Megan's parents (Eileen O'Higgins and Martin McCann) are understandably wary of their new neighbor's growing interest in their daughter, and tension builds between the two couples as Laura begins to suspect some kind of supernatural connection between Megan and her own lost daughter.
Set in northern Ireland, this unnerving psychological thriller from Stacey Gregg is a mesmerizing exploration of a mother's grief. Riseborough is at the top of her game here, offering a sympathetic portrait of a woman so stricken by grief and clinging so tightly to memories of the past that she's willing to allow everything unravel around her. Here Before doesn't quite stick the landing, leaving a few dangling threads that could've used a bit more explanation, but it's worth a watch for Riseborough's excellent work.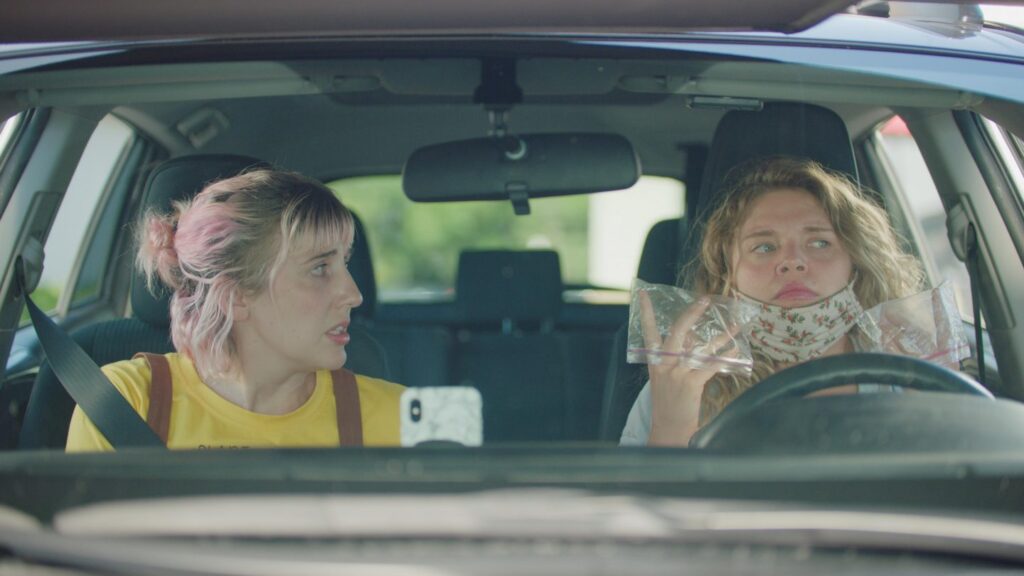 Recovery
Directed by Mallory Everton and Stephen Meek
In early 2020, sisters Jamie (Whitney Call) and Blake (Mallory Everton) are celebrating Jamie's 30th birthday, planning a family trip to Disneyland and buying up stock in hotels and airlines to secure their financial future. A few weeks later, the COVID-19 pandemic is in full swing and the girls are locked in their house, spraying everything with Lysol and mourning the loss of their summer. Schoolteacher Jamie cares for two mice adopted by her fourth-grade students, while Blake pines for a pre-lockdown Tinder match that led to a marathon makeout session in a bounce house.
With a COVID outbreak hitting their grandmother's nursing home, the girls contact older sister Erin (Julia Jolley), currently enjoying discounted rates on ocean cruises. Erin promises to pick up Nana (Anne Sward Hansen) as soon as she returns, but the girls opt to pile into the car and set out on a cross-country journey to rescue their grandmother "before Erin murders her with negligence." As if traveling during the pandemic isn't perilous enough, the girls are forced to contend with maskless motorcyclists, an amateur dog breeder who makes wine out of soap, and a frazzled nursing home attendant locking herself in the closet, begging God to take the old people instead of her.
Combining Everton and Call's magnificent comedic chemistry with their own razor-sharp screenplay, Recovery perfectly encapsulates the fears, frustrations, indignities and absurdities we've all lived with over the past year. The film packs a huge number of laughs into a breezy 80 minutes, but never loses its relatability, even as Blake and Jamie encounter one increasingly bizarre incident after another. A road-trip comedy set during an ongoing pandemic might feel like a dubious proposition, but trust us: Recovery is fabulously funny, delightfully sweet, and a terrific piece of work.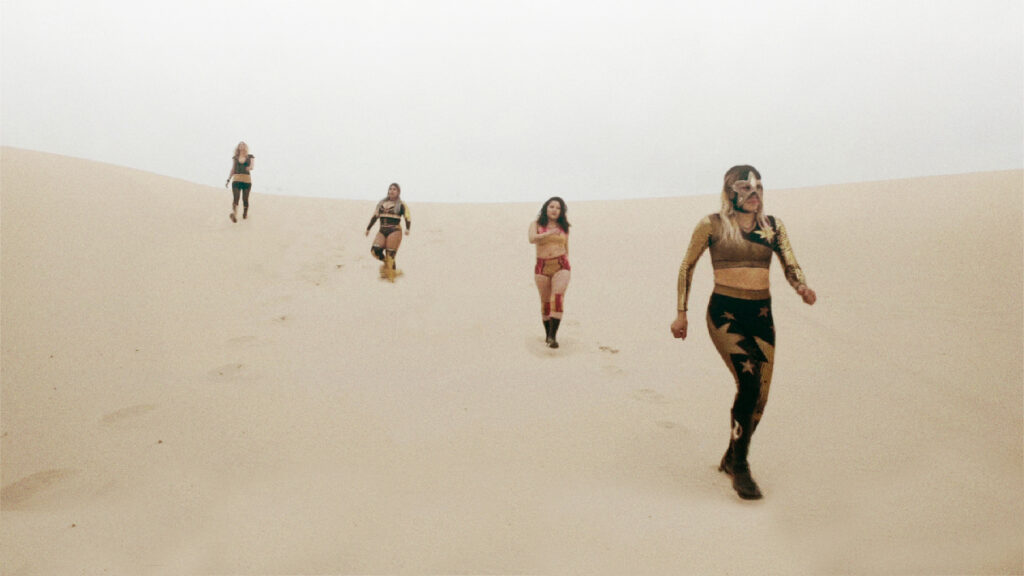 Luchadoras
Directed by Paola Calvo and Patrick Jasim
Chronicling the lives of three female wrestlers, Luchadoras offers a harrowing glimpse at the horrors faced by women in Ciudad Juárez, "the most dangerous city in the world." Lady Candy longs to be reunited with her children, currently living with their father on the other side of the border; masked wrestler Baby Star dreams of following in the footsteps of her father, a respected luchador, while also training (and teaming with) her younger sister; and Mini Serenita ponders a transition to wrestling full-time, because her in-ring earnings are more substantial than the meager $50 per week she earns working at a factory.
Luchadoras makes clear that for all three women, violence is an everyday occurrence, and murders are so frequent they've ceased to be shocking. In one particularly surreal moment, we see Lady Candy and several neighbors gathered on the sidewalk near the scene of a shooting, casually pondering when someone will arrive to cover the body with a sheet. Young women in Ciudad Juárez disappear at alarming rates, and many suspect local authorities are either involved, or at least paid to look the other way. "Who can protect us?" asks one of the wrestlers. "Who can we trust?"
Taking a cinéma-vérité approach, directors Paola Calvo and Patrick Jasim showcase the grueling physicality of their subjects' chosen profession — an image of a victorious Lady Candy covered in blood is especially effective — and the quieter moments outside the ring, such as Baby Star lying in bed with her daughter. But the film meanders a bit too much and often loses focus, and the over-reliance on slow-motion leaves most of the actual wrestling sequences feeling repetitive. There's interesting material here that warrants further exploration, but Luchadoras could've been well-served by some additional polishing.
---
Find more of our SXSW 2021 coverage at this link.