The 2021 SXSW Film Festival is officially underway! After the COVID-19 pandemic forced a last-minute cancellation of last year's event, SXSW 2021 is a strictly online affair. We'll be devouring as many films as possible over the next few days and sharing our impressions, so keep checking back for our latest updates!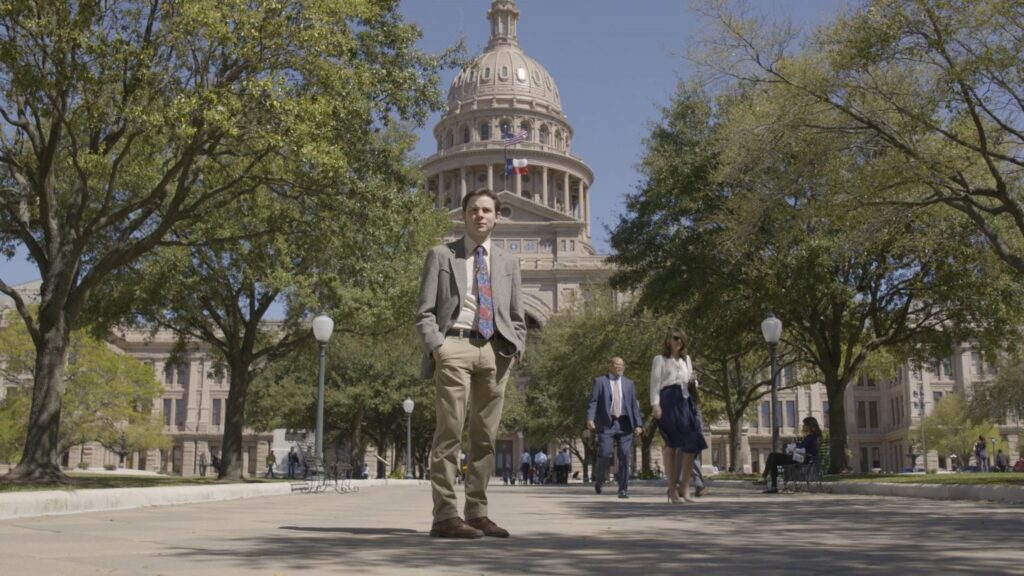 Kid Candidate
Directed by Jasmine Stodel
In the beginning, 24-year-old Amarillo, Texas resident Hayden Pedigo never intended to run for city council. The spoof campaign video he created with a filmmaker pal, inspired by the early works of Harmony Korine, was never meant to be anything more than a joke — but then it went viral, and Hayden was faced with the choice of fading into the woodwork or trying to capitalize on the attention to affect real change in his hometown.
Jasmine Stodel's Kid Candidate follows Hayden as he mounts an unlikely campaign, borne of an earnest desire to level the playing field between the wealthy and the downtrodden. At first, Hayden is met with little more than skepticism: "If he's younger, and that makes him better, let's run a baby," scoffs civil rights activist Jeff Blackburn. But Hayden's refusal to accept donations and his grassroots approach to connecting with voters are a breath of fresh air compared to Amarillo's infamously corrupt leaders, and he soon draws the ire of the dark money networks keeping those leaders in power.
Hayden's idealism is a shining beacon is a sea of duplicitous politicians who would rather spruce up the scoreboard at the local stadium than allocate funds to repair a public pool in an economically distressed neighborhood. Kid Candidate is a fascinating look at just how broken our political systems have become, and how the tendrils of corruption can choke the life out of marginalized and impoverished communities in order to maintain the status quo.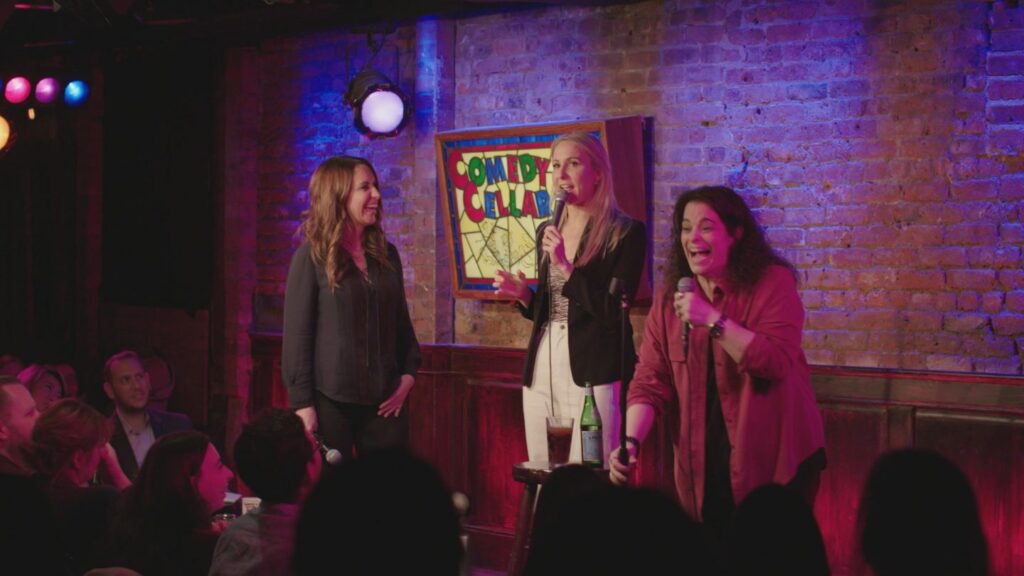 Hysterical
Directed by Andrea Nevins
"We can't ignore that women are hilarious and making content that everyone wants to consume." Thus begins Hysterical, a hilarious and thoughtful documentary about female comedians and the myriad obstacles they face in a world that has been historically dominated by men. Director Andrea Nevins explores the legacy of women in comedy, from early trailblazers like Moms Mabley, Jean Carroll and Phyllis Diller, all of whom opened the door for future generations of stars to make their mark on the industry.
Nevins shines a light on the rampant sexism that has long plagued the standup scene, both in the early days — archive footage shows Jerry Lewis telling an interviewer he dislikes female comedians because he "cannot sit and watch a lady diminish her qualities" — and in the modern era, with multiple subjects recounting their personal experiences with sexual harassment and assault, often by fellow members of the comedy world. Nevins also explores the double standard of male performers like Sam Kinison being celebrated for their anger, while angry women are labeled as "difficult," "hard to work with," or "a bitch."
Hysterical features a massive roster of performers, from legends like Margaret Cho and Kathy Griffin to rising stars like Kelly Bachman, who seizes an opportunity to eviscerate Harvey Weinstein from the stage when she learns he's in the audience. The film also examines the close-knit community and support system women comics have created for themselves, and the way personal experiences — like Marina Franklin's diagnosis with a serious illness — can influence their approach to comedy.
"It's not that women aren't funny, it's that women weren't allowed to express themselves," says Iliza Shlesinger. Hysterical offers its subjects the opportunity to do just that, and the results speak for themselves. The film is engrossing, emotional and consistently funny, but perhaps most importantly, inspiring: as Nikki Glaser tells an audience, "Because I've eaten ass, I know I'm a woman that can do anything." Who are we to disagree?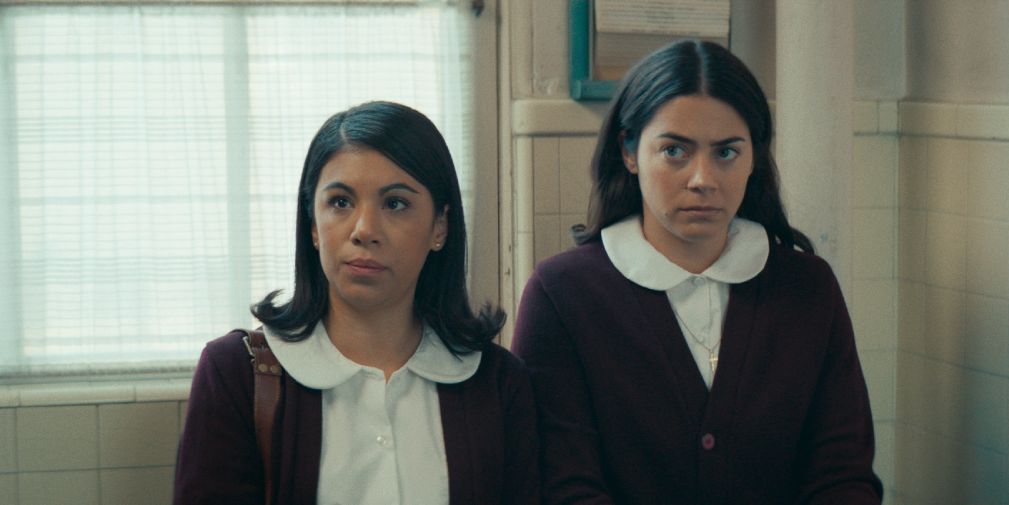 Women is Losers
Written and Directed by Lissette Feliciano
Set in San Francisco in the late 1960s, Lissette Feliciano's debut feature follows Celina Guerrera (Lorenza Izzo) as she navigates Catholic school, a strict mother (Alejandra Miranda) and abusive father (Steven Bauer), and a budding romance. When Celina sneaks out to join best friend Marty (Chrissie Fit) at a welcome home party for recently discharged Vietnam vet Mateo (Bryan Craig), she unwittingly sets off a series of devastating events that will alter the course of her life forever.
Women is Losers features a great ensemble, including future Marvel star Simu Liu (Shang-Chi and the Ten Rings) as Celina's boss, Mr. Lee, who imparts wisdom about saving money and investing for the future, and Liza Weil as a stone-faced coworker smart enough to know that Lee's interest in Celina goes beyond an employer-employee relationship. "Everything is a trade," she tells Celina. "What did you think you had to trade with?"
Inspired by the experiences of the women in her own family, Feliciano takes aim at the systemic racism and sexism of the era, frequently breaking the fourth wall and allowing characters to directly address the audience. When Celina is denied funding to buy a house, the loan officer lists off the various groups of people the bank always denies as a matter of policy — including single women, "the gays" and disabled people — before turning to the camera to explain, "I didn't say that exactly, but I could have. This was all perfectly legal until 1974."
Of course, just because discrimination is prohibited by law doesn't mean that it's still not occurring, and Women is Losers isn't afraid to acknowledge that. Feliciano also tackles sex education and bodily autonomy, illustrating just how little has changed: a nun tells Celina "the female body is a weak, dirty and sinful thing," a doctor refuses to prescribe birth control, and her mother demands that she keep her legs closed. When faced with the consequences of an indiscretion, Celina asks a question that many young women today have probably asked themselves: did she make a bad choice, or was she not given the knowledge and safety to make an informed one?
Bold, funny and poignant, Women is Losers is a dazzling debut for Feliciano, and a bonafide showcase for Izzo as she portrays Celina with a mixture of sorrow, determination, courage and righteous anger. Consider this one a "must see" during the festival.
---
Find more of our SXSW 2021 coverage at this link.