Diamond Hands: The Legend of WallStreetBets
Directed by Zack Canepari and Drea Cooper
Diamond Hands: The Legend of WallStreetBets explores the complete chaos that ensued when a cadre of retail stock investors — described by one interviewee as "a very large group of idiots who got fed up with the world" — zeroed in on struggling brick-and-mortar videogame retailer GameStop as a viable investment opportunity. With names like Roaring Kitty, Sir Jackalot and JeffAmazon, these denizens of the ultra-popular Reddit forum r/wallstreetbets faced off against hedge fund managers, television finance pundits, the RobinHood investment platform and even the United States Congress, and Zack Canepari and Drea Cooper's zany documentary — set against the backdrop of the COVID-19 pandemic — charts this nigh-miraculous tale through a series of talking head interviews, archive footage, and a healthy dose of memes.
Viewers unfamiliar with stock-trading vernacular may be left scratching their heads at certain points, but Diamond Hands does an admirable job of explaining the basics while also delving into the inherent weirdness of the WallStreetBets subreddit, where big risks and ill-advised trades are often celebrated. "If you go to WSB and tell them you're going to buy shares of a dying company, you receive accolades," says one of the doc's subjects, and the notion that somehow this community spawned a movement that made global headlines and put them in the crosshairs of some of Wall Street's most influential players is a fascinating conceit. Diamond Hands is short on revelations — especially for anyone who followed the story as it was occurring — but it's long on entertainment value, and well worth a look.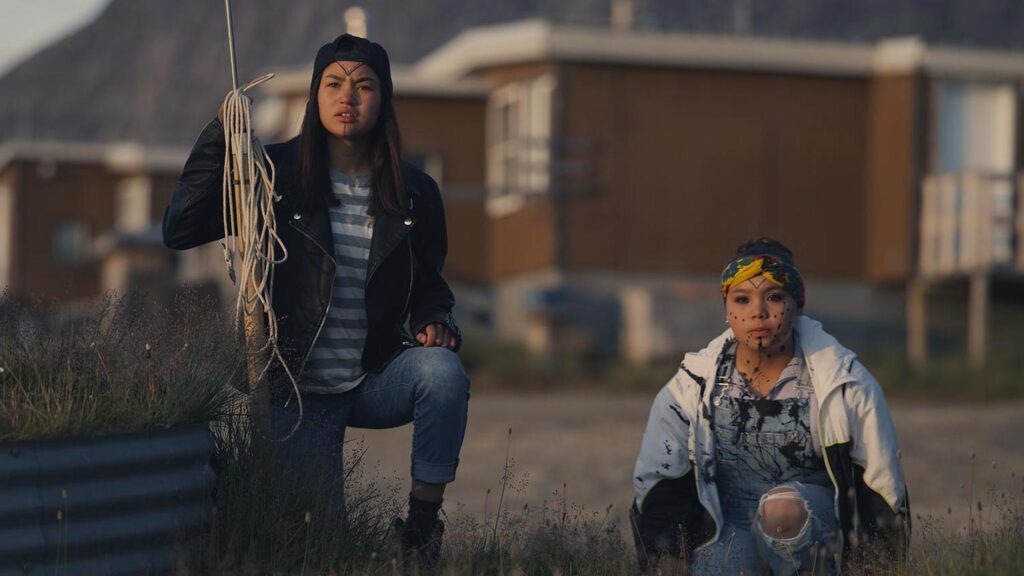 Slash/Back
Directed by Nyla Innuksuk
Nothing ever happens in the remote village of Pangnirtung, Nunavut, Canada, a sleepy little fishing hamlet with less than 1400 residents. But in Nyla Innuksuk's horror comedy Slash/Back, a quartet of local teenage girls finally get the excitement they've long been dreaming of; unfortunately, that excitement arrives in the form of parasitic alien visitors. As the daughter of a revered hunter, Maika (Tasiana Shirley) feels compelled to take up arms against the invaders, enlisting best pals Jesse (Alexis Vincent-Wolf) and Leena (Chelsea Pruksy), along with the outspoken, adventurous Uki (Nalajoss Ellsworth).
There's a real "kids on bikes" feel to Slash/Back, with the camaraderie between the girls serving as the primary attraction. Not that the film isn't without its scares, but the hilarious ways in which Maika and her friends describe their adversaries — "noodles come out of their hands and claws come out of their noodles" — often undercuts some of the dramatic tension. Visual effects are a bit shoddy, but that's not outside the norm for a low-budget indie such as this, and the amateur cast sells the material commendably, despite a handful of stiff line readings.
Shot on location in the community of Pangnirtung, Slash/Back boasts some truly stunning landscapes, and the lack of darkness — the film is set during a period of 24-hour sunlight in the Arctic — adds an extra layer of originality into the mix. Innuksuk's debut feature is an enjoyable coming-of-age adventure that feels inspired by the likes of Attack the Block, The Goonies and John Carpenter's The Thing (which gets a reference here), and should play well to genre fans on the festival circuit.
---
Find more of our SXSW 2022 coverage at this link.