Enjoying its North American premiere as part of the 2020 Fantasia International Film Festival, director Ivo van Aart's The Columnist is a sharply written examination of social media, online hate speech, and the blurring of lines between online personas and the actual human beings behind the keyboard. In a time where enemies are made of people whose social and political beliefs are different than one another, this darkly funny revenge thriller feels especially timely.
We first meet popular feminist writer Femke Boot (Katja Herbers) during a talk show appearance, where she bemoans the state of online discourse and pushes for more civility. "Why can't we have different opinions and be nice about it?" she asks, earning her a stern rebuke from another panelist, horror writer Steven Death (Bram van der Kelen). But Femke's concern is rooted in something a bit more personal: a sustained campaign of online harassment which has begun to escalate into violent threats.
The local constabulary are no help, of course. "It's just the internet, it's not real," a bored desk sergeant informs her. But as Femke spends hours obsessively scrolling through the onslaught of Twitter comments, she makes a startling discovery: some of the most despicable statements are from an account owned by her next-door neighbor. Her initial reaction is to confront him, but then a different sort of opportunity presents itself — and with a shocking act of violence, there's one less online troll in the world.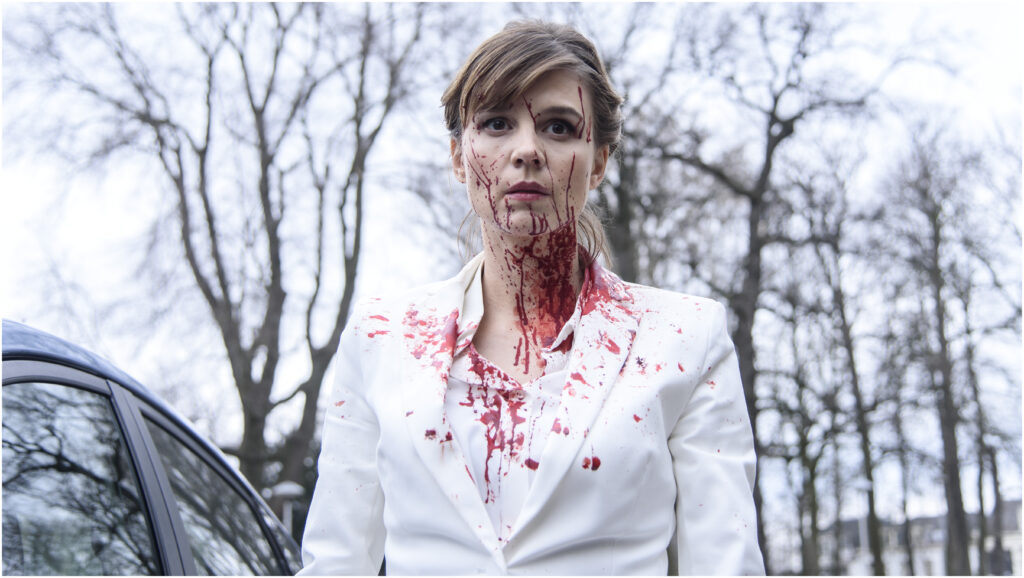 Even better, Femke's ongoing writer's block has miraculously dissipated, and now she has just the inspiration she needs to finish her latest book. Herbers, probably best known to US audiences for a stint on HBO's Westworld, is excellent in the leading role, doling out her own special brand of justice. Not to be outdone, van der Kelen has a few surprises up his sleeve as the veneer of Steven's public image fades away behind closed doors, and Claire Porro shines as Femke's daughter, Anna, a free speech advocate who begins to suspect something isn't quite right in the household.
As Femke researches and stalks target after target, The Columnist veers closely into Dexter territory, but with a healthier dose of sardonic wit — at the end, Femke just wants everyone to be decent to one another. "It isn't hard to be kind," she admonishes a remorseless, bathrobe-clad keyboard warrior. And when another online tough guy is reduced to a blubbering mess, promising that he didn't really mean it and would never do it again, Femke can barely contain her disgust. "At least the one before you was honest," she snaps.
There's something satisfying about watching smug, smarmy racists and misogynists get their comeuppance, and The Columnist presents a revenge fantasy likely to be shared by anyone who's ever been mercilessly fucked with online. van Aart doesn't quite stick the landing, as there are a few too many loose threads left dangling, but as a piece of bloody, humorous escapism it's quite fun.