This generation's modern stone age family The Croods may have survived their first family adventure, but one can never let their guard down in prehistoric life — especially when stumbling across a new human family. The Croods: A New Age introduces colorful new locations and expands its star studded cast with a silly, but sweet follow-up that matches the fun of the original.
The whole cast returns as Grugg (Nicolas Cage) and his wife Ugga (Catherine Keener) try to lead their family to a new home and quite possibly this "tomorrow" place that Guy (Ryan Reynolds) still thinks is their best option. During their continued journey, Eep (Emma Stone) and Guy have become closer, but their budding romance will be put to the test when they meet The Betterman family who think they are… well, better. Yeah, this movie isn't subtle about much.
The Bettermans are a fun new addition to the cast lead by the hilariously smug voicework of Peter Dinklage as hipster dad Phil. Together with his wife Hope (Leslie Mann) and daughter Dawn (Kelly Marie Tran) the well-intentioned family can't help but meddle in their kids' relationships, while also trying to usher out the oafish Croods from their picture-perfect paradise home.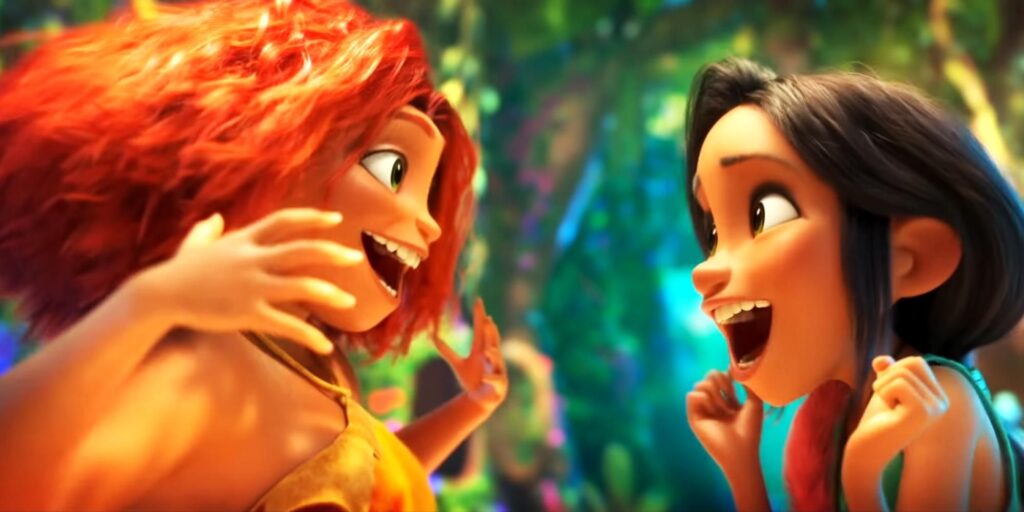 Thankfully the film avoids a soapy love triangle and instead leaves the couples scheming to the parents, and instead has Eep and Dawn become instant besties. Stone and Tran have an adorable chemistry and as Eep helps Dawn become more of an adventurer, their antics provides some of the biggest laughs in the film.
Once again the animated action brings a fast-paced, frenetic feast for the eyes. The marquee sequence of The Croods: A New Age comes during the final act with a sequence so ridiculous you have to love it, with the families coming together for a glowing black light enhanced, totally metal assault on a giant gorilla — again this film is not big on the subtleties.
While this sequel is a harmless, good time for most of the family, it does not reinvent the wheel of animated cinema and certainly isn't one of Dreamworks Animation's top endeavors. The storylines here are mostly sitcom cliches and the final act gets completely looney tunes, both literally and figuratively. The film mostly stays in its lane and doesn't try be much more than light, escapist entertainment to its benefit (or detriment, depending on your personal taste).
For myself, this film comes along at a perfect time when the world needs something optimistic and comforting that the whole family can enjoy, especially over this unusual Thanksgiving holiday. The Croods: A New Age warmly scratches that itch and matches the fun and sweet family heart that made the original better than expected, but this time with a side of metal.
Score: 3.5 out of 5