Before Harley Quinn gets her solo big screen adventure with Birds of Prey in 2020, the beloved trouble-making Joker sidekick is emancipating herself in the her own snappy, mature-audiences-only animated series, Harley Quinn. Despite some early episode growing pains, the series blossoms into a hilariously weird and raunchy success led by a stellar and ever-expanding voice cast.
Indeed, one of the bigger hurdles the show will face is selling the series to viewers with the one-episode per week release schedule on the DC Universe streaming service. Warner Bros TV was kind enough to give us the entire first season in advance and needless to say, we loved all 13 half hour episodes, but the show and its star Kaley Cuoco (The Big Bang Theory) don't really find their stride until Harley's crew is introduced in the aptly titled third episode So You Need A Crew?
Other items, such as the onslaught of F-bomb ridden (and worse) profanity that flies with ease out of not only Harley, but the Joker (Alan Tudyk), Poison Ivy (Lake Bell) and even good guys like Jim Gordon (Christopher Meloni) take a few episodes to feel right. Don't get us wrong, the dialogue does eventually click and works to hilarious effect, but the hard shift to adult humor with these normally more reserved DC Comics characters is a bit of a shock at first.
The R-rated language alongside the blood and gore of Harley Quinn might, on the surface, seem like a cheap crutch to base the show around. In actuality, the bizarre Ricky and Morty-like cast of characters and general lack of giving a fuck are what make up the core of the show, allowing the bulk of the season to really shine. D-list villain characters Doctor Psycho (Tony Hale) and King Shark (Ron Funches) steal more laughs and settle into this wackier take on the comic book world. Also, you can't go wrong with awkward office workplace comedy from an animated Bane with a goofy version of Tom Hardy's The Dark Knight Rises voice.
DC Comics lovers will also have a blast with the fan service splashed all over the gorgeous color palettes of the show's animation. From cameos by A-List heroes and villains to hilarious roles for the most obscure characters in the DC catalog, there's something for every level of fan. Who would've thought Kite-Man and Poison Ivy would be the most shippable couple on the DC Universe service, or that a tiny telepathic doctor with anger issues that gets caught on film calling Wonder Woman the "c-word" would be so instantly hilarious?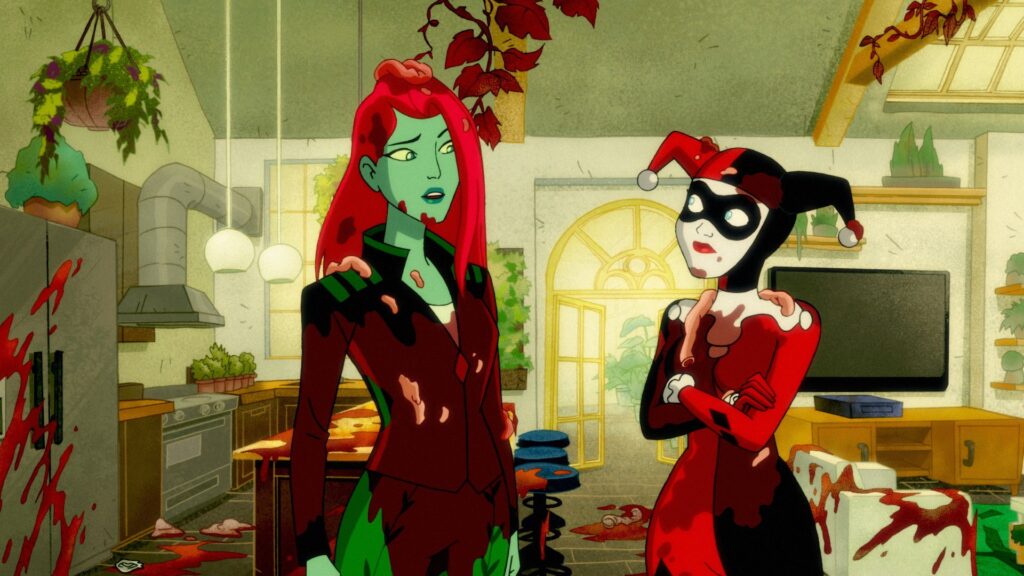 Aside from the straight up laughs and unexpected turns, the first season surprisingly gets somewhat touching as the episodes progress and explore ideas of family, self-identity and female empowerment, culminating in a surprisingly heartfelt arc to end the season. Cuoco and Bell have terrific best friend chemistry as Harley and Ivy, and their witty back-and-forth and organic rapport compliment each other brilliantly as minor over-arcing stories begin to build towards the end.
This series is another solid example of the interesting creative directions original content can go under the freedom of the DC Universe streaming banner. While it may be harder to jump onboard only getting to view new episodes on a week by week basis, we implore viewers to stick with the show, or a least wait and binge watch the first half of episodes before making any decisions. Harley Quinn ends up being a clever comedic surprise filled with great characters in a world wrapped up in dazzling colors and bloody dismemberment.
Score: 4 of 5
Harley Quinn premieres Friday, November 29, only on DC Universe.