Fans of the Toy Story series have long been apprehensive about the notion of a fourth installment. The series had seemingly wrapped up on such a perfect note that it felt almost sacrilegious to consider revisiting Woody (Tom Hanks), Buzz (Tim Allen) and the rest of the gang, and any future adventures would no doubt manifest as nothing more than a shameless cash grab. Thankfully, that couldn't be further from the truth: not only is Toy Story 4 an absolute delight, but unlike another fourth entry in a long-running franchise, it never loses sight of why audiences fell in love with these films in the first place.
After an opening flashback that details what happened to Bo Peep (Annie Potts) nearly a decade ago, we find Woody grappling with the realization that his days of being a favorite toy have come to an end. Bonnie (Madeleine McGraw) rarely plays with him anymore, instead casting Jessie (Joan Cusack) as the sheriff in her imaginary exploits and often leaving Woody on the floor of the closet, where he passes the time with other "retired" toys from Bonnie's earlier years (voiced by the likes of Carl Reiner, Betty White, and others). But when Bonnie's anxiety over starting kindergarten seems destined to ruin her first day, Woody hitches a ride in her backpack and lends some covert assistance for an arts and crafts project that results in a new addition to the bedroom: Forky (Tony Hale).
Cobbled together from a spork, pipe cleaners, popsicle sticks and a set of googly eyes, Forky has no desire to become a plaything, and is far more comfortable in a trash can than a child's bedroom. This leads to a running gag throughout the first act, which finds Woody trying to prevent his new pal from pitching himself into the garbage can at every opportunity. When a family road trip finally allows Forky to slip away from the sheriff, Woody's quest to reunite Bonnie with her beloved kitchen utensil is sidetracked when he stumbles upon an antique shop which may hold a clue to Bo Peep's whereabouts.
It wouldn't be a Toy Story film without the return of favorites like Rex (Wallace Shawn), Hamm (John Ratzenberger) and Mr. Potato Head (Don Rickles), but Toy Story 4 also introduces its most varied cast of supporting characters yet. Keegan Michael Key and Jordan Peele are hilarious as Ducky and Bunny, a pair of carnival prizes with a bit of a mischievous streak; Christina Hendricks voices Gabby Gabby, a sinister 50s-era baby doll with a faulty voice box and a legion of creepy ventriloquist dummies under her command; and Keanu Reeves is brilliantly cast as Duke Caboom, a Canadian stuntman (clearly inspired by Evel Knievel) more famous for spectacular crashes than actual achievements.
Perhaps more than any other Pixar creation, the Toy Story series has always been able to serve up plenty of laughs while packing an emotional wallop, and Toy Story 4 is no exception to that rule. There are some great recurring gags, like Buzz's complete misunderstanding of one's "inner voice," and the film's situational humor is consistently clever, which should come as little surprise to anyone familiar with the previous entries. Director Josh Cooley even throws in a few pop culture references that parents will appreciate: a scene where the dummies stand lookout above the floor of the antique shop evokes a horror classic, and an imaginary sequence which finds Ducky and Bunny exacting revenge on carnival patrons is obviously influenced by Godzilla and other kaiju films.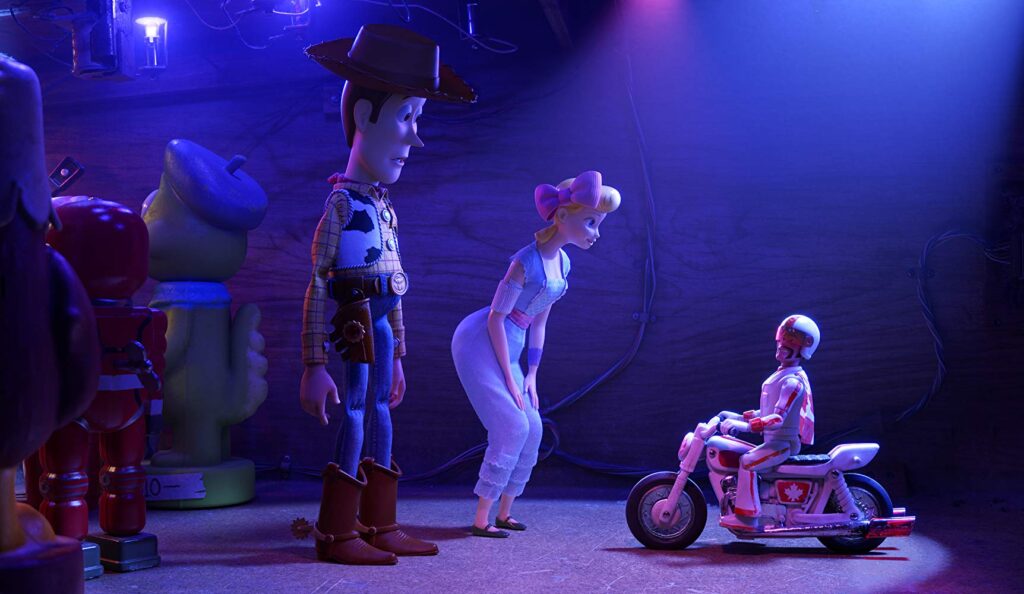 Healthy supply of jokes notwithstanding, it's in the quieter moments where Toy Story 4 truly excels. Woody's reluctance to accept the fact that Bonnie is moving on and may no longer need him is a tough pill for the sheriff to swallow, but it makes for a poignant allegory about parenting, about letting go of your children and realizing they're going to be okay, and about trying to find your place in the world once they're gone. It's also a film about misperceptions, about realizing the thing we fear the most — in Woody's case, becoming a lost toy — may not be as terrifying as we once thought.
"The most noble thing a toy can do is be there for a kid that needs them," remarks one character, and there's a strikingly beautiful moment in the third act where this mantra is put into action — if you're able to make it through this scene without wiping away a few tears, then I applaud you for your composure. Like its predecessors, Toy Story 4 understands the significance of the bond between a child and their favorite toy, and more importantly, the undeniable magic of childhood.