The 2021 Tribeca Film Festival is now in full swing, marking the first major North American film festival to host in-person screenings since the beginning of the COVID-19 pandemic. Although we'd love to be there in person, we're covering this year's event from afar, and will be checking out as many selections as possible right up until closing night.
As with our previous festival coverage for Sundance and SXSW, we'll be posting updates with our impressions, so keep checking back for the latest!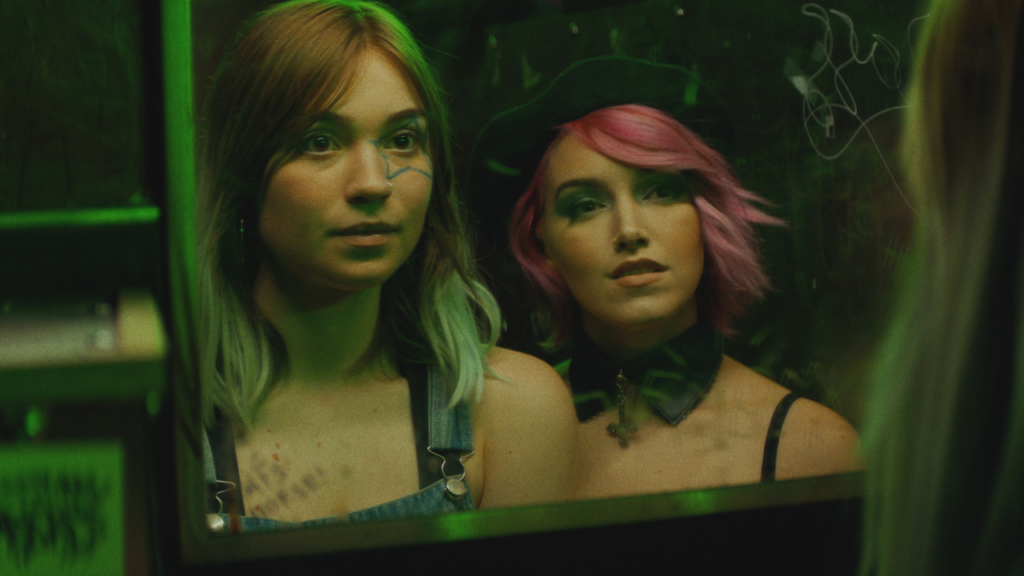 Poser
Directed by Ori Segev and Noah Dixon
"I've always had an interest in collecting sound," says Lennon (Sylvie Mix), whom we first meet in an art gallery, using her phone to surreptitiously record the banal chatter of nearby patrons. Returning home for the evening, she uses a microphone and tape recorder to transfer the digital recording to analog, and files the cassette away with hundreds of others just like it. Lennon wants to start a podcast about her hometown's independent music scene, interviewing local musicians and highlighting up and coming talents, but her motives are… questionable, to say the least.
When Lennon attends a performance by rising stars Damn the Witch Siren and scores an interview with scene queen Bobbi Kitten (a real-life musician from Columbus, Ohio, playing a version of herself), she's quickly drawn into Bobbi's inner circle. But that newfound sense of acceptance isn't enough, and soon Lennon is copying her mentor's looks, moves, and persona, while also using plagiarized lyrics to pass herself off as a struggling performer. The truth is bound to come out eventually, and as Lennon's web of deceit begins to unravel, her obsession with Bobbi grows to frightening proportions.
With Poser, directors Ori Segev and Noah Dixon have crafted something that plays out like an indie-rock twist on Single White Female, an engaging thriller whose identity feels distinct and genuine (unlike that of its titular podcaster). The two leads are quite well-matched, with Sylvie Mix zeroing in on the sinister undercurrent lurking behind Lennon's timidity and carefully constructed fantasy, and Bobbi Kitten giving off some serious Jena Malone vibes as she channels her onstage charisma into a bewitching performance. Poser is also set to a vibrant and varied soundtrack, featuring music and appearances by a number of local mainstays on the Columbus scene (including multiple tracks from the aforementioned Damn the Witch Siren), serving as a sort of love letter — albeit a creepy, unsettling one — to the artists and venues with whom Segev and Dixon have worked over the past few years.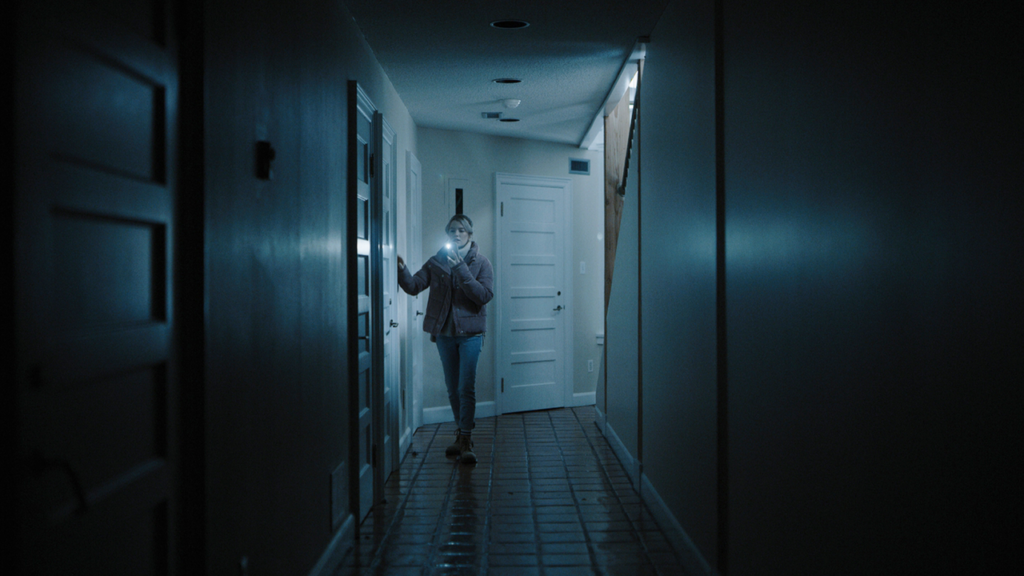 See For Me
Directed by Randall Okita
Sophie (Skyler Davenport) was a promising downhill skier, but a rare genetic disorder caused her vision to rapidly deteriorate, forcing her to hang up her skis. Stuck at home with a well-meaning but overprotective mom, Sophie's only escape comes via sporadic pet-sitting gigs, usually for ultra-rich clients with deep pockets. When her newest job sends her to a sprawling remote mansion in upstate New York, her mom recommends that she downloads See For Me, an app designed to connect the visually impaired with a live person who can act as their eyes via a video chat connection.
The app introduces her to Kelly (Jessica Parker Kennedy), a military veteran turned hardcore gamer with a particular affinity for first-person shooters. They don't exactly hit it off at first, but Kelly's skillset proves invaluable when a group of thieves break into the mansion intent on acquiring the contents of the safe hidden behind a panel in the living room. Unable to see, Sophie is forced to rely on Kelly to keep her alive as the intruders comb the house looking to snuff out any potential witnesses.
See For Me plays fast and loose with genre conventions, eschewing them at key points and embracing them elsewhere. Far from the typical protagonist, Sophie treads some morally questionable ground, both before and after the break-in, and her outwardly bitter demeanor can feel off-putting. In short, she doesn't make for the most relatable heroine, but Davenport — a visually impaired actor making their feature-length debut — knows just when to showcase Sophie's more vulnerable side. Kennedy is also good in a role that feels underwritten, hinting at a darkness in the character's past that never gets fleshed out, and Sons of Anarchy alum Kim Coates has a small but potent role as the brains behind the break-in.
Director Randall Okita makes exceptional use of the cavernous residence in which the film was shot, utilizing unorthodox camera movements and leveraging the floor-to-ceiling windows to great effect; an ultra-wide shot that reveals Sophie tiptoeing down the hallway at one end of the manor while the burglars can be seen at the opposite end of the frame is one of many impressive visual flourishes. Some moments border on campy, as Sophie effectively becomes a living FPS avatar for Kelly to control, but the originality of the concept and the near-constant buildup of tension helps to offset any silliness. If nothing else, See For Me injects fresh life into a shopworn formula, and that's enough reason to give it a chance.
---
Find more of our 2021 Tribeca Film Festival coverage at this link.