Avengers: Endgame may have capped off the Marvel Cinematic Universe's "Infinity Saga" in thrilling fashion, but at least one dangling narrative thread was left unresolved: what happened to Loki (Tom Hiddleston)? No, not the modern-day Loki whose neck was broken by Thanos in the opening moments of Avengers: Infinity War — clearly, we're aware of his fate. We're talking about the other Loki: the one from 2012, who managed to get his hands on the Tesseract and disappear while both sets of The Avengers (the time-travelers from 2023 and their 2012 counterparts) were distracted.
Premiering tomorrow on Disney+, Loki — the latest long-form series from Marvel Studios — helpfully opens with a two-minute recap of those events before picking up with the God of Mischief shortly after his escape. His freedom is short-lived, however, as mysterious armor-clad agents arrive to subdue him, whisking him through a portal and into the custody of Agent Mobius (Owen Wilson). Turns out, Loki's disruption of the timeline has garnered the attention of the Time Variance Authority, a shadowy organization tasked with maintaining the proper flow of time and dispatching any "variants" whose actions create new branches that could result in a multiverse.
That last bit will no doubt have ramifications for the larger MCU; rumors abound that multiple webslingers from different realities are slated to appear in Spider-Man: No Way Home this December, and next year's Doctor Strange and the Multiverse of Madness promises to further exploration of this concept. But for now, we're focused on our scheming anti-hero, who gets a stay of execution in exchange for helping Mobius hunt down a particularly dangerous variant that's been hopping through time, murdering TVA agents and stealing valuable resources that could potentially upend the timeline. Loki isn't exactly the most trustworthy ally — "you've literally stabbed people in the back like 50 times," Mobius points out — but the trickster god's unique perspective might be the key to apprehending the culprit and averting whatever catastrophe is being planned.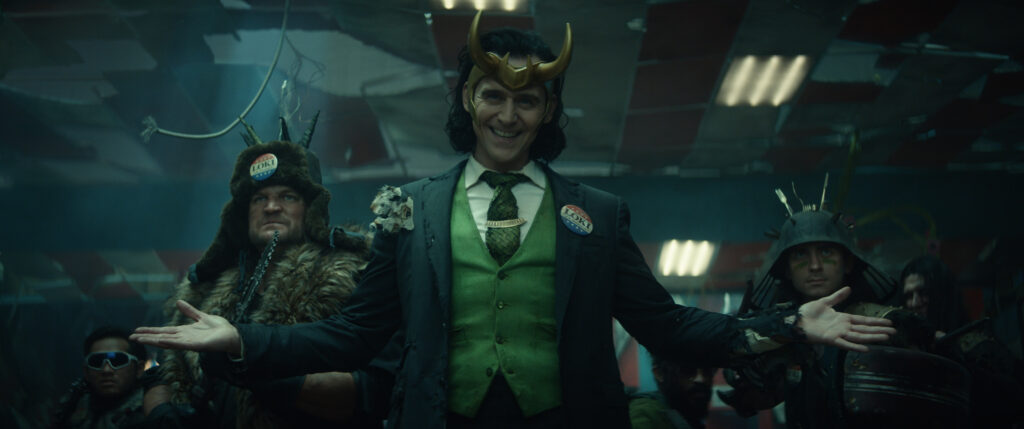 The art deco aesthetic of the TVA headquarters and its wonderfully retro trappings make for spectacular scenery, and the combination of warm color tones and frequent use of soft focus evokes a hazy, dreamlike quality. The visuals marry well with the hilariously inane levels of bureaucracy that permeate the organization, from the multiple layers of approval required to get anything done — Gugu Mbatha-Raw is great as an upper-level administrator — to Loki's intake, where he's required to confirm the presence of a soul and sign a towering stack of papers to verify every word he's ever spoken. As the straight man, Wilson's droll delivery makes him a perfect foil for Loki's smugness, and their comedic chemistry is aces; watching each continuously try to manipulate the other is endlessly entertaining.
A longtime favorite of MCU fans, Hiddleston has never been better as the God of Mischief, savoring every arrogant syllable of his (frequent) soliloquys, while also being given more opportunity than ever before to explore the character's nature. As Loki is forced to confront the cruelty and pain of his previous actions and reckon with his place in the universe — a place he's dismayed to learn might have been predetermined and never within his control — Hiddleston does great work showcasing the inner conflict, making us believe there might be hope for redemption, provided Loki can tamp down his never-ending desire for power.
Marvel's previous Disney+ offerings, WandaVision and its follow-up The Falcon and the Winter Soldier, were criticized for pacing issues, but Loki immediately establishes a brisk sense of momentum that continues throughout the first two episodes. Showrunner Michael Waldron has crafted a fun and engaging time-hopping buddy comedy, a sci-fi police procedural that embraces the weird, the wild, and the darkly funny. It's Marvel's strongest TV offering yet, at least in the early stages, and we can't wait to see what the God of Mischief has up his sleeve next.