When 15-year-old Simi (Nina Katlein) arrives at her aunt's home in the remote German countryside for a week-long holiday, it's with an ulterior motive. Claudia (Pia Hierzegger) is a bestselling author and renowned nutritionist, and Simi hopes her aunt might be able to start her on the path to better health and a slimmer waistline. But Claudia already has her hands full preparing for the upcoming Easter dinner, along with trying to manage her sullen, brooding son Filipp (Alexander Sladek), who goes out of his way to be especially hostile toward Simi. There's also Claudia's husband, Stefan (Michael Pink), who develops an unusual interest in their new houseguest and seems to have no qualms about mistreating his stepson.
Claudia prepares incredibly intricate gourmet meals even though she and Stefan are both fasting for Lent; at first, Simi is allowed to indulge, but once Claudia agrees to offer her dietary expertise, Simi is forced to forego eating altogether as a means of "detoxifying" her body and cleansing her digestive system. As her stomach rumbles, she watches Filipp consume helping after helping, cruelly taunting her while Claudia seems oblivious to — or rather, ambivalent about — her niece's struggle.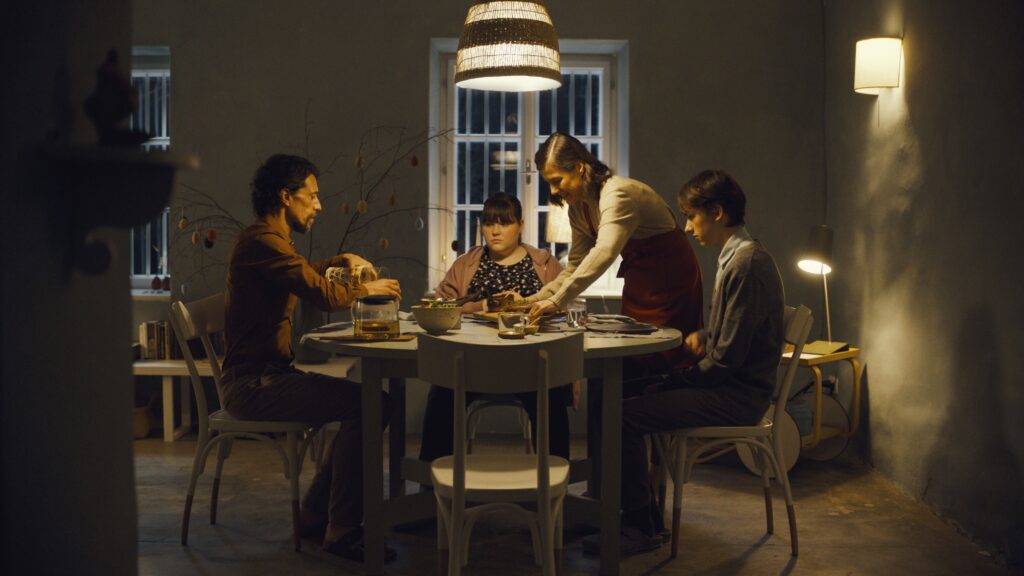 As the week goes on Simi starts to notice cracks in the facade of her aunt's idyllic lifestyle, partcularly as it pertains to her relationship with her son. On the surface, Claudia's doting seems to come from a place of genuine love and warmth, but late-night revelations from Filipp hint at motives far more sinister. Stefan, meanwhile, is more outwardly belligerent, and doesn't bother trying to downplay his distaste for Filipp — it's no wonder the boy has a habit of trying to run away every few weeks.
Family Dinner mines the inherent discomfort of spending an extended period of time with relatives, especially those whose daily routines feel bizarre and unfamiliar. In his debut feature, writer-director Peter Hengl crafts an atmosphere of creeping dread that permeates every inch of Claudia's household, where each glance from Simi's elders seems ominous and each spoken word feels steeped in menace. The cast is great here, particularly Hierzegger as the holier-than-thou health guru whose carefully cultivated persona masks a darkness within. The careful pacing of this slow-burn thriller pays off with a third act that delivers the sort of grisly shocks that genre fans will love, and although seasoned viewers will have likely pegged some of these revelations ahead of time, Family Dinner's generous helping of atmospheric horror is the perfect recipe for hungry horror aficionados.
---
Find more of our Tribeca 2022 coverage at this link.