Life, uh…finds a way…to finally end the Jurassic World series with the much-anticipated trilogy (franchise?) ender Jurassic World Dominion. The final installment sees the Legacy Jurassic Park trio unite with the Jurassic World primaries for ridiculous, dino-stuffed insanity that drops all subtlety for non-stop thrills.
Following the events of Jurassic World: Fallen Kingdom, dinosaurs are now loose around the globe. Humanity, as well as nature, is struggling to adapt to this shock to the eco-system, but not everyone is focused on the dinos. The film finds Dr. Ellie Sattler (Laura Dern) investigating some extreme crop destruction, perpetrated by an extinct type of locust.
The search directs her towards evil genetics corporation, no not InGen this time, but their JP rival Biosyn – lead by none other than Dr. Lewis Dodgson, (Dodgson! We got Dodgson here!) this time portrayed by cardigan wearing Steve Jobs knock-off Campbell Scott. Dr. Sattler decides to round up her old JP crew, starting with Dr. Grant (Sam Neill) and lucky for them – Dr. Ian Malcom (Jeff Goldblum) is already working for Biosyn at their icy mountain genetic research facility.
Meanwhile, the Jurassic World family of former Raptor trainer Owen Grady (Chris Pratt) and Claire Dearing (Bryce Dallas Howard) are living the deep woods cabin life to hide their adoptive daughter Maisie (Isabella Sermon) from all the aforementioned evil genetic corporations since she's, you know, the first human clone. Oh, and also responsible for releasing the dinosaurs to the mainland. So there's that. The plan doesn't go so well, because she's taken (no, Liam Neeson) and all roads (and characters) lead to a showdown of prehistoric proportions at the Biosyn facility.
First, Jurassic World Dominion earns brownie points for at last taking a risk in breaking the franchise formula to explore new ways to execute dino mayhem. After some plot setup and character establishment, most of the first hour becomes a Jason Bourne-type chase sequence across Malta – but with dinosaurs! It's big, it's stupid, it's really fun. Breaking the dinos out of the island setting was a great way to open some unique action set-pieces and director Colin Trevorrow made sure he left no Cretaceous stone unturned in that department in his swan song.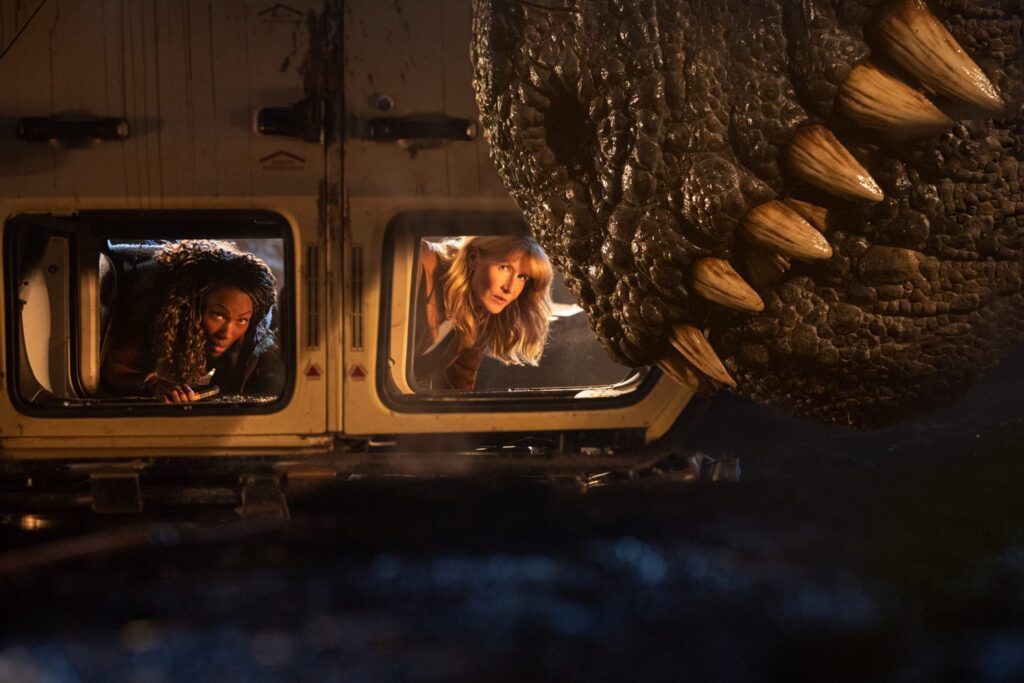 Another aspect I appreciated is how the script resists the urge to save the Legacy JP characters until the final act, as is custom, in a great deal of nostalgia "requels". Very early on, the chemistry of Sam Neill and Laura Dern warm the screen like a cozy blanket while also giving relief from the dull teen angst happening at the Grady/Dearing cabin. The only thing that could make it better is exactly what happens – Jeff Goldlum's Ian Malcom joins the fray and chews the scenery how only he can and it is wildly entertaining.
But it's not all just a walk in the park if you actually break down the film following your post adrenaline rush. Much of the plot is incomprehensible nonsense and full of plot convenience to get to the next big sequence or dino reveal. The ensemble cast is already huge, yet the film still tries to introduce more new characters. DeWanda Wise is ex-Air Force and pilot for hire, Kayla Watts, who is likable enough but completely lost in the shuffle of all the iconic and established characters, as is every other newbie. Also, if Pratt's Owen Grady slowly raised his hand one more time to a dinosaur, large or small, in the middle of bloody chaos, I was going to lose it.
Visually, this film is a feast as it globe trots around to gorgeous diverse locations to display dinosaurs in environments unseen in previous films. As mentioned earlier, the amount of new and returning dinosaurs is worth the price of admission. A Giganotosaurus?! Sounded made up to me too, but Jurassic World Dominion has to have the highest dino-per-scene ratio of the entire franchise, which will surely please popcorn blockbuster audiences. Sadly though, gone is any attempt at the tension building genius of the Spielberg-ian artistry in the original Jurassic Park, but for what it's worth, this film is aware of what it's out to accomplish and that's damn fun at least.
Score: 3 out of 5