Altered Carbon is being spun up for a second season on Netflix and Takeshi Kovacs' past is coming back to haunt him. Thirty years after the Bancroft case that drove the intrigue of the first season, our detective noir hero finds himself returning to his birth planet, Harland's World, with a new, upgraded sleeve (Anthony Mackie) and a new mystery leading him back to his centuries-old lost love: Quellquist Falconer (Renée Elise Goldsberry).
Netflix provided us with the entirety of Season 2, which boasts a leaner, more easily digestible cyberpunk thriller than its predecessor with surprise new sleeves, new characters and superbly crafted action. Much of the fat that weighed down Season 1 has been replaced with a more personal mission for Kovacs, while still retaining that cyberpunk/detective noir vibe.
Even the overall season length has been streamlined from ten episodes to eight, all with a shorter-than-average length, helping further the ease of consumption for Season 2. But just because this season is a little more user friendly, don't close out your Google search just yet. If you don't remember the difference between a "DHF" and a "stack" or you don't know your "needlecasting" from your "re-sleeves," you're going to need some help navigating the endless acronyms and fictional techno-babble of the Altered Carbon universe
As mentioned above, Mackie debuts in the lead role and is a solid, charismatic choice to fill Kovacs' shoes, taking over from Joel Kinnaman's run during Season 1. The MCU actor doesn't take long to feel comfortable with the gumshoe detective voice overs or even more impressively, with the Matrix-like gun fighting and martial arts. I did find myself occasionally missing Kinnaman's slyly sarcastic delivery, an area in which Mackie's performance makes Kovacs come across increasingly harsh towards his friends like Poe (Chris Conner) when comparing the two portrayals.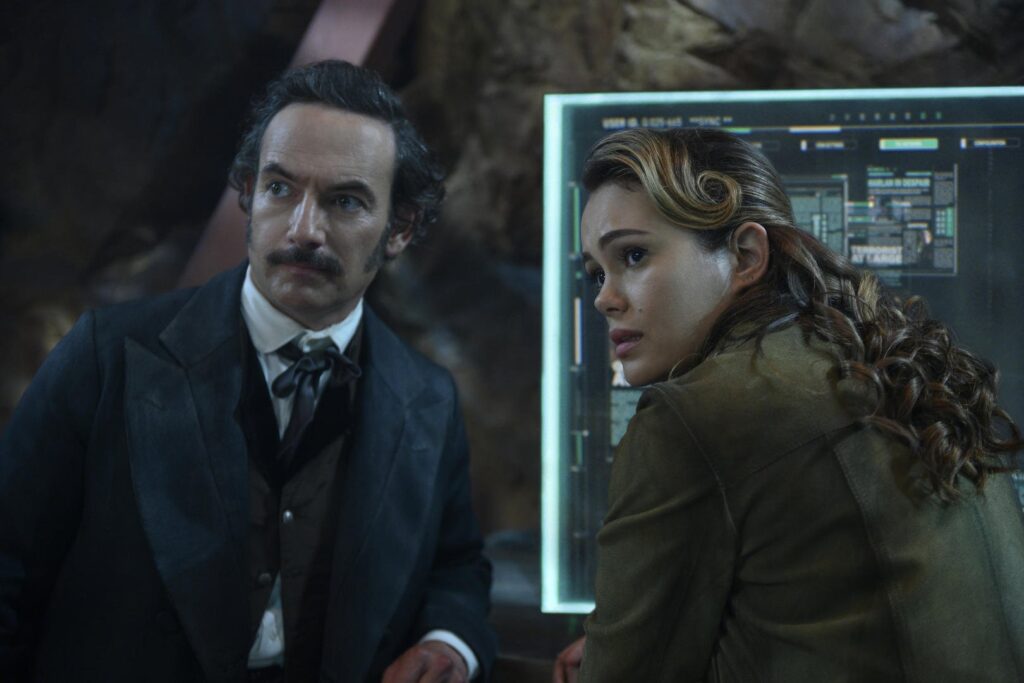 Speaking of Poe, focusing on its strong points is what Altered Carbon Season 2 does best, and nowhere is that more evident than with this particular fan favorite A.I. character being front and center. Aside from side-kicking for Kovacs, Poe also gets a wonderfully bittersweet side-story while paired with an almost equally lovable new A.I. character: Ms. Dig (Dina Shihabi). Conner continues to be terrific in the role and shines even brighter with the more complex material he's given to work with in Season 2.
Also adding to the new kids in the cast are Simone Missick playing to her Luke Cage strengths as Trepp, a bounty hunter that reluctantly teams up with Kovacs. Missick is fun as the supporting character, bringing along her vulnerability and usual "you've gotta be shitting me" attitude. Torben Liebrecht is another standout as Colonel Ivan Carrera, the constant threat that never stops circling Kovacs. Liebrecht not only plays an important part in the season's mythos, but his calm, wolf-like demeanor make him all the more intimidating as his connection to everything unfolds.
Not quite as lucky is talented actress Renée Elise Goldsberry who kicks a lot of ass early as Quellquist, but in the last half of the season becomes mostly an expository device. The stakes are raised and secrets come to light in those last few episodes, but the show holds on to them for too long creating an extended, massive info-dump on the viewer over the course of the last two episodes that almost certainly won't makes sense the first time around.
Outside of the shaky ending, Altered Carbon Season 2's epilogue leaves viewers with some intriguing world-building that could see the franchise go in many different directions for both the characters and even the actors portraying them. If the show can continue to be creative with its casting and sleeve choices, it seems the series could only just be getting started.
Score 4 out 5
Altered Carbon Season 2 will premiere globally on Netflix on February 27, 2020.