Joseph Heller's seminal novel Catch-22 is coming to Hulu with a 6-part adaptation produced by, and also starring, George Clooney. The series focuses on WWII B-25 bombardier Joseph Yossarian (Christopher Abbott) and his fellow airmen as they implement more and more desperate measures to reach their ever-increasing service quota so they can be sent home.
Every time Yossarian gets close to his requirement, his superior officers up the final number, ultimately causing his sanity to begin to crack as he comically lashes out to get relieved from duty. Unfortunately, his every move puts him in violation of the sadistically bureaucratic rule of "Catch-22" — where a man is considered insane if he willingly continues to fly dangerous combat missions, but a request to be removed from duty is evidence of sanity and therefore makes him ineligible to be relieved from duty.
Catch-22 is a whip-smart, engrossing miniseries that tackles its war subject material with a refreshingly funny angle that doesn't neglect the seriousness of the setting. The dialogue alone is a lightning bolt of terrific dry humor, expertly delivered by the entire ensemble cast.
The paperwork and legal loopholes are a brilliantly different aspect of wartime, not often characterized on television or film. The miniseries is both relatable to anyone who knows office work red tape, and it's sort of insane to fathom that real men had this kind of bureaucracy pulled on them, which ultimately could cost their lives. This quirky loophole lens that frames the miniseries easily gives Catch-22 a memorable hook that it uses to dig out its own corner of the vast catalog of WWII television and film.
While his screen time is limited, Clooney is on fire (and plays against type) as General Scheisskopf, the angry, quivering faced leader with an obsession for marching. Abbott is the true lead of the miniseries as Yossarian, and this rising star is impressive while shouldering most of the screen time with his hilarious and often heartbreaking performance.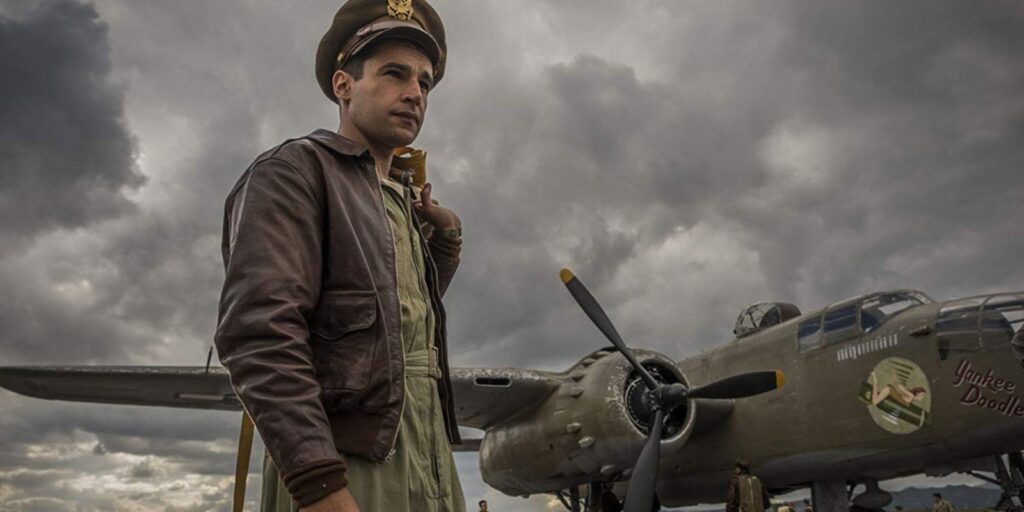 As Yossarian's attempts to return home get more wild, the colorful cast of supporting characters find vastly different ways to ingratiate themselves into war time at their camp. Kyle Chandler's often overlooked comedic talent is on display as Colonel Cathcart, a superior officer that barks loudly to cover up the fact he doesn't quite know what he's doing.
Hugh Laurie is a riot as Major de Coverley, a superior officer more interested in fine cuisine than the actual war or even his own airmen. As Milo, new face Daniel David Stewart shares some early scenes with Laurie that set him on path for a consistently funny running joke that ends up being one of the most satisfying arcs of the miniseries.
Catch-22 also carries quite a visual punch with panic-inducing aerial sequences and lush environments across Europe. Viewers should also prepare for the emotional gut-punches the miniseries tosses out when you least expect it. The episodes make sure to remind viewers that amidst the snappy dialogue and laughs, these men are still at war and lives are at stake.
There's no catch here: Hulu has given this miniseries the perfect length at six episodes, creating a fast-moving, well-written narrative that will quickly suck viewers into the frustratingly funny plight of Yossarian and demand they hop to the next episode immediately.
Score: 4 out of 5
All 6 episodes of Catch-22 premiere on Friday, May 17, exclusively on Hulu.