Six months have passed in Hawkins (three years in real life) since we last saw our young heroes in the Stranger Things Season 3 finale at the Battle of Starcourt Mall. The tragedy and the ramifications have taken their toll on Hawkins and the huge ensemble of characters have been scattered to the wind, facing challenges ranging from the hardships of puberty in high school to literally just staying alive. Unfortunately, the Upside Down isn't fully defeated and a new evil has emerged from within it to terrorize the already traumatized town, while the only ones capable of standing against it are at their most vulnerable.
Stranger Things 4 Vol. 1 isn't messing around. Not only is every installment of the seven episodes over an hour long, they ratcheted the body count and the blood way up. This is all thanks to the new Big Bad, dubbed Vecna by the kids, due to the similarity of a "Dungeons and Dragons" monster. This baddie is a nasty piece of work and by the end of the first episode, viewers are shown just how brutal is this tentacled, desiccated beast, making Barb's death all those years ago just the first of many Hawkins kids that will lose their lives.
Stranger Things 4 Vol. 1 as a whole takes a little time to find its footing. The early episodes focus most on establishing the multiple plot lines spread out within Hawkins, California, and even a freezing gulag in Russia. The initial slow-burn might test some viewers' patience, but rest assured this character building time is the breather necessary to prepare for the carnage ahead. Some of the multiple plotlines are a bit grating, and some fat trimming might have helped these over-sized episodes move along a bit faster, but things are still mostly well executed.
Mildly frustrating is that Eleven (Millie Bobby Brown) is taken off the board early to send her on a vision quest that sees El dealing with flashbacks to her early days in the Hawkins lab with Dr. Brenner (Matthew Modine). Brown proves once again why this show made her a big star and Eleven's exploration of the past goes to some big places, but her interaction with the whole of the cast is greatly missed.
Instead, a refreshing surprise sees Max (Sadie Sink) play a central role as she is struggling to deal with the death of her brother Billy (Dacre Montgomery) in the previous season's climactic crescendo. Max finds herself sleuthing out a connection to Vecna and the actress does a great job of showing a teen's withdrawal after tragedy. Episode 4 is a terrific Max-centric episode and kicks off the wild last run of episodes towards the inevitable forehead smacking cliffhanger.
Speaking of the previous season, it's no longer a big spoiler to know that poor Hopper (David Harbour) did indeed survive the lab explosion and somehow ended up across the world in a Russian prison camp. His storyline is sometimes painful to watch as his hope of escape is continually crushed, but Harbour is still just fantastic. The good news is that his storyline allows Joyce (Winona Ryder) and the hilarious and eccentric Murray (Brett Gelman) to team-up to discover the meaning of a mysterious package sent to her from Russia. Ryder and Gelman have such a fun energy together and provide much needed heart and levity from the darker elements of the season.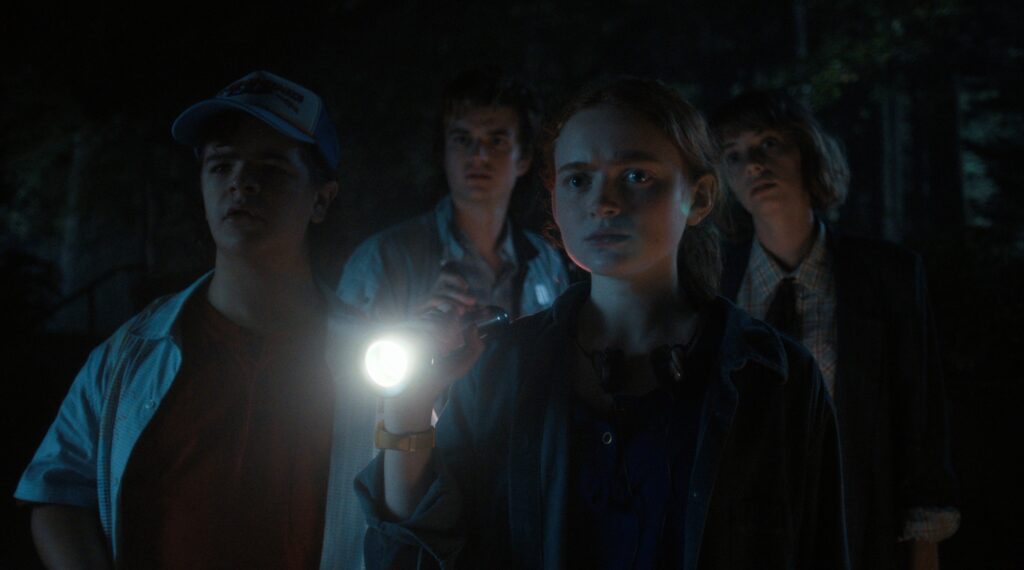 The rest of the cast are split out among the Hawkins and California groupings, with the majority trying to solve the Vecna mystery. Robin (Maya Hawke) and Nancy (Natalia Dyer) have their own investigative adventure that provides a neat cameo for horror fans and displays some entertaining interactions between the determined gals. Hawke is still particularly lovable as Robin and has a great charm and earnest vibe about her. Steve (Joe Keery) once again humorously finds himself on "babysitting" duty and continues his buddy cop chemistry with Dustin (Gaten Matarazzo) as they lead the search for one of their new classmates.
Yes, as if the cast wasn't large enough, Strange Things 4 Vol. 1 also introduces another handful of new characters. Most notably the aforementioned metalhead and Dungeons and Dragons guru to the kids, Eddie (Joseph Quinn), who has no choice but to run for his life after being blamed for a horrific death of another classmate. Eddie comes and goes from the episodes, but Quinn is great in all of his screen time, being both a harsh mentor to the kids and a victim himself, all while still managing to be funny and endearing.
Stranger Things 4 Vol. 1 has a lot of surprise character appearances and shocking moments in store for Netflix viewers this Memorial Day weekend. The story arcs are maturing along with the kids and the stakes are rising towards the now announced final showdown. Longer, bloodier, and scarier. This complex and brutally violent string of episodes provides ample frights and a frustrating wait until the season's movie length final two episodes that are arriving in July.
Score: 4 out of 5
Stranger Things 4 Vol. 1 premieres May 27th, only on Netflix.